The Medicines and Healthcare products Regulatory Agency (MHRA) is the United Kingdom's governmental agency that controls and regulates blood components for transfusions, advanced therapy medical products, medicines and medical devices throughout the United Kingdom. MHRA is an agency that works under the UK Department of Health. Within its organization, the MHRA also integrates the Clinical Practice Research Datalink (CPRD) and the National Institute for Biological Standards and Control (NIBSC).
Some of the major functions of this agency consist of supervising UK notified bodies, controlling and administrating clinical trials, observing compliance for medical devices and pharmaceuticals, and proposing procedural and regulatory recommendations for the products under its domain. ISO 13485:2016 helps to meet conformity assessment audits led by notified bodies in UK to check Quality Assurance systems.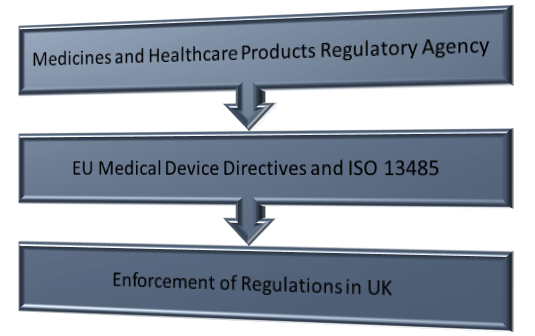 Figure 1: Relationship of ISO 13485, Medical Device Directive, and MHRA in UK
MHRA's Services for Regulating Medical Devices in UK
As a medical device manufacturer or supplier in the UK, you have to prove that your medical devices meet the compliance requirements stated in the EU Medical Devices Directive (MDD, EU directive for medical devices) by working on a compliance assessment procedure with the regulatory body. The regulatory body authorized to deal with medical devices in UK is the MHRA. Therefore, they offer the following services to facilitate manufacturers and suppliers in marketing their medical devices with quality and safety:

1) Ensuring Product Safety and Enforcement of European Directives:
The main purpose of the regulatory agency is to ensure the effective compliance with the Medical Device Directive (2007/47/CE) and Directive (98/79/EC) along with other medical directives in UK. The agency makes sure that medical devices, pharmaceuticals and blood elements for transfusion fulfill relevant standards of wellbeing, quality and functional effectiveness. The agency also ensures that the whole processing chain is safe and secure, staring from raw materials through production facilities, to delivery at warehouses.  It also covers the products from warehouses to hospitals, and from hospitals to device application. The agency makes sure that every part of the product life cycle is safe.
ISO 13485
and ISO 14971 helps:
Ensure product safety through management of risk,
Managing and reporting of adverse events,
Design and development of medical device and related management system,
Generally, these standards helps in meeting the requirements of European directives.
2) Registration of Medical Device: MHRA offers online registration of medical devices. This system is known as the Device Online Registration System. This system gives device suppliers, vendors and their sanctioned representatives an automated, easy-to-use means of registering with the MHRA.
3) Auditing Notified Bodies in UK:  Notified bodies in the UK provide services to assess conformity of medical devices as per the assessment procedure applicable to the medical device. These are organizations chosen by the MHRA to assess the conformity of devices prior to commercial marketing. MHRA screens and checks UK notified bodies by planned audits and by observing their compliance assessment of manufacturers.
4) International standardization and harmonization: The MHRA also works in collaboration with the European Union, other international regulatory bodies and other international organizations to promote harmonization of the standards and regulatory requirements. MHRA accepts ISO 13485:2016 as an effective standard for the Quality Management system of medical device suppliers or manufacturers. Similarly, the MHRA also recognizes ISO 14971 as a risk management system for medical devices.
5) Educating Public and Health care professionals:  The agency works to spread knowledge among the community and health care experts regarding the risks and health benefits of medical devices, pharmaceuticals and blood components. This is done in order to move toward a safer and more purposeful use of medical products and devices.
6) Influencing European and International Regulatory Frameworks: The MHRA also influences the European Union and international regulatory frameworks so they are also effective in promoting the safety and effectiveness of medical devices' in the overall health care system.
MHRA Regulates Medical Devices so to ensure Effectiveness and Safety
The MHRA regulates medical devices in the UK in order to make the medical device market safe and secure. They aim to make relevant regulations more helpful to the safe invention of medical devices. MHRA has also worked on a shared reporting system for adverse incidents related to medical devices, pharmaceutical and blood-related products. The Online Vigilance and Adverse Event Reporting System gives manufacturers an easy way to report adverse events along with their corrective actions.
MHRA works with different bodies all over the UK, Europe and on an international level to stop malfunctioning and low-quality products from slipping through the supply chain of medical devices. Manufacturers and suppliers can also use ISO 13485:2016 and ISO 14971:2007 for meeting the MHRA conformity assessment requirements of Quality Management Systems and Risk Management Systems. This allows them to attain the MHRA's endorsement for market products in UK.  Since the MHRA recognizes ISO 13485, its provisions can be used to fulfill regulatory requirements like reporting adverse events, design and development management systems, advisory notices and much more.
Use this free Diagram of ISO 13485:2016 Implementation Process in order to fulfill MHRA requirements.