Experta: Free and
always-on AI-powered
ISO 27001 chatbot
Get expert answers to your ISO 27001 questions anytime, anywhere, without any fee. A friendly, ISO 27001-trained AI chatbot resolves any doubts about the ISO 27001 standard with expert certainty.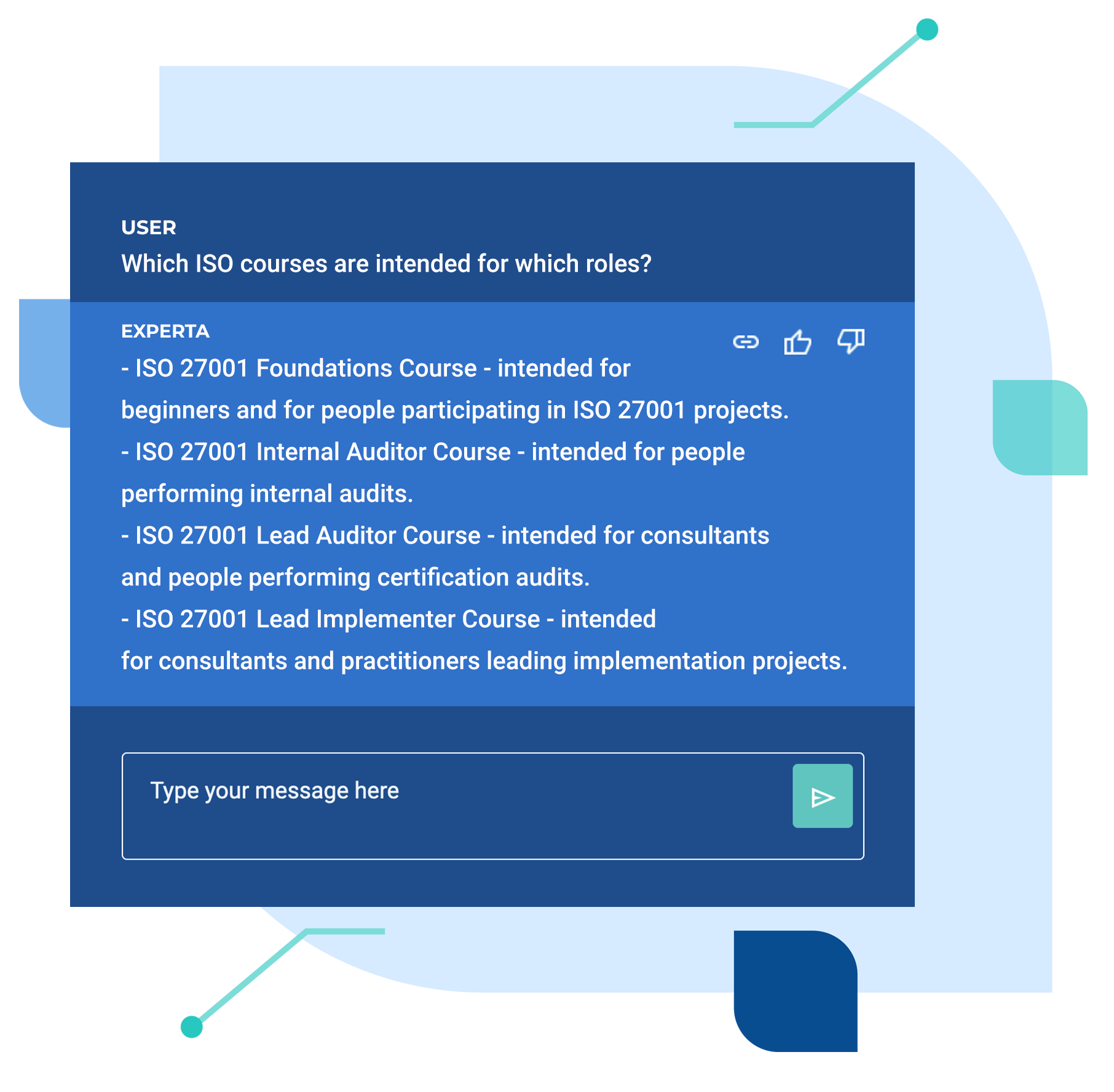 Who is Experta for?
Experta is for everyone. Whether you are a beginner, an expert, an auditor, or a consultant, this conversational platform makes it easy to work with the ISO 27001 standard. Built on a decade of expert-validated ISO 27001 knowledge, it will provide the answers you need.
When to use Experta?
Experta helps you at any stage of your compliance journey. Whether just starting the implementation, doing an internal audit, getting ready for the certification, or working on maintaining the ISMS, Experta provides the right guidance.
How to use Experta
You can use Experta simply by asking any question about ISO 27001 – for example:
"What are the ISO 27001 implementation steps?"
"What are the documents to be used for an internal audit?"
"What will the certification auditor require regarding risk management?"
"What kind of evidence do we need to collect as part of ISMS maintenance?"
Why choose Experta over other chatbots?
Experta stands out from other chatbots because it is trained on proprietary knowledge from Advisera, which has been refined and verified for generative AI. This sets Experta apart as a highly conversational chatbot with more accurate and reliable responses than others.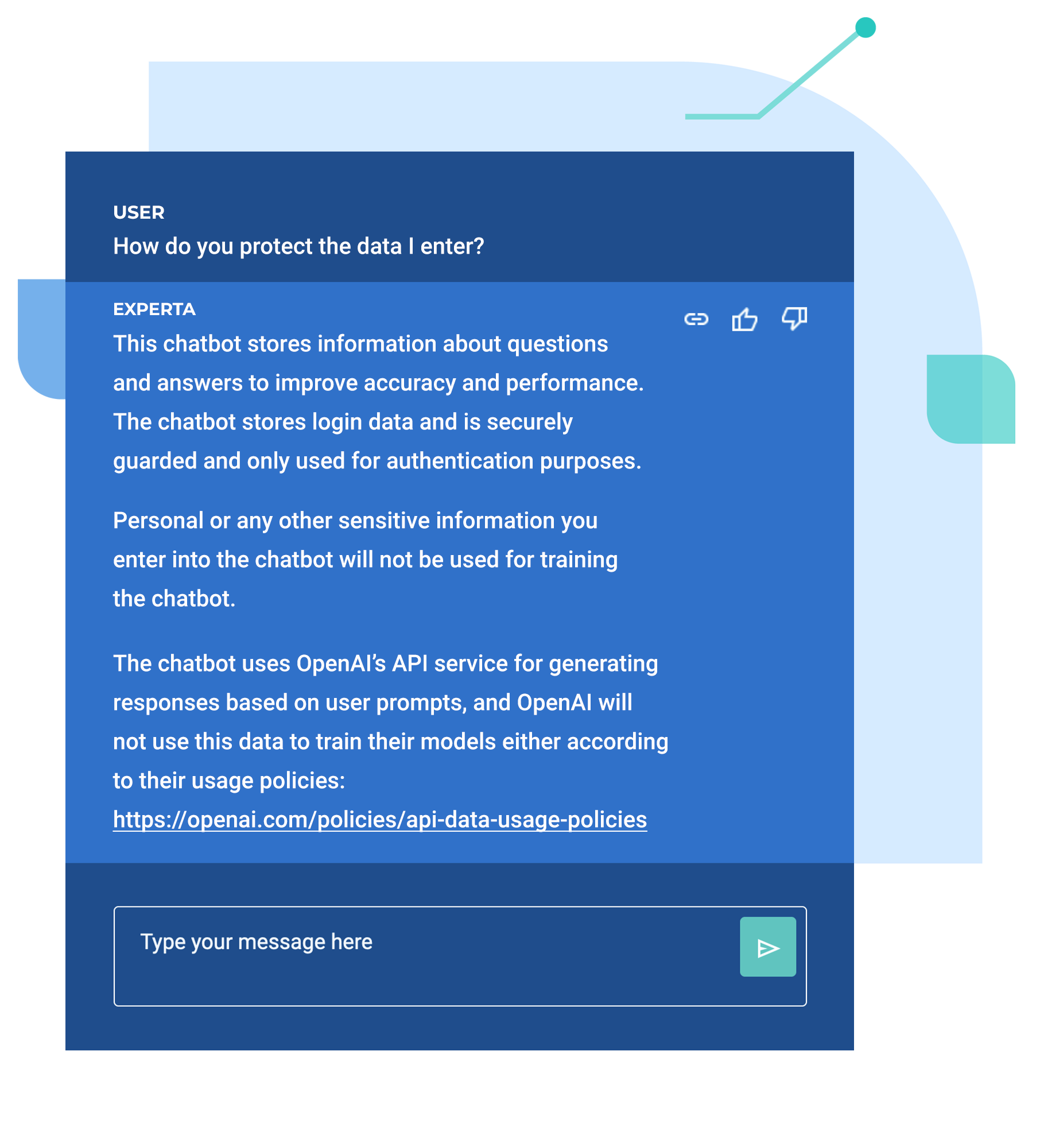 How safe is Experta?
Unlike other chatbots, the sensitive information you put into Experta is not used to further train the model, making it certain your inputs will never be shared with anyone.
Frequently Asked Questions
What is Experta?
Experta is a generative AI platform created to help with the ISO 27001 standard. It was trained exclusively on expert-approved and reviewed content, making it the most reliable ISO 27001 chatbot.
Who developed Experta?
Experta was developed by Advisera, a company with more than a decade of expertise in providing expert advice, documentation, tools, and training for various ISO standards and other regulations. Advisera used extensive knowledge and experience to develop an AI chatbot that can instantly help experts of any background get reliable information about the ISO 27001 standard.
Are answers from Experta trustworthy?
Yes, answers from Experta are trustworthy. To ensure the trustworthiness of answers, Experta was trained using only expert-approved content, making Experta the most reliable AI chatbot. Still, due to the lack of context when asking a question, there is always a tiny chance of a mistake.
How do I report a wrong answer?
To report a wrong answer, simply click the thumbs-down button on the answer provided. You will be able to provide additional comments as to why the answer is wrong, and our expert support will look into it.
Is my data safe with Experta?
Yes! If you share personal or sensitive data with Experta, none of it is going to be used to train the bot, making Experta a very safe solution for your use.
Is Experta free?
Yes, Experta is free at the moment.
In which languages is Experta available?
Experta provides answers in English.
What standards and regulations does Experta cover?
At the moment, Experta is trained on the ISO 27001 standard.
How can I use Experta?
Using Experta is easy. After registering for free, you can input questions in Experta's message box. To start with, and to get the hang of conversing with the chatbot, you can ask questions like: "What is the ISO 27001 standard?" "Which documents are mandatory for ISO 27001?" or "How do I get ISO 27001 certified?"
Can I use answers by Experta in my blog/media/publication?
All content generated by Experta can be shared and posted on other platforms, as long as you appropriately credit Experta with the date of the conversation and a link to https://advisera.com/experta. Alternatively, you can directly share a link to any conversation from Experta using the "Share the post" function.
How do I share answers from Experta?
To share an answer from Experta, simply click on the "Share the post" icon on the answer provided by Experta. This will create a link to your discussion, and you can share it with anyone, even if they didn't register for Experta.
Schedule a Demo
Need some help? Contact us now. We respond quickly.