Thanks to the fast advances in technology, conducting remote audits is becoming more popular among organizations. Businesses already include high-tech strategies that allow audit teams to receive and share data, conduct interviews, and make observations with organizations from all over the world without the need of commuting for several hours to the audit site. Certification bodies will certainly have to adapt to this new situation. In fact, the last version of ISO 19011:2018, Guidelines for auditing management systems, includes new specifications for conducting remote audits in order to carry out this transition to e-auditing.
In this article, I will analyze the benefits of conducting remote audits, as well as the barriers that some companies need to overcome to be able to perform this kind of virtual audit.
What is a remote audit?
A remote audit, also known as an e-audit, is exactly the same as an audit but using electronic means to remotely obtain audit evidence and evaluate it objectively in order to determine the extent of conformity to the audit criteria.
Remote audit techniques are similar to those used in person but, for instance, you can share files via email, Google drive, Box, etc. In addition, the company can provide documents by sharing its desktop screen or via video conference using Skype, Zoom, etc., which is also used for interviews together with the phone. Surprisingly, reviewing documents and records virtually can be even more effective than doing so onsite.
Some areas that can present difficulties during a remote audit involve manufacturing processes or product storage. In these cases, remote audits can use live video or even surveillance video to gather the necessary audit evidence.
Conducting a remote audit does not mean that all the work should be performed offsite; some of the work can still be conducted onsite. E-auditing means that, if possible, auditing activities will be configured to be conducted away from the auditee's location, considering that sometimes employees are still not familiar enough with methods used in a remote audit in order to obtain the required audit evidence.

Benefits of remote auditing
There are several reasons why conducting remote audits can be beneficial for auditing companies. Here you can find the most relevant ones:
Saving time and money with the use of technology. Most data, if not all, is accessible from anywhere, such as a cloud portal, so why waste so much time traveling to check documentation that can be available by other means? In this sense, there will be a significant reduction in money and time spent on commuting to the audit location. In addition, interviews and even observations can be conducted through popular platforms like Skype or Zoom, which are regularly used by many of the companies already.
Avoiding traveling to "difficult" locations. Some locations to audit can be difficult to access for many reasons; maybe they are just in an isolated area, or strict permits are needed to get in – even visas sometimes are required if audits are conducted internationally. With a remote audit, you avoid these difficulties.
Logistics related to auditing are not needed anymore. When conducting remote audits, usually organizations are relieved from logistics related to booking conference rooms and cleaning after the audit team leaves, as well as worrying about audit team accommodation, interruptions to employees' regular workflow, and other related inconveniences experienced during an onsite audit.
The audit team will be more efficient. Working from their home office environment, the audit team will feel more comfortable, since they will be able to use all the necessary tools, such as high-speed internet, monitors, printers, etc. This way, the productivity will be substantially increased in an e-audit in comparison with an on-site audit, needing fewer hours to complete a certain task.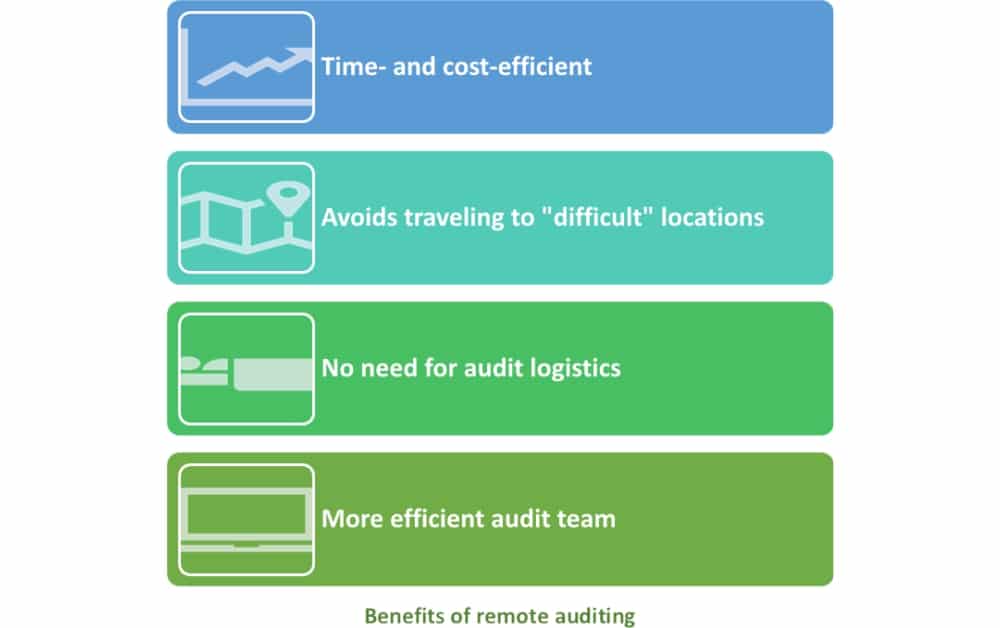 Barriers of conducting remote audits
When it comes to the barriers that an organization needs to face while conducting a remote audit, we can find the following:
Remote audits are not approved by some certification and accreditation bodies. Some certification and accreditation bodies still consider e-audits not to be valid, and only approve traditional audits carried out onsite even though, as previously mentioned, specifications for e-auditing are included in ISO 19011:2018.
The reason is that some accreditation and certification bodies still have not decided how much of the required audit time can be conducted remotely in order to collect reliable audit evidence and trust the audit results. For instance, they have clear concerns about performing an entire audit without visiting the location, and certain doubts about the reduction of on-site hours that would be spent in virtual work. On the other hand, auditors conducting the remote audits should have the necessary technical knowledge to deliver this kind of audits, which means extra effort for the certification and accreditation bodies to train auditors on these techniques. Having all of these factors in consideration, accreditation and certification bodies can see remote audits as being more of a headache than a real benefit.
Issues with technology. Depending on the location of the auditee and technology used, one of the main challenges organizations can run into is logistics. Sometimes, network connections are not very reliable, or the auditee can have difficulties with accessing the VPN to log into a database in order to show evidence. In addition, due to network issues, interviews and meetings can be interrupted, taking some time to reconnect and solve all the network problems.
Lack of involvement. Other issues related to performing remote audits include process owners who become unavailable due to having a meeting already scheduled, or even lack of attention from the auditees, possibly since they are performing other tasks while the audit is being conducted. Auditee companies can play a big role here, delivering awareness sessions for their employees and preparing employees with the necessary tools to be e-audited.
Trusting the audit. Some auditors want to perform on-site audits because they believe they can trust the audit only if auditors have physical access to audit evidence.
For example, remote audits can be seen by auditors as not suitable for auditing facilities, since a site walkthrough can provide key information for the identification of issues within the company. It is definitely easier for the auditee to hide their issues and even possible nonconformities during an e-audit, where the auditor is not physically present, and usually auditees know in advance what is going to be audited and how. Also, in remote audits, non-verbal communication cannot be used by the auditor to detect possible confusing messages during an interview, sometimes crucial to detect any inconsistencies or concealed problems.
Insufficient auditor training and experience. Lack of training and/or experience of the auditor conducting remote audits can lead to an inability to collect sufficient audit evidence and, thus, assess it objectively. It is crucial for a virtual team to have the necessary knowledge to correctly conduct audits using the technology.
Remote audits are the future of auditing
Remote audits have come to stay; their advantages are unquestionable over the traditional methods, although there are still some barriers to overcome. Traditional audits, even when they have been well planned and executed, may cause a certain amount of inconvenience and disruptions to the organization being audited. In addition, business managers are increasingly finding these e-audits very attractive, since reductions in costs and resources are undeniable using virtual methodologies.
Also, remote audits are an alternative for a more efficient and productive method of auditing, not only from the point of view of the audited company, but to the audit team as well.
To learn more about what to expect from the certification audit, download this free white paper: What to expect at the ISO certification audit: What the auditor can and cannot do.