When considering the implementation of AS9100 Rev D to create an aerospace quality management system (QMS) many aerospace companies will also need to consider Nadcap (formerly spelled NADCAP) and how this applies to their company. Do you need Nadcap? Do you need AS9100? Which one should you do first? To understand how each of these applies to your company, and what you need to do about each one, you will first need to understand what Nadcap is about. In this article, learn about Nadcap and its connection with AS9100.
What is Nadcap?
Nadcap (National Aerospace and Defense Contractors Accreditation Program) is a program administered by the Performance Review Institute (with headquarters in Pennsylvania, USA), and is used to accredit suppliers using a standard audit criterion for special processes and products. While one of the activities that can have Nadcap accreditation is the Aerospace Quality System, this is used much more specifically for special processes such as coatings, heat treating, electronics, composite materials, non-destructive testing, welding and chemical processing. Training is also available as part of Nadcap to ensure that the special processes are properly established.
How is AS 9100 Rev D different from Nadcap?
AS9100 Rev D is a standard set of requirements for implementing an aerospace quality management system. It includes all of the internationally recognized requirements for quality management using the ISO 9001:2015 international standard. These requirements are recognized around the world as the best practice for a management system focused on providing products and services that meet customer needs and improve customer satisfaction.
So, where AS9100 is an aerospace standard that gives requirements to implement and maintain a QMS for the aerospace industry, Nadcap accreditations are used to ensure that a supplier meets all of the necessary criteria for a certain special process. While an AS9100 QMS can be implemented in any aerospace company, Nadcap accreditation is limited to the specific processes used within the company. For instance, if you do not do heat treating, you cannot be accredited for heat treating by Nadcap.
To learn more about AS9100 Rev D implementation read the article 13 Implementation steps for AS9100 Rev D.

Which accreditation do you need?
For Nadcap accreditations, the place to look for what you need is in your contracts. Customers will be very specific regarding which special processes they need to have accredited to Nadcap. If you use these processes, a Nadcap accreditation will be necessary for you to provide service for this customer. Even if you provide elastomer seals, this does not mean that your customers will require you to have Nadcap accreditation for this special product. For the most part, if there is no requirement from a customer, companies do not want to go through the extra expense of unnecessarily accrediting their processes or products. However, if you do need a Nadcap accredited process to meet a customer requirement, then meeting this need must be a priority.
As for AS9100, even if this is not a requirement of a contract, you can still choose to implement a QMS within your company that meets these aerospace requirements. This will allow you to not only meet your current customer needs, but to also be eligible for future work with new customers within the aerospace field. These requirements allow you to create the system necessary to provide products and services that meet customer needs and help improve customer satisfaction and your company.
For more on the benefits of AS9100, see the article 7 Key benefits of AS9100 implementation.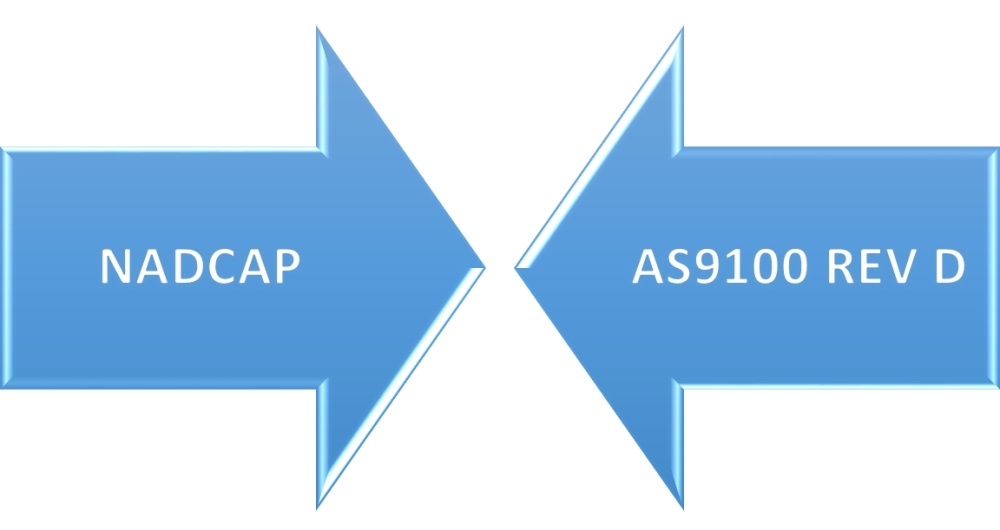 How do you decide what you need?
As with many other business decisions, the implementation of AS9100 or Nadcap will need to be weighed and understood by your individual company because the answer is not the same for everyone. As has already been discussed, if you have customer requirements that start accreditation is needed for both Nadcap and AS9100, then you will not really have a decision to make – you must implement both. If no customer requirements exist, then you will have to make decisions for yourself based on what you think the needs of future customers will be, or the benefits that your company can get from the implementation.
Implementing the systems that you need to improve your company for present and future work is exactly what you need to assess, and the final decision is up to you.
To better understand all AS9100 Rev D requirements, download this free whitepaper: Clause-by-clause explanation of AS9100 Rev D.