Today, we are obsessed with our time spent on work and at home. Time has become our most valuable resource – whether we are working on a project, or choosing a coffee vendor, we are very careful about how we invest it. Naturally, the ability to save time for the stuff that really matters has become a top priority, especially if it is tied to implementation of projects. When put into the perspective of an ISO 27001 implementation and maintenance, time is everything. Why? Because these projects are often approved late, lack clarity in priority, and are very complex to handle. So, with every minute you waste trying to handle the challenges of an ISO 27001 implementation or maintenance, it reflects directly on the scheduled deadline.
In this article, we will explore traditional and online ISO 27001 management solutions and how are they addressing the time-wasting challenges of an ISO 27001 implementation project.
Where the time is lost in traditional ISO 27001 implementation and maintenance
Soon after the project officially starts, it becomes apparent that emails, phone calls, and face-to-face meetings are not going to work. Reality shows that the old ways to organize people, while trying to understand the next steps, deal with issues, and stay on top of an increasing number of tasks, is costing a lot of time – which companies don't have. The traditional way of handling complex ISO 27001 implementation and maintenance can't face these known time-wasting challenges:
Co-managing a massive number of documents and activities. Using email to develop and review documents, and to handle risks, incidents, and nonconformities, is a nightmare. Time spent on repeatedly searching inboxes for the fresh versions of documents, and for the status of activities, and chasing people to review and approve them can drag on for days. That causes delays, which result in deadline breach.
Keeping people in the loop. Trying to constantly keep everyone in the loop with face-to-face meetings, phone calls, and group emails puts a lot of stress on the project manager and results in time-consuming repetitive operations, which should be reduced to a minimum. Little (or no) access to information results in missed steps and delays.
Tracking and managing a lot of tasks. Using Excel and emails is hard to maintain, impossible to follow up on, and a risky way to track and manage tasks. With no clear vision of the real time progress, issues can go unchecked and can escalate to big time-wasting resolutions.
The traditional way of managing ISO 27001 implementation and maintenance has the inherent inability to effectively address these key time-wasting challenges, as it lacks easy access to information, the means to manage and maintain documents, and effective methods to track responsibilities and deadlines. So, companies are turning to other options, technologies, and innovations to effectively lead, implement, and maintain ISO 27001.

How to save time with online tools
The very nature of online tools for ISO 27001 implementation and maintenance is their top advantage in saving time. Online tools are prized for their constant availability and accessibility. They are built for teams, fostering a collaborative spirit, effective communication, and coordination around relevant ISO 27001 project topics.
If you combine that with a smart document management system to handle documents, an easy-to-understand interface, and simple implementation, you then have a time-friendly environment where information is served with ISO 27001 context ready to be acted upon.
Here are three main reasons you should consider using ISO 27001 online tools:
Constant accessibility. Online tools are accessible anytime, anywhere. Easy access to project information means that the team can respond quickly to new documents, tasks, and messages. Quick turnaround brings smoother execution and fewer delays.
All ISO 27001 information in one place. Team members can log in anytime to access all relevant documents, communication, and tasks they need to do. No time lost searching for the right version, discussion, or instruction. No delays caused by miscommunication.
Open collaboration. With easy access to information, ISO 27001 online tools can have document, task, and communication management features to support and enhance your team's collaboration and coordination activities. When a team can develop documents, track tasks, and communicate in one place, it eliminates time spent on emails, face-to-face meetings, and calls.
These three reasons directly affect how you manage your project time and can bring drastic savings you can surely invest in other, higher priorities.
Saving time with Conformio
To improve our own way of operating and to reduce time waste to a minimum, we built our own online ISO 27001 management tool called Conformio. On it, we developed smart modules for documents, responsibilities for the implementation and maintenance, and communication management to support our project activities and to drive our business forward.
In time, it became the central stage for all our projects needed to implement and maintain ISO 27001, and an incubator of all of the new products and services we are known for. We do that daily, by leveraging these advantages:
Smart document management system – helps us co-develop relevant documentation based on Document Wizards, which are 80% completed templates, where you only need to include the specifics of your organization, based on examples and guiding information, track versions, and provide contextual discussion and approval in one place. We don't waste time searching inboxes; we spend it by effectively contributing to the overall project progress.
One stage for all relevant information – enables quicker access to knowledge, while reducing duplication and time wasted piecing all the data together, and increasing our productivity by keeping everyone in the loop.
Specialized ISO 27001 modules – the existence of risk, incident, audit, and nonconformity modules helps centralize core tasks related to information security.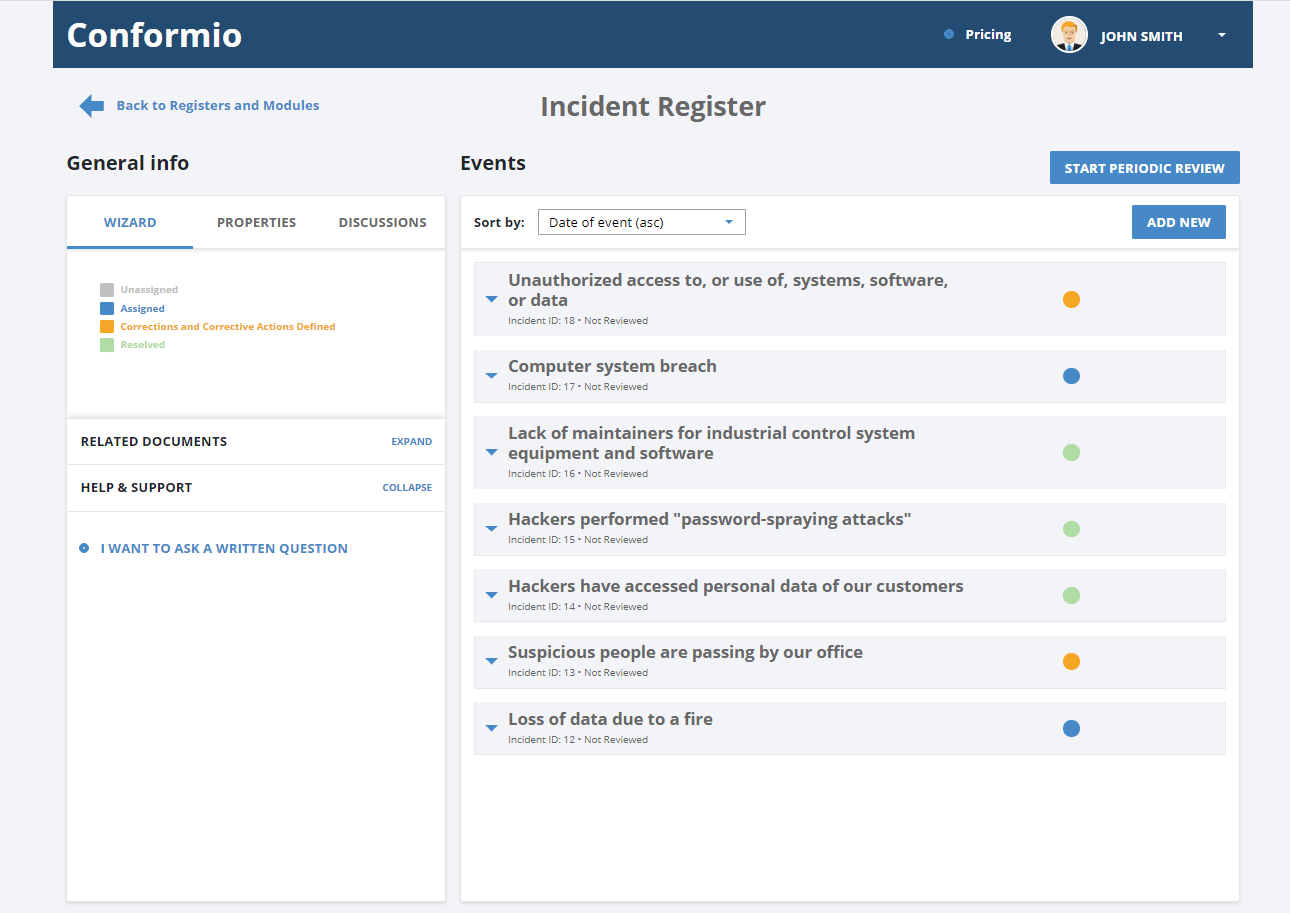 Productive task management system – tracking tasks in multiple parallel activities, based on a Responsibility Matrix built with information from developed policies and procedures, with clear accountability, progress status, relevant discussions, and documentation, reduces unnecessary actions and missed steps, and keeps all our actions streamlined to one goal – excellent execution.
With these four advantages, we achieved better operational organization, smoother project delivery, and faster speed to market.
When it comes to dealing with ISO 27001 project complexities, the traditional way simply doesn't fit. As a remnant of the old business era, it simply lacks the means to foster collaboration and effectively reduce time waste. Online ISO tools, as an alternative, can reduce time waste by effectively bridging the gaps in ways traditional methods could not.
So, why not try it? It's free.