The International Organization for Standardization (ISO) has developed a broad range of management standards to help companies to improve their performance, and the number of certifications to ISO standards continues to rise worldwide. You're probably wondering which standards are the most popular and why, what are the leading countries and industries, and what the overall trends look like—read further to find out.
The biggest ISO standards by the number of certificates
With the help of the ISO Survey for 2019, which contains data about valid certificates issued by accredited certification bodies worldwide, we can get some valuable insights regarding the ISO standards currently available. The ISO Survey provides information about 12 key certificates such as ISO 9001, ISO 14001, ISO/IEC 27001, etc., which is gathered for each country at the end of the year. So, what are some of the global trends in ISO certification?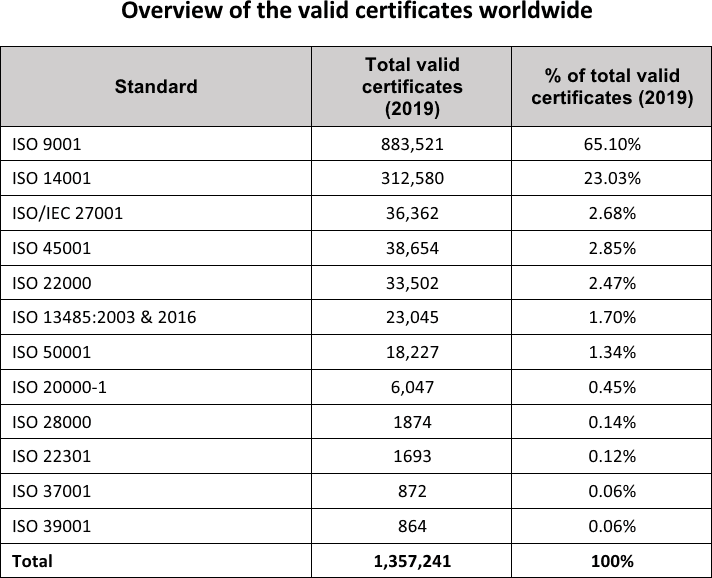 According to the recent ISO Survey 2019 figures, over 1.3 million ISO certificates are currently in effect worldwide.
A total of 1,357,241 valid certificates were recorded in 2019, compared to 1,307,622 certificates in 2018 (an increase of 3.79%).
The most popular certificates are ISO 9001 (quality management), ISO 14001 (environmental management), ISO 45001 (occupational health and safety), ISO/IEC 27001 (information security), ISO 22000 (food safety), and ISO 13485 (medical device quality management).
Trends for the biggest standards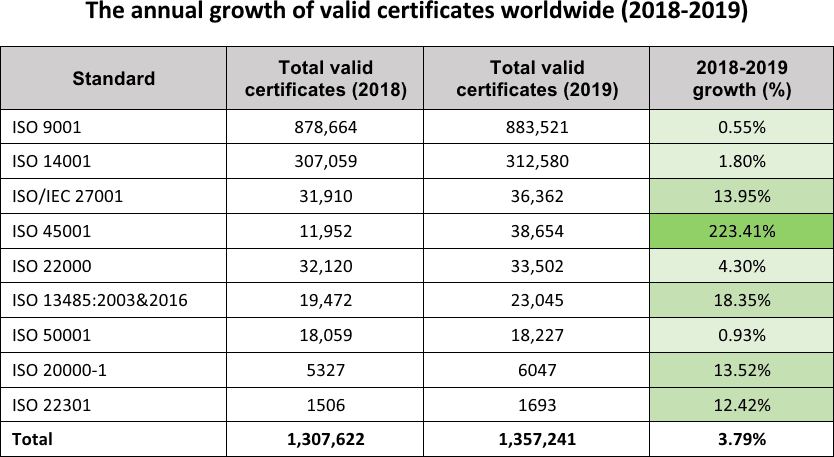 All the standards covered in the survey have seen an increase in the number of certifications, with ISO 45001, ISO 27001, and ISO 13485 showing the biggest growth compared to other certificates. The two most popular standards, ISO 9001 and ISO 14001, were up to 0.55% and 1.8% respectively.
Part of the growth in ISO certificates is due to the increase in ISO 45001 certification (223.41%), as the new standard was published in March 2018, and it was the starting point for the three-year transition period from OHSAS 18000 to ISO 45001. February 2019 was also the end of the transition period to the new ISO 13485:2016 revision, which explains the 18.35% rise in the number of ISO 13485 certificates.
Data breaches and cyberattacks are becoming more common, and organizations are becoming more aware of the rising importance of an Information Security Management System (ISMS), which is also reflected by the increase in the number of ISO/IEC 27001 certificates (13.95%). As companies need to become compliant with many more regulations every year, such as the EU General Data Protection Regulation (GDPR) and the California Consumer Privacy Act (CCPA), the importance of ISO 27001 certification cannot be overstated.

ISO certification by country: The winners and losers
Since the ISO currently includes 165 member countries from all corners of the world, the number of certificates issued per country varies upon the national patterns and specializations.
The analysis of ISO Survey data shows that the countries with the biggest number of ISO certificates issued in 2019 are China (33.65% of total valid certificates worldwide), Italy, Germany, Japan, and India.
Based on the numbers from the survey, countries that had the biggest increase in the number of issued certificates include some of those on the Top 5 countries list, such as Italy and India, followed by Romania, Mexico, and Spain.
Why do we see an increasing number of certificates among these countries? If it is true that Italian companies are losing the brand advantage, they might be using more certifications to stand out in the market. The Spanish government requires companies to hold ISO certifications when they apply for tenders, so many organizations need to implement the standards in their companies if they want to apply for funds or contracts.
Moreover, as the competition in the global world becomes tougher, companies from less developed countries might also be seeking ways to add a competitive advantage to their products, and ISO certification gives this opportunity.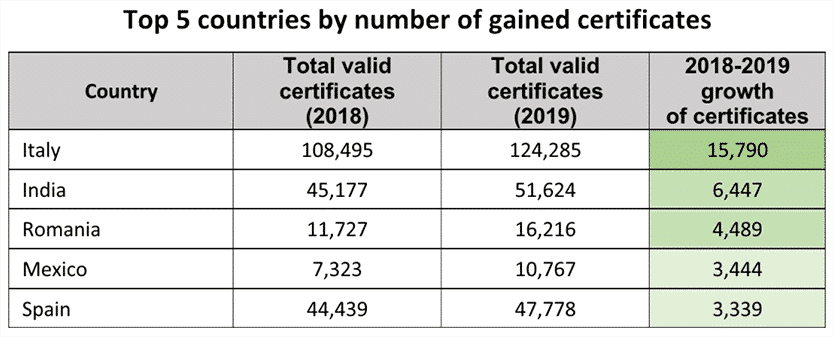 As China remains a worldwide leader in manufacturing, it's no wonder that it is, by far, the leading country for number of issued ISO certificates. Nevertheless, China also remains one of the top losers, with 7434 fewer certificates in 2019 compared to the total number of certificates in 2018. This might be explained by the rising number of Chinese companies that are working for the domestic market, where certification is probably not as critical.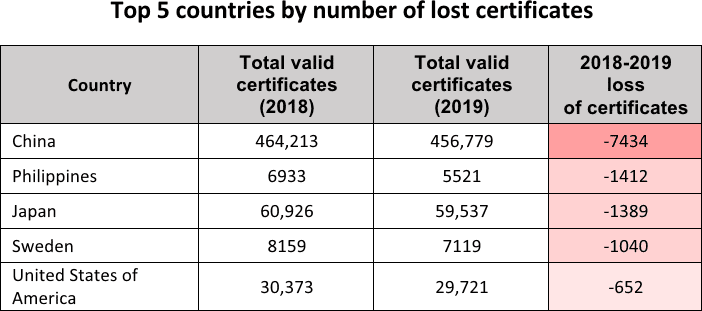 Global economic downsizing might also be influencing companies worldwide, especially the small ones, that decide to focus on the bottom line (earning money) and give up their quality certificates. Another reason for the reduction in the number of certificates might be because of the increasing number of industry-specific standards (such as AS9100, IATF 16949, ISO 22000, and ISO 13485), which leads to companies gradually giving up on the basic ISO 9001 certification.
To learn how to effectively implement ISO 9001 and eliminate unnecessary work, watch this free webinar: Overview of ISO 9001 implementation steps.
ISO certificates breakdown by industry
ISO certification has an effect on all industries and sectors, as there are both "universal" standards that are applicable to any business, as well as industry-specific ones. At the moment, ISO certification covers more than 40 different industry sectors, with the overall leading sectors being metal & metal products, construction, retail & wholesale, electronics, and machinery & equipment. This explains the popularity of top standards (ISO 9001, ISO 14001, and ISO 45001) among the manufacturing and construction industries.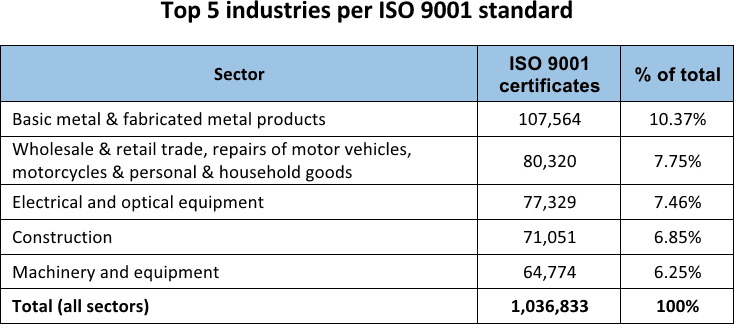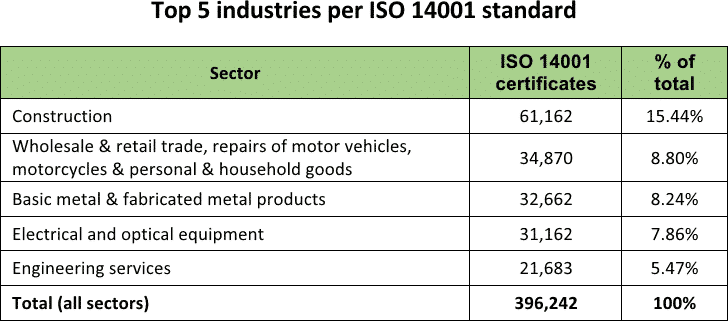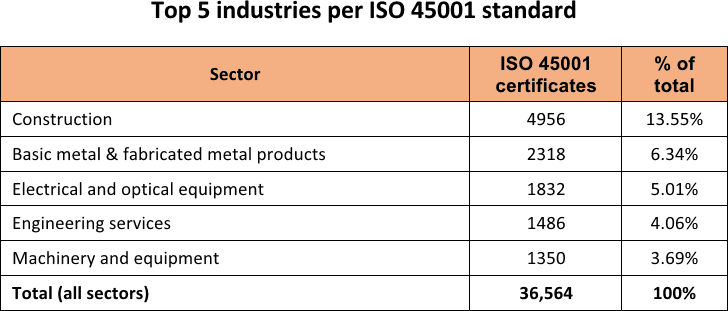 Although ISO 27001 covers all types of organizations of different sizes and industries, the leading industry according to the number of total issued certificates in 2019 is the information technology sector (21.06%). Other popular sectors include communication and financial services, as these industries also heavily rely on the internet and process large amounts of sensitive data.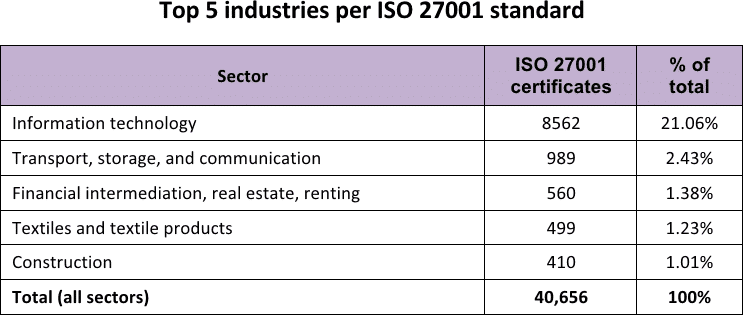 To learn how ISO 27001 can help companies in different sectors, read this article: Applicability of ISO 27001 across industries.
Who should get an ISO certification?
Almost any business can benefit from ISO certification, and more than 1 million organizations in 165 countries are proving that point. It's also safe to say that ISO is beneficial to different industries, not only manufacturing.
Therefore, the key to success is to understand your organization's goals and choose the right ISO standards that will improve your company's operations, reduce its costs, and, most importantly, get new clients.
If you want to learn more about the ISO certification process, check out this free white paper: What to expect at the ISO certification audit: What the auditor can and cannot do.