From the first email that was sent back in 1971 until the present time, emailing has become a standard part of our everyday activities. But, in the age of instant messaging, smart notifications, and cloud technology, organizations are starting to feel the constraints of email communication. Nearly half of our workday is spent on reading, searching, and writing emails, so naturally, productivity and collaboration suffer.
How can we deal with that?
In this article, we are exploring the capabilities of email in dealing with project complexities in ISO 27001 as compared to collaboration platforms designed to support ISO 27001 implementation and maintenance.
When email lands short
Email continues to be the primary method of communication, but its value is quickly diminishing in a fast-paced collaboration and content-centered world. Here are a couple of reasons why:
Email cannot help you sort out the madness. Threads after threads, we all spend a lot of time looking for the right information among thousands of emails. The ability to effectively search, label, and quickly locate the needed information is crucial to provide timely feedback, react, and follow up on ISO 27001 implementation and management activities.
Email cannot help you manage complex projects and tasks. Some might still be using unread emails, labels, and email grouping to organize daily, weekly, and monthly ISO 27001 implementation and management activities. This requires an obsessive need to keep the inbox clean of new emails, just to keep sight of the to-do list. Lack of reminders leads to delays, and the inability to see the status of other team members' tasks often results in missed steps and poor coordination.
Email cannot help you manage your documents. Developing ISO 27001 documents as a team effort, using emails, results in dozens of redundant file edits and revisions buried somewhere in the inbox, which someone needs to monitor and make sense of. Reaching the final version in this scenario can be really challenging. Valuable feedback on document revisions is often lost along the way and teams generally have a difficult time following conversations and making timely document adjustments.
Email is not a collaboration tool. When more than two people discuss or collaborate on an ISO 27001 project, email quickly becomes ineffective. Email will not provide chronological order of the activities already completed by ISO 27001 project team members, or of ongoing project activities. It will not provide contextual information in one place so someone can quickly understand the progress of the ISO 27001 project and make necessary decisions for the next steps and project course changes.
The solution?
Organizations are quickly recognizing ISO 27001 collaboration platforms as the way to bridge the gaps in email capabilities. With collaboration platforms, organizations are moving all ISO 27001 project communication, coordination, and collaboration, as well as further operational and management activities to one place – online.
Time spent on checking, searching, and writing emails is replaced with transparent, easily accessed, and sorted-out updates on the ISO 27001 collaboration platform, which you can easily prioritize to increase overall productivity.

Replacing a bunch of emails with the ISO 27001 collaboration platform
If you've not yet replaced or reduced your daily email communication with an ISO 27001 collaboration platform, here is an example of how we managed to reduce the use of email and increased our productivity by 40% by using our own ISO 27001 collaboration platform called Conformio.
Time saved and increased productivity. With our inboxes constantly bombarded by emails, we spent too much time checking and managing loaded inboxes. Today, we log into our Conformio ISO 27001 collaboration platform to access all the company and project updates and choose the priorities we want to address right on the spot. In the Conformio ISO 27001 collaboration platform, we can easily manage our documentation and distribute the responsibilities to every team member. All information is kept and organized in one place, and everything is one click away. An automated system keeps us informed daily, via a smart notification system, of our responsibilities, tasks, and activities. With that, it is easy for us to identify priorities, react, follow up, and manage all our initiatives more effectively.
You can find more on this topic in the article: Top 5 ISO implementation issues you can solve with online tools.
Better connection. We all use Conformio daily, so it is very easy to reach out to and connect with colleagues to collaborate on our ISO 27001 project. We receive notifications via email and/or via Slack, informing us about activities in the system with the link to join and participate. In Conformio, all information is stored, whether it is done, overdue, or withdrawn. This helps to reduce the email noise we usually experience, and keeps us on the right track without losing any info.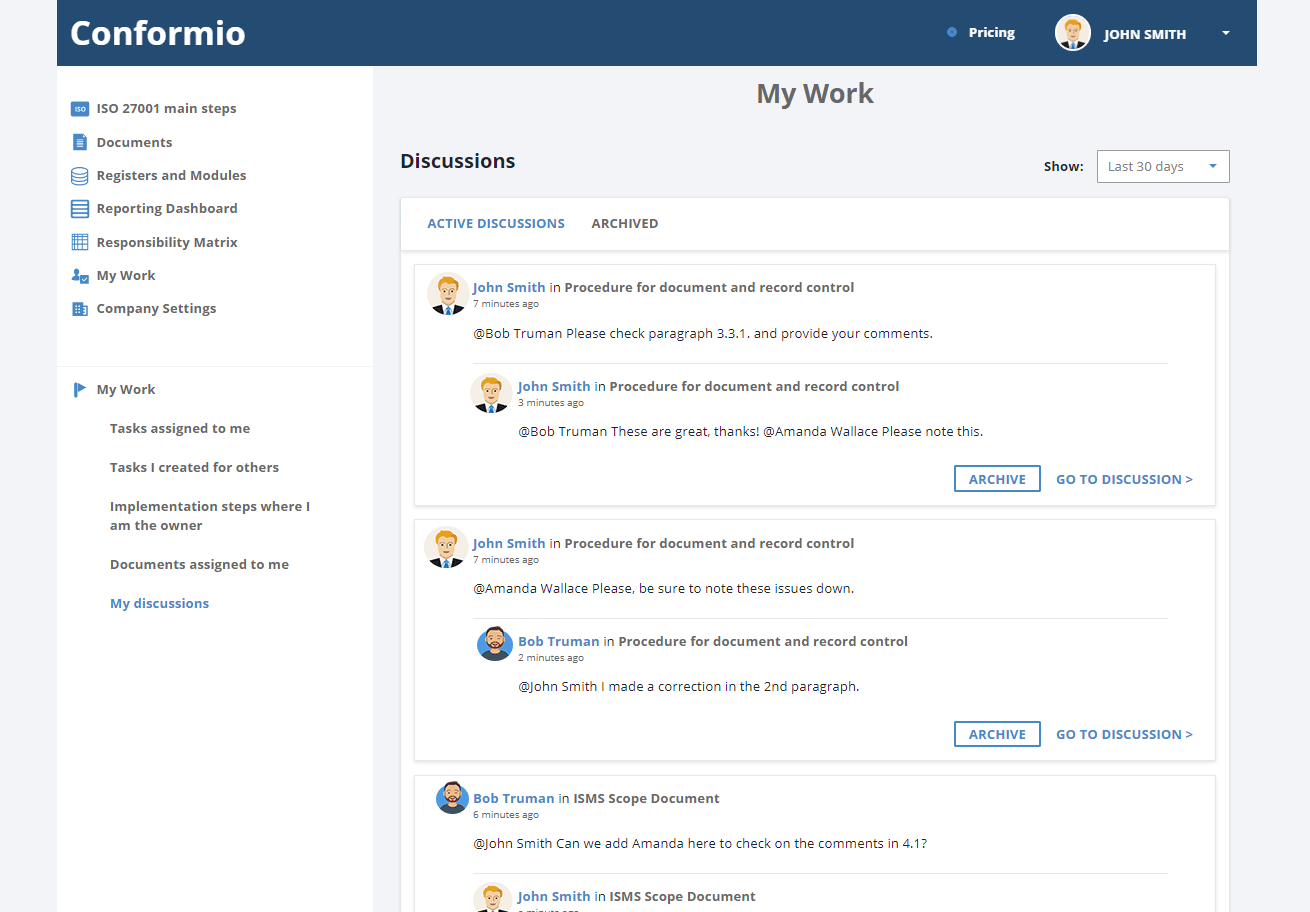 Great collaboration. Developing a document using email was a nightmare. Having shared documents that we can all access, process, and develop online worked very well. Managing the implementation or maintenance with our respective responsibilities, and trying to understand the status and progress of activities, was impossible to do through an inbox. Today, all of our ISO 27001 activities – related tasks, files, and discussions, all responsibilities related to the ISO 27001 management – are shared between the teams, so everyone is on board and can easily understand what the next steps are . . . no confusion, no delays.
See the article: How to enable teamwork for developing ISO policies and procedures using an online tool to learn more about teamwork on the implementation projects.
We live in a time of social messaging and collaboration platforms where people are used to receiving news and updates all the time. Our ISO 27001 collaboration platform recognizes how people interact through automated notifications, instant messaging via integrated Slack, status updates, and more. It harnesses the power of cloud computing, data analytics, and popular social networking features so that people can communicate effectively within an organization.
By engaging your employees and offering them a solution that is easy to use, highly functional, and streamlines work communication, you can boost productivity and engagement throughout your company, while reducing email communication.
Technology gives us a much-needed edge to do more, faster and better. So, why not try our free trial?