Identification and Evaluation of Environmental Aspects in Manufacturing Companies
This live, interactive virtual training is conducted by a top Advisera expert, who will work with a small group using practical examples that will help you understand, identify and evaluate environmental aspects in manufacturing companies and the specifics that you should concentrate on.

Who should attend

Consultants
Management representatives
Environmental quality managers

What will I learn?

Understand what environmental aspects and environmental impacts are
How to identify and evaluate environmental aspects
How to choose the appropriate methodology
How to define criteria for the assessment of environmental aspects
How to manage significant environmental aspects

Benefits

Superb understanding of the specifics of the environmental aspects and environmental impacts
Learn how to identify and evaluate environmental aspects in a quick and efficient way
Gain the ability to define assessment criteria, conduct the assessment, and deal with significant environmental aspects with less waste of time and effort
Live Virtual Training
Currently, we don't have scheduled live virtual training, please submit your interest, and we will contact you once we schedule the date.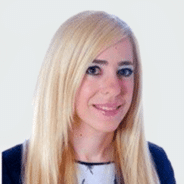 Iciar Gallo
ISO 14001 Expert
Iciar Gallo has more than 10 years of experience in business consulting and auditing, including a number of management systems such as ISO 14001 and ISO 9001.
She has worked for several international companies and prestigious universities not only in Spain, but also in Panama, Venezuela, England, Zambia, and the United States. She has broad experience as an instructor and trainer. She has developed and held a large number of courses on environmental and quality standards at AENOR, Advisera, and other international organizations.
Iciar holds a Master's Degree in Environmental Management and Control from the Technical University of Madrid and is certified as a Lead Auditor and Lead Implementer of ISO 9001 and ISO 14001.
Get in Touch
Need some help? Contact us now. We respond quickly.