If your organization has decided to implement ISO 14001 with the help of an external consultant, it is time to choose the best candidate. There are many elements that you will need to evaluate when choosing an ISO 14001 consultant, from consultancy fees to experience. This article will give you the key ideas to be sure you are selecting the right consultant to successfully implement the standard in your organization.
In case you are interested in becoming a consultant, it's recommended you read the following article: How to become an ISO 14001 consultant.
Why a consultant?
When signing a contract with a consultancy firm or a consultant, you will obtain the knowledge and skills that your organization doesn't have. These skills are necessary for implementing, maintaining or auditing an environmental management system. These activities also will be performed within a stipulated time frame and compensation, so productivity can be seen as the main benefit of hiring an independent consultant. In addition, your employees will be able to continue performing their regular tasks without spending too much time learning ISO 14001 requirements.

Top considerations when choosing the right ISO 14001 consultant
Choosing the correct attributes of a consultant is crucial to assist your organization in the proper implementation of the project. The following are the criteria that you need to consider:
1) Qualifications
If you choose either to hire a consulting company or a consultant, make sure you look at the qualifications of the person that will conduct the job in your organization. Check if he or she has formal environmental qualifications such as a degree in environmental management, and if he/she also possesses certifications like ISO 14001 Lead Auditor Course or ISO 14001 Lead Implementer Course.
2) Experience
The consultant must have enough hands-on experience, both implementing and maintaining environmental management systems, conducting training and performing internal audits in different kinds of organizations. Your company can ask for references to check whether he/she has really conducted those tasks in other organizations.
Another important factor to consider is the experience in your particular industry. If you are a construction company but the consultant has developed environmental management systems for manufacturing organizations, that professional may not be the right one for you. This is because he will not be familiarized with your processes and legal requirements related to the protection of the environment.
3) Reputation
Reputation is built through years of experience in the consulting field, not only helping companies to achieve their ISO 14001 certificates but delivering training through courses or webinars, writing articles and books, giving speeches at conferences, etc. Checking all of these things will give you an idea whether the consultant has a good reputation or not.
4) Cost-benefit balance
Your company should consider not just the costs of the consultancy work, but also the benefits obtained from his/her job. This means that, if the consultant is very cheap, he/she may not bring many advantages to your organization by, for instance, developing complex environmental management systems that can be time-consuming for your employees. Therefore, it is crucial to analyze whether contacting a premium consultant, who is more expensive, is in fact more valuable for your organization.
Contracting a consultancy firm is often more expensive than directly hiring a freelance consultant. There are many ways to find a very good consultant, for instance through websites where good independent consultants offer their services for a reasonable cost.
5) Communication
Establishing a good rapport with the consultant is vital for the success of an environmental management system. Check if he/she is able to communicate effectively by having a conversation with the professional before signing any contract. Even more importantly, the consultant must have the ability to listen to your needs. By doing so, he can effectively tailor the project to your expectations.
The use of modern technologies like cloud storage, content management systems or Skype can add value to the consultant. These kinds of technologies will provide the project with an effective means of communication and avoid wasting time in lots of face-to-face meetings.
All this will ease the implementation and maintenance of the system in your company, and will help the employee engagement in the project.
6) Confidentiality
From the moment a consultant enters your organization he/she will learn all details about your processes. Evaluating his/her background on this matter will save you from many future troubles. Also, consider only those professionals who are open to signing a non-disclosure agreement (NDA). This way, you will be sure to protect your organization's confidentiality.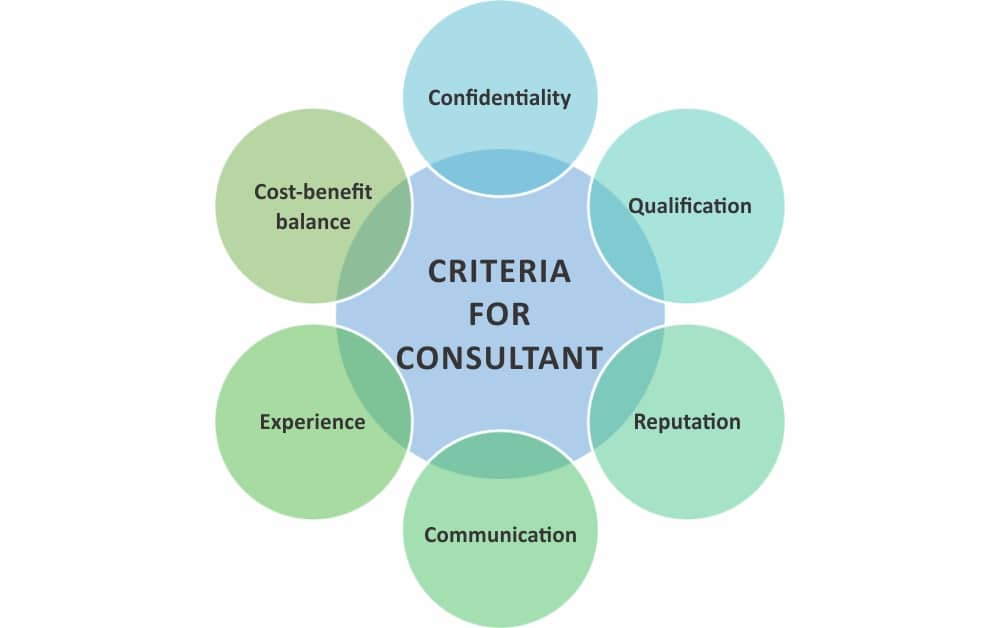 Figure: Attributes to consider when choosing the right consultant
Risks of hiring a consultant
Not choosing the right consultant can bring many troubles to your company due to a useless implementation of ISO 14001. The following are the most important risks caused by an ineffective environmental management system:
Not delivering the expected financial or environmental benefits of ISO 14001 implementation
Not addressing legal and regulatory environmental compliance requirements, resulting in fines
Discovering non-conformities during the ISO 14001 external audit and therefore failing certification
Having complicated and illogical procedures and documents that are difficult for employees to follow
So, first make sure that you really need a consultant before hiring one – read more about it here: Do you really need a consultant for implementation of ISO 14001?
Take your time, it is worthwhile
In the end, if you think the best option for your organization is obtaining the support from a consultant, carefully analyze all the above-mentioned attributes to contract the best consultant for your organization.
Spending the necessary time to find the best candidate to become your ISO 14001 consultant is definitely worthwhile. If you do not consider all the characteristics of a good consultant presented above, you may experience many troubles along the way.
To learn more about ISO 14001 implementation read this free white paper: Implementing ISO 14001 with a consultant vs. DIY approach.