If your organization is seeking to adopt ISO 17025 in your laboratory environment, the looming question(s) are likely some of the following: How do we get there? What do we need to do? Are we prepared? What steps should be taken? How much money will this cost us? How long will the process take? While the answer to each of those questions is likely an article within itself, we will provide you with a few steps to help guide your implementation of ISO 17025. See the ISO 17025 implementation checklist further in text.
Guidelines for success
Let's consider a total of 11 critical steps that can be populated into a checklist format to help guide your thoughts as you prepare for implementation of ISO 17025. Establishing effective communication channels with stakeholders is critical before initiation of any of the steps listed.
1) Obtain support of Management. When it comes to implementations of any kind, either of new technology, quality management systems or corporate reorganization, few of them have success stories without the full backing of stakeholders and management. Managerial support is at the epicenter of successful transformations within any organization. Adoption of a quality management system can be initiated as a result of many things (e.g. negative press, exposure incident, fatality). However, the decision to commit, allocate resources, and start implementation planning must be supported by management.

2) Determine the context of the Organization
. What will be the extent of your daily operations as it relates to ISO 17025? What testing methods will be within the scope of accreditation? Who will be your customer? Spend some time identifying what will be applicable to the ISO 17025 accreditation.
3) Define Scope, Management, Commitment and Responsibilities. Define the Quality Policy, Quality Objectives and establish a quality manual. Identify what area of your daily activities are applicable to ISO 17025. Express the level of managerial commitment required and designate the person responsible for follow-up. Identify and document the commitment that will come from management. Clearly define and document the associated roles and responsibilities across the organization.
4) Address Risks and opportunities. Risks and opportunities are areas that could potentially directly harm the organization, its reputation, customer engagement, or staff members. Once risks are identified, you want to take the time to identify mitigation steps needed (e.g. how to lessen the chance of this risk becoming a reality). The areas that you can improve become opportunities. Evaluate current activities and determine what more could be done to lessen any identified risks. Decide how you will manage risks that cannot be mitigated.
5) Define Processes and Procedures. Brainstorm and document the list of activities and methods performed within the laboratory. Develop instructions for how things are to be performed. Designate and assign responsibilities for the establishment of each procedure.
For more about how ISO 17025 helps improve procedures related to laboratory measurements read the article What does ISO 17025:2017 require for laboratory measurement equipment and related procedures?
6) Implement Processes, Procedures and Controls. Now that processes are defined and procedures are developed, the implementation must begin. Outline the plan for implementation and associate a timeline. Identify and share any new expectations for personnel. What changes will affect daily activities? What controls are now built into procedures? How will the organization ensure processes and procedures are being executed as written within the standard operating procedures? Develop a plan to monitor implementation and determine the effectiveness of procedures that have been established. Records should be generated and reviewed periodically.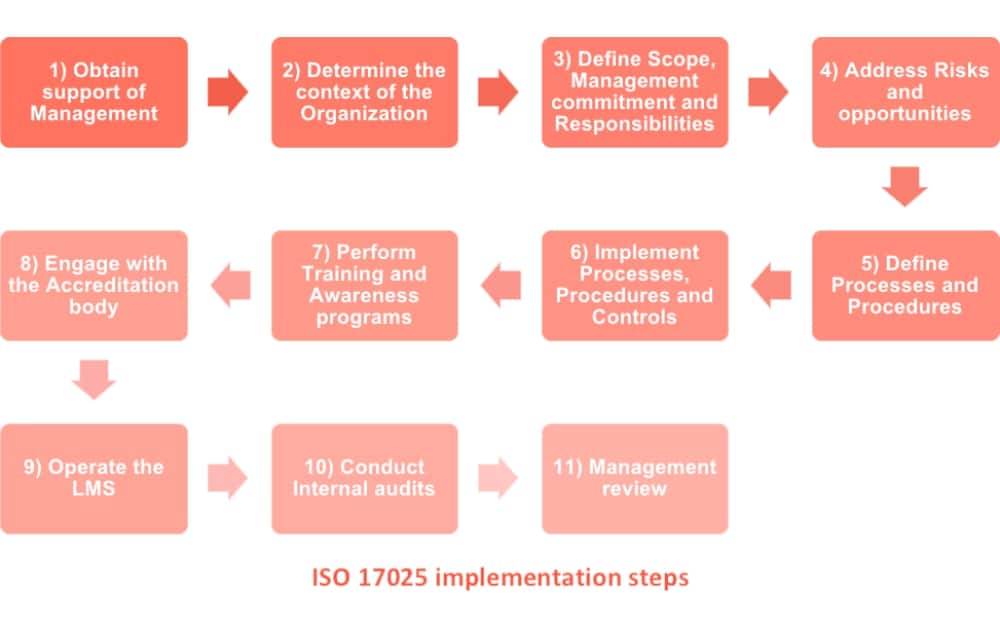 7) Perform Training and Awareness programs. All staff should be educated about ISO 17025, but they should also be educated on what is expected of them. When change is on the horizon a need for an information exchange is inevitable. Be sure to highlight the changes that will be applied to daily activities. Awareness programs can come in the form of committees or small groups that will help spread coming expectations.
8) Engage with the Accreditation body. Contact your Accreditation Body. An accreditation body provides the crucial support and the means for your laboratory to achieve accreditation through the assessment process. Start engaging with either the singular national accreditation body of your country or, if you have a choice, your selected accreditation body.
9) Operate the LMS. The Laboratory Management System as defined by the quality objectives and procedures is the core of all operations surrounding daily activities. Once the LMS is established you will want to keep staff educated on the requirements and review associated records to ensure the system is working as intended.
10) Conduct Internal audits. Internal audits should be used to evaluate the quality management system against the requirements of the standard and against the standard operating procedures that have been generated. Staff should be aware of the intent of internal auditing practices and their established frequency.
11) Management review. The frequency of these reviews is defined by your organization. The content within the management review should effectively address resources, risks and opportunities, nonconformance and all aspects of the management system functionality.
Get ready to demonstrate the competence of your laboratory
If your organization has implemented all 11 preceding steps, you are ready to prepare for the accreditation assessment – the opportunity to demonstrate the competence of your laboratory in providing quality testing or calibration services. In preparation, perform a final review of day-to-day operations, ensure records are effectively documented, communicate with staff and help them understand that the audit is simply a part of the process. All elements of a quality management system are likely to be evaluated during this time.  Open lines of communication, scheduling, and rallying stakeholders will be adequate preparation for a successful audit.
For a brief overview of ISO 17025 implementation steps download this free Diagram of ISO 17025 Implementation Process.