Cloud environment usage inevitably raises concerns about information security. Users expect information they stored, such as customer, personal, and sensitive data, to be in safe hands. They aim to choose a service provider carefully, so that they can sleep at night knowing that their data is secure. Therefore, SaaS companies are expected to be viable, stable, and offer security controls.
This is where ISO 27001, a widely known international standard on Information Security Management Systems, comes in handy. Implementing adequate ISO 27001 controls gives assurance to clients that the SaaS company takes security and compliance seriously. If a SaaS company is not ISO 27001 certified, there is a good chance that prospective customers will not even shortlist the vendor.
ISO 27001 certification helps SaaS companies in the following ways:
offers architected, dependable, and highly secure systems and applications
gives the ownership and control of data freedom to its users by applying principles of confidentiality, integrity, and availability
fulfills service-level commitments, which means continuity of services and business
identifies laws and other information-related regulations
Benefits of ISO 27001 for a SaaS company
Besides meaning credible recognition, ISO 27001 for SaaS ensures effectiveness in a company, increasing client retention and new customer acquisition. With the increasing number of competitors on the market, more SaaS companies strive to earn their competitive advantage by demonstrating their commitment to data security because of the following:
Many companies consider ISO 27001 as a primary security requirement before selecting their SaaS vendor, knowing that they offer architected, dependable, and highly secure systems and applications.
ISO 27001-certified SaaS gives the ownership and control of data to its users by applying confidentiality, integrity, and availability principles.
The risk management approach of ISO 27001 helps SaaS companies to fulfill their service-level commitments, which means continuity of services and business for SaaS users in case of an incident or disruption.
ISO 27001 requires identification of laws and other information-related regulations. ISO 27001-certified SaaS companies take this into account when designing their systems, so that their clients are assured their supplier is not in any legal risk.
ISO 27001 for SaaS – Certification requirements
Before going for the certification, a SaaS company needs to implement a security framework and safeguards  – these are implemented in the 16 steps described in the following article: ISO 27001 implementation checklist.
By conducting the last steps in the implementation, internal audit(s) and management review(s), and starting corrective actions, the SaaS company will be eligible for the initial certification process.
The certification process is performed by a certification body in three stages: document review, main audit, and surveillance audits. Learn more about the ISO 27001 certification process in this article: How to get ISO 27001 certified.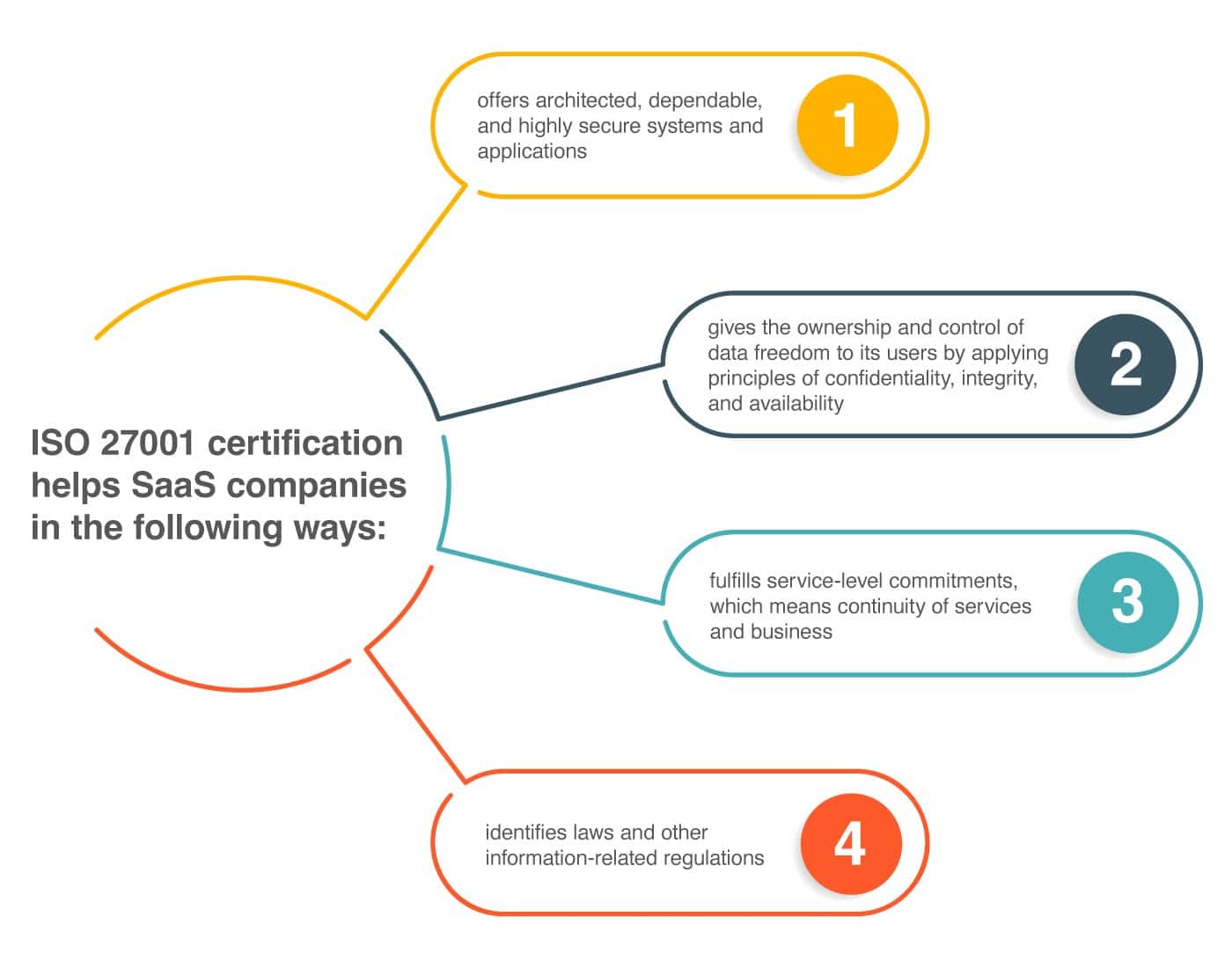 How does ISO 27001 certification ensure that customer data is protected?
As mentioned before, ISO 27001 has a catalog of security controls that ensure customer data is protected. These controls are categorized into the 14 sections listed below:
A.5 Information security policies: Policies help employees and interested parties to know the main security rules and the objectives a company will achieve with an information security system.
A.6 Organization of information security: Clearly defined security roles in an organization will help everyone understand their responsibilities and avoid conflicts. Also, setting up rules for mobile device usage and teleworking will reduce the risk of breaches.
A.7 Human resource security: Make sure only trusted and regularly trained people who are aware of their obligations work for the company.
A.8 Asset management: Assets of the SaaS company, such as infrastructure, contracts, and databases, should be classified in an inventory and tracked for usage and any changes.
A.9 Access control: Different customers or users will require separate roles, so make sure that permissions on who can access where and how are handled in a secure way.
A.10 Cryptography: SaaS data encryption is important because it ensures that data – in transit or when archived – is secured from prying eyes and hackers. SaaS services with appropriate data encryption standards are the best way to make sure data is safe.
A.11 Physical and environmental security: Protecting offices, rooms, and equipment is a must. The location of the workplace, natural disasters, malicious attacks, cabling security, and equipment maintenance must be considered when deciding on precautions. SaaS companies must have restrictions on physical entrance and controls for information being viewed by unauthorized persons. Even small companies whose employees and/or collaborators work from home must have rules to protect their laptops, smartphones, thumb drives, and policies for clear desk and screen.
A.12 Operations security: To meet customer demand, SaaS companies must be sure that they have enough capacity and be able to make changes when required. Operation security controls also include malware protection, backup management, and recording of admin and user activities, as well as security events.
A.13 Communications security: SaaS companies must manage and control networks in order to protect information within systems and applications. Technical controls such as firewalls, endpoint verification, network segregation, hosting, non-disclosure agreements, third-party extensions, and libraries play an essential role in protecting SaaS applications.
A.14 System acquisition, development and maintenance: Rules for the development of software and systems should be established and applied to developments within the SaaS company. Before going live, tests must be conducted to ensure everything is all right.
A.15 Supplier relationships: Only suppliers who understand their security obligations should provide services and products to SaaS companies.
A.16 Information security incident management: It is especially important for SaaS companies to develop an incident management and response plan before an incident hits.
A.17 Information security aspects of business continuity management: Preparation is vital when it comes to inevitable situations that disturb business activities. Defining critical activities and establishing step-by-step procedures to return to normal activity will help the company to stay in control and reduce disruption, damage, recovery time, and costs.
A.18 Compliance: Every business organization must comply with laws and regulations. SaaS companies must especially focus on privacy, intellectual rights, and technical compliance regulations.
How can SaaS companies win market share with ISO 27001 certification?
ISO 27001 is a good starting point for SaaS companies who want to be recognized internationally and need a competitive advantage in a rapidly growing industry where security is the top challenge. So, after a SaaS company achieves ISO 27001 certification, getting a new client will be much easier.
Finally, we can say that ISO 27001 for SaaS is like the pole used by a pole vault athlete trying to qualify for the Olympic games. If used properly, SaaS company can cross the bar and locate a good market position.
To achieve ISO 27001 compliance in your SaaS company, sign up for a 14-day free trial of Conformio, the leading ISO 27001 compliance software.