In my recent article called First-, Second- & Third-Party Audits, what are the differences? I talked about the different types of audits as they relate to who is doing the ISO 9001 audit: an independent company, a customer, or an internal person. When it comes to an internal audit, there are two different ways of auditing the processes of your QMS: horizontal auditing and vertical auditing. Both have their place depending on what you want to achieve in the specific internal audit you are doing. Here is an explanation of the differences, along with some examples of each and an explanation of when each might be useful in auditing your quality management system processes.
Some things to keep in mind about internal audits
It is important to keep in mind that internal audits should focus not only on separate processes, but also on the linkages between them. By looking at the outputs, and confirming if the outputs from one process are used properly as inputs into the next process, you can find and work to correct any discrepancies that cause problems and inefficiencies. Looking for inefficiencies and opportunities for improvement are one of the key benefits of the internal auditing process.
What is a horizontal audit?
A horizontal audit is when you audit one process across many departments in the organization. One example would be if you chose to only look at document control everywhere it happens throughout the organization, or only focused on training records across many different departments. This type of audit has one big limitation: it is difficult to see the linkages between processes. If you are only looking at documentation control you may not easily see how this is related to the records kept for the process, or how document control can affect the process of ordering material or serving the customer. These critical linkages between processes, which can cause problems and highlight great opportunities for improvement, can easily be overlooked.
On the other hand, if you are doing an audit as a follow up to ensure that a corrective action is effectively implemented, then the horizontal audit can be an excellent tool. If, in a previous audit, you found that record control was incorrectly maintained in several departments, and were verifying that this has been fixed after a planned correction, then just looking at record control across many departments in the organization is a good way to make sure that this is now done correctly.

What is a vertical audit?
A vertical audit is when you audit all the processes used by a department. This could be done when you audit the purchasing department and do a review of the purchasing process, documentation process, training process, records retention, corrective actions, non-conforming products, contract control, etc. When using this type of process it can be much easier to see how these different procedures interact across the quality management system, and you can judge the linkages between procedures. With this type of audit it is much easier to determine if there is a problem between these different processes, such as problems created between the initial contract acceptance, product design, and placement of the purchase order with the supplier.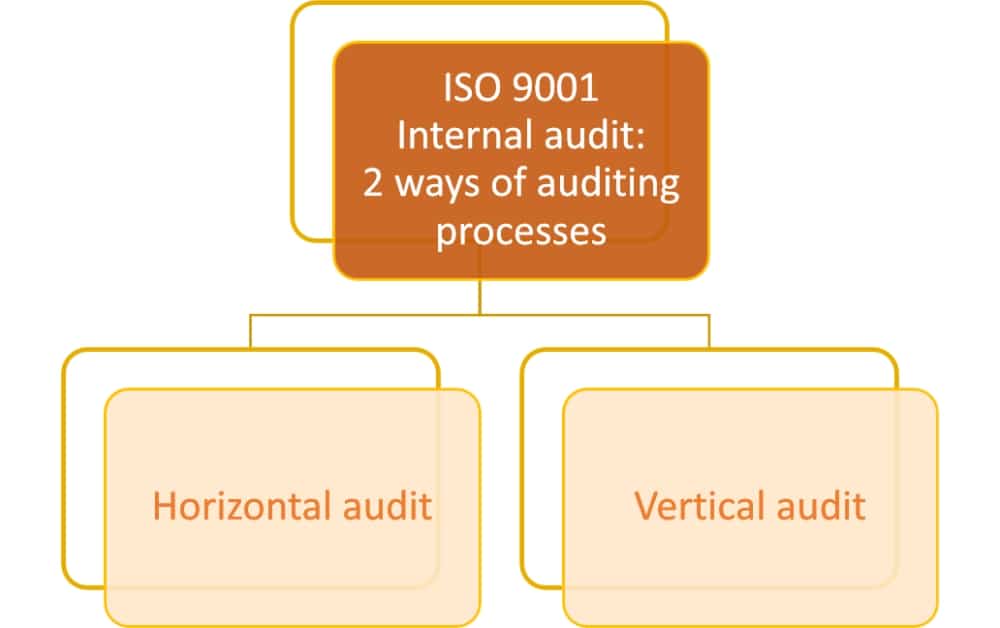 In fact, if you are doing several vertical audits near each other it can become easy to see if there is a systemic problem across many processes, or if you have an isolated problem within one department. For instance, if you find that there is a problem with the information recorded in the contract as it is used by the purchasing department, and the design department, and the production department, you can focus your corrective action on improving the entire contract process rather than focusing on the one department that is having problems with the information.
Using the right style of audit can improve your audit results
As you can see, choosing the right style of audit for the outcome you are looking for can help increase the effectiveness of your internal audits, and help you find opportunities for improvement to make the most out of your investment in a quality management system. By using your internal audits to find and highlight the problems between processes, you gain the benefits of a well-implemented internal audit system, and using the right type of audit for the right outcome is the first step in finding these improvement opportunities.
For a better understanding of the audit process, see this free online training: ISO 9001:2015 Internal Auditor Course.