What does ISO 9001 actually look like?
The ISO 9001 structure is split into eight sections. The first three are introductory, with the last five containing the requirements for the Quality Management System. Here is what the five main sections are about:
Section 4: Quality Management System – This section talks about general QMS requirements, as well as the documentation requirements of the standard. It includes the requirements for the Quality Manual, Control of Documents and Control of Records, all of which are required documents in the QMS.
Section 5: Management Responsibility – The management responsibility requirements cover the need for top management to be instrumental in the implementation and maintenance of the QMS. Along with planning for the QMS, there is a need for top management to be involved in the ongoing review of the system to ensure customer satisfaction and improvement.
Section 6: Resource Management – The section on management of resources is short, but covers the necessity to control all resources, including human resources, buildings and infrastructure and the working environment.
Section 7: Product Realization – The product requirements deal with all aspects of the planning and creation of the product or service. This section includes requirements on planning, product requirements review, design, purchasing, creating the product or service and controlling the equipment used to monitor and measure the product or service. ISO 9001 allows for requirements in the section to be excluded if they are not applicable to the company (such as a company that does not design products or services).
Section 8: Measurement, Analysis and Improvement – This last section includes the requirements needed to make sure that you can monitor whether your QMS is functioning well. It includes assessing customer satisfaction, internal audits, monitoring products and processes, dealing with non-conforming product and corrective and preventive actions.
These sections are based on a Plan-Do-Check-Act cycle, which uses these elements to implement change within the processes of the organization in order to drive and maintain improvements within the processes.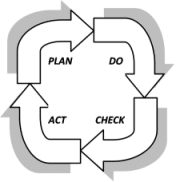 For more on how this works within the ISO 9001 standard, this blog article gives a more detailed explanation: Plan-Do-Check-Act in the ISO 9001 Standard.