At some point during your implementation of an ISO 9001 Quality Management System (QMS), you will have to write down some policies and procedures. There is no avoiding this. While it is useful and important to make sure you don't have too much documentation, there are definitely some policies and procedures that you will need to write down in order to prevent non-conformances. For this reason, you should have a standard way in your organization to write these documents so that they are consistent and easy to understand.
1) Decide on the process limits.
After deciding that a process needs to be documented in a procedure, you first need to know the limits of the process you are documenting. For instance, if you are documenting the purchasing process, it may start with a list of parts to be purchased from the designer, and end when the parts are delivered from the supplier and determined to be acceptable. If this is the case, you will need to detail the requirements for each step that is deemed necessary, such as how purchasing determines who to buy from, how the purchase order is placed, and how the parts are accepted when received. Knowing the limits of the process will help you to know when to stop documenting.
2) Gather the info.
There are different ways to view a process, but making sure you understand the whole process is important to ensure that nothing is missed, even if you don't need to document everything. One way to view the process is through a turtle diagram, which shows the six different external interactions of a process.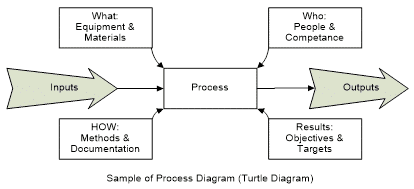 Another method of viewing a process is the SIPOC model often used in Six Sigma improvements. This is an acronym for Supplier, Inputs, Process, Outputs, and Customer. This method makes you focus on how the process you are documenting interacts with other processes before and after it. Whichever ways you choose to look at the process, make sure you look at all aspects of the process when gathering the information for your documentation.
For more information on creating a process flowchart, see this white paper on How to create an ISO 9001 process flowchart.

3) Align with other documents & processes.
Aligning with other processes is very important, and making these interactions work well is one of the best ways to make the whole system more efficient. One place to focus your attention is the inputs and outputs of the process. For the inputs, does the process that creates the input know the requirements of the process using it, or might they change the input later? For the process output, is it used somewhere as an input? If not, then you need to question if this output is actually necessary.
4) Define your document structure.
There are many different ways to document a procedure. For instance, you may choose to have documentation that is a series of paragraphs, or you may choose to have a procedure that is in a flowchart format. Regardless, many companies have a standard document structure to help people know where to look for certain important pieces of information, such as the applicability of the document. The blog article How to structure quality management system documentation not only shows a structure for documentation hierarchy, but in section 3 also gives a good sample format for a quality management system procedure. Knowing where to look for the information needed can save employees time and improve the efficiency of the QMS documentation.
5) Write your document.
Take what you have found and write enough detail that competent people reading it can perform the job required without causing non-conformances. This is the reason you have a document. If you add unnecessary information, you not only make your document more cumbersome, but you might confuse your audience. I once saw a procedure that stated: "No eating, drinking or smoking in the lab; effective 24 hours a day 365 days a year." By adding the last part, does that mean that on February 29th in a leap year you can do this? Think about what you write.
6) Get approval for your document.
In all cases, you need to make sure the right people approve a document for use. This might be the production manager for production procedures, or the purchasing manager for purchasing procedures. A good QMS will define who need to approve which documents so that the right experts are ensuring that the procedure is correct.
7) Train the relevant employees.
I am not a big proponent of training by having people read procedures and sign a paper as a record that they did. It is best to find some way to make sure that the people who need to use a procedure have not only read it, but also understand and have implemented any changes into the process. This can be done through audits or even questioning employees to make sure they understand the important parts of a procedure. By doing this, you can also check the effectiveness of the documented procedure to see if any improvements need to be made.
Is that all you need to do?
It is good to remember that a documented procedure does not necessarily mean that a process is static and unable to change. Through continual review by operators, auditors, and management you can identify potential improvements in your processes and change your documentation accordingly. Sometimes it is hard to see all of this change as a good thing, but if it is driving improvement – it is. Use your documentation to capture improvements so that everyone is using best practices, and you will be farther ahead in your goal of more efficient processes.
Download this free Checklist of Mandatory Documentation Required by ISO 9001:2015 to learn about the structure of documents needed for QMS implementation.