9 Steps to
Cybersecurity
The Manager's Information Security Strategy Manual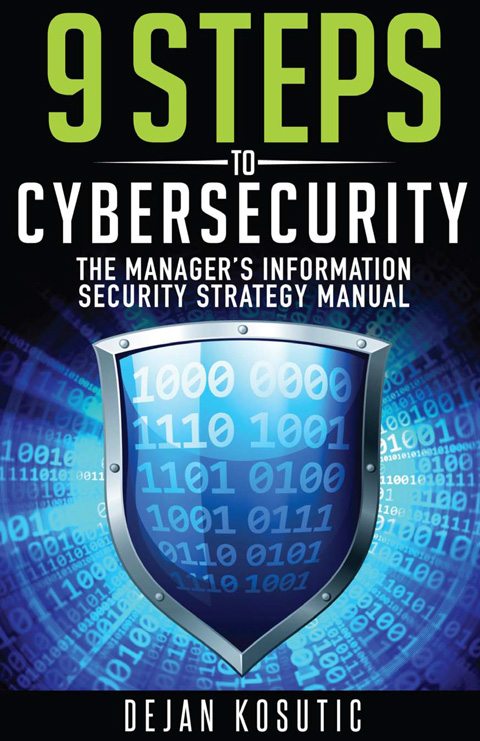 Explains cybersecurity and how to properly integrate it into your organization
9 Steps to Cybersecurity from expert Dejan Kosutic is a free eBook designed specifically to take you through all cybersecurity basics in an easy-to-understand and easy-to-digest format. You will learn how to plan cybersecurity implementation from top-level management perspective. Additionally, Kosutic covers all of your options and how to choose the ones that ultimately will work best.
The goal of this book is to give you the essential information you need to make decisions that are crucial for the future of your organization. Simply fill out the short form on the right-hand side of the screen to download 9 Steps to Cybersecurity today.
Get your Free eBook
Register for this free eBook and as a bonus you'll receive a series of tips on how management should handle information security.
* We respect your privacy. We do not sell or share your email address.
Book details
ISBN: 978-953-57452-0-4
Language: English
Author: Dejan Kosutic
Number of pages: 80
Publisher: Advisera Expert Solutions Ltd
Publication date: 2012-12-04
Formats: PDF
Very well driven into topics - By Sai on September 09, 2014
Very well driven into info security topics. Thanks for the information
Logically constructed - By Zsolt on August 26, 2014
I have found it to be a comprehensive, logically constructed, ease-to-read handbook which has soundly rooted in the ground of the reality. Thank you, and special thanks for the free availability.
Real examples - By Victor Anand on May 29, 2014
Wonderful book on Info Security , Its good and has real time examples which makes things understand clearly than any book, Thank you so much
View all reviews
Show less
Why is this Book Essential for You?
Learn how to use risk management to make your cybersecurity a profitable investment
Find out how cybersecurity can give your company an invaluable marketing edge
Learn how to comply with various information security laws and regulations, including U.S. Executive Order – Improving Critical Infrastructure Cybersecurity
Discover the invaluable tips for persuading upper management to act immediately
Uncover the key elements of the CIA triad (Confidentiality, Integrity and Availability) and why it is vital to your company
Learn everything you need to know in order to develop a cybersecurity plan and monitor the implementation by setting measurable targets
Who Should Read this Timely, Free eBook on Cybersecurity?
Anyone interested in the cutting edge of cybersecurity and what is necessary to secure information should download 9 Steps to Cybersecurity, which can be read in less than 2 hours. This free eBook will be of tremendous interest to any executives wishing to be well versed in the latest cyber safety information. CEOs, CFOs, Chief Information Security Officers and other managers will find this detailed and informative examination of the current state of cybersecurity to be a must-read book. Additionally, 9 Steps to Cybersecurity is written in completely non-technical language – Kosutic's goal was for the book to be easily accessible to all executives, regardless of whether they have technical knowledge.
Once you've read Dejan Kosutic's book, you will have a clear concept of cybersecurity, and the direction that your company should take. You will be able to properly implement cybersecurity and comply with the regulations and relevant deadlines. 9 Steps to Cybersecurity was specifically written to provide much-needed clarity and help you chart the most direct and most effective path for your company, period.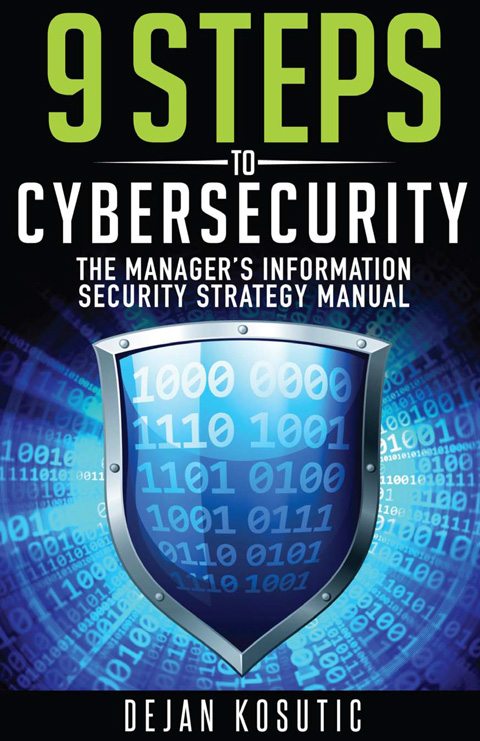 9 Steps to Cybersecurity
Explains Cybersecurity and How to Properly Integrate it Into Your Organization
ISBN: 978-953-57452-0-4
Language: English
Author: Dejan Kosutic
Number of pages: 80
Formats: PDF