ISO 13485:2016 is a voluntary standard for Quality Management Systems of medical device manufacturers and suppliers, and is used worldwide for developing and maintaining the system that caters to the needs of the market requirements for medical devices. One of the main reasons that ISO 13485 has been revised is the alignment of the international standard with the common regulatory concepts that have evolved since 2003. ISO 13485 has been affected by the leading medical device regulatory bodies around the world, like the FDA (Food and Drug Administration) in the United States.
The medical device regulatory processes have progressed a lot since 2003. Increased regulatory emphasis on product safety, requirements for risk management in products and processes, and improvement of reporting systems to regulatory bodies led the revision of ISO 13485 in 2016. The revision was made to help users to meet common regulatory requirements.

Relationship between ISO 13485:2016 and FDA 21 CFR Part 820
Figure 1 depicts how ISO 13485:2016 helps organizations to maintain an effective Quality Management System that addresses the applicable regulatory requirements. The latest ISO 13485 standard also encompasses common regulatory concepts within its requirements. Organizations based on this standard can move towards compliance with FDA 21 Code of Federal Regulation (CFR) Part 820 (Quality System Regulation). Based on their compliance with this regulation, organizations can market medical devices commercially in the U.S. Part 820 defines requirements for the quality system to meet FDA regulations, termed current good manufacturing practices. It is more similar to ISO 13485 as far as requirements are concerned. Other Parts include (for example) Part 810, which deals specifically with the procedure of medical device recall, and Part 830, dealing with unique device identification of medical devices.
ISO 13485 and FDA 21 CFR Part 820 are compared on the basis of their purposes, histories, scopes, and influences on each other. The below comparison matrix will help you understand the working scopes, applications, and domains of both the standard and the regulation.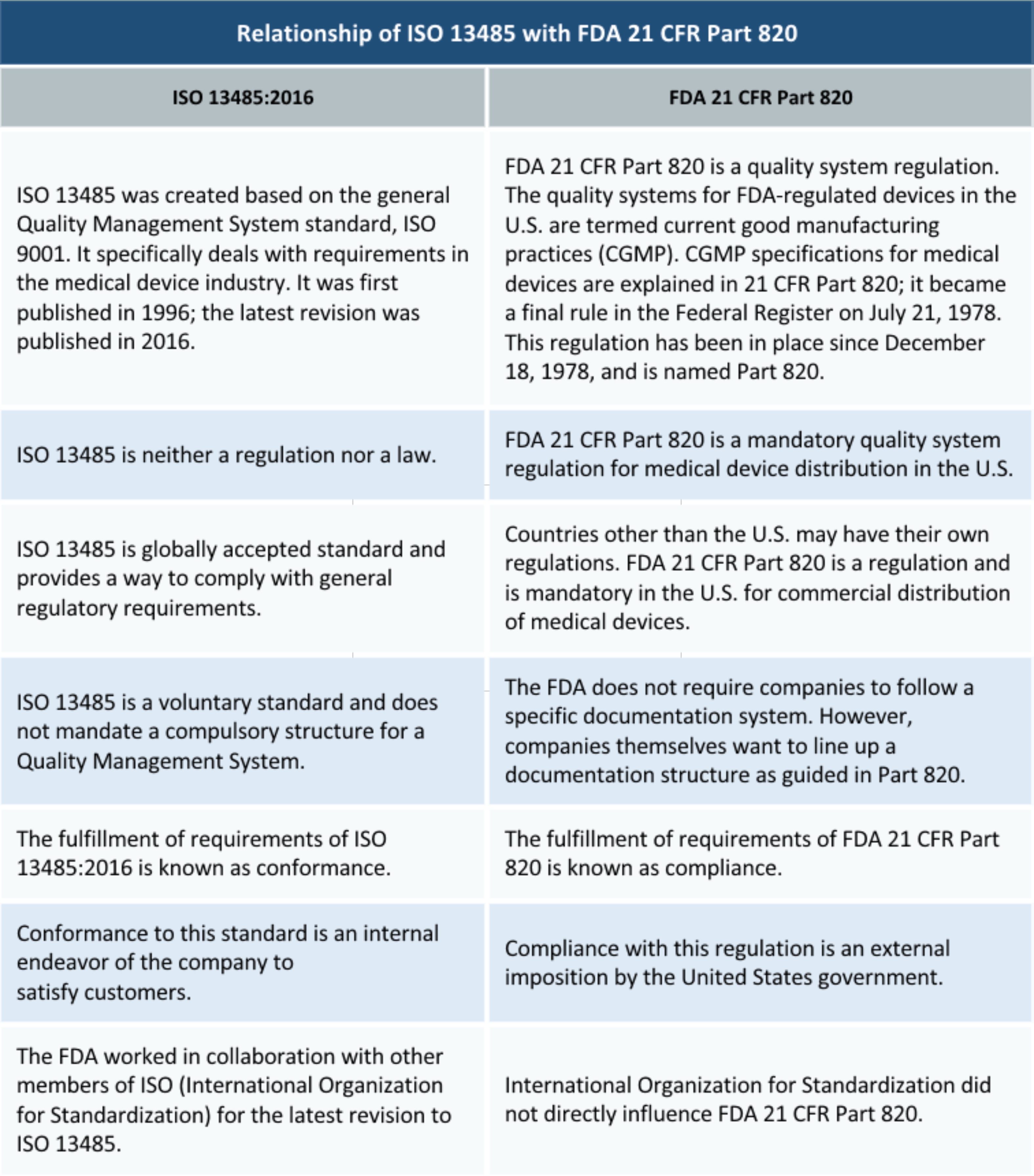 The FDA's Quality System Regulation Part 820 is aligned with ISO 13485:2016 to a greater extent than ISO 9001:2015. Numerous countries depend on ISO 13485:2016 in regulating medical devices. The FDA played its part in the revision of ISO 13485:2016, because it is more convenient for industries to develop a Quality Management System if the needs of different countries are same. The FDA and other countries' device regulatory agencies can more easily use and discuss inspection reports because the requirements are similar.
Manufacturers can use ISO 13485:2016 for FDA 21 CFR Part 820 compliance
Because the FDA was instrumental in the revision of ISO 13485, most of the Part 820 regulation requirements are covered in ISO 13485. However, there are some requirements that might not be included explicitly in ISO 13485, for example Device History Record (FDA Part 820.184). But, the ISO 13485 standard's Control of Records (Clause 4.2.5), Planning of Product Realization (Clause 7.1), and Identification (Clause 7.5.8) implicitly relate to the requirements of Device History Record. Therefore, a consultant will perform a gap analysis on your current system (developed according to ISO 13485) and then propose some additional actions to be taken within your system to ensure compliance with FDA 21 CFR Part 820.
ISO 13485 provides a framework for manufacturers and suppliers to meet common regulatory requirements worldwide, and serves as a strong foundation to meet FDA Part 820 requirements, as well as the requirements of other regulatory bodies in the world.
Click here to download a free white paper Clause by clause explanation of ISO 13485 to learn the detailed requirements of this standard.