Sustainability is one of the biggest challenges that shipping companies need to manage in order to survive in a growing and competitive market. Making Environmental Management Systems (EMS) an integral part of their operations can help organizations to face new customer expectations and give response to other pressures, such as legal obligations. In this article, learn how implementation of ISO 14001 for shipping companies helps to achieve sustainability objectives.
For more information about legal obligations, see the article How to achieve regulatory compliance in ISO 14001.
The importance of environmental regulation in shipping
Some decades ago, poor environmental legislation existed in relation to shipping activities. Since then, this has changed drastically, and there is a high legislation pressure over the maritime environment. In this sense, ISO 14001 requires compliance with environmental protection laws, and in the shipping industry, MARPOL and the International Management System code contain the most important regulations.
MARPOL is the principal international convention to prevent marine pollution by ships both from regular operation and accidents. In addition, the International Management System (ISM) code is utilized to protect the marine environment from the activities conducted by ships.
Many procedures included in the ISM code involve environmental issues of the fleet and can be associated with the compliance with the environmental management standard requirements. Some examples are procedures for spill contingency, procedures for bunkering, procedures for delivering garbage, etc.
To learn more about compliance requirements in ISO 14001, see the article Compliance requirements according to ISO 14001 – What has changed?

Application of Life Cycle Assessment (LCA) from ISO 14001 in shipping
Shipping companies need to consider a life cycle perspective when determining their environmental aspects. Although it doesn´t need to be highly detailed, it helps businesses to know which life cycle stages can be controlled or influenced by the organization. Life cycle assessment is based on the "cradle to grave" approach, starting with raw material extraction and culminating with either final disposal or recycled material.
In shipping, we can break down the life cycle in successive phases, such as designing, building, exploiting, and scrapping. In the following figure is described each stage of the shipping life cycle.
Once every phase has been defined, we need to analyze related inputs and outputs.
To learn more about the life cycle perspective in ISO 14001, see  the article How does product life cycle influence aspects according to ISO 14001:2015 and Life cycle perspective in ISO 14001:2015, what does it mean?
Understanding environmental aspects and impacts associated with shipping operation
Global trading is driven by maritime transportation, generating a great number of environmental impacts associated with activities performed by shipping companies. Although many regulation efforts have been conducted to mitigate pollution derived from shipping activities, marine transportation is still causing several impacts on the marine environment. ISO 14001 is a useful tool that can help shipping companies to reduce those environmental impacts.
ISO 14001 requires, in the first place, to determine the environmental aspects related to the processes performed in shipping, and then to evaluate the significance of their impact in order to carry out the necessary actions. For more information about environmental aspects, see articles Environmental aspect identification and classification and Catalogue of environmental aspects.
An environmental aspect is an element found in the activities, products, or services of an organization that can interact with the environment. While an impact, according to ISO 14001, is a change produced in the environment by an organization as a consequence of its environmental aspects, this change can be either adverse or beneficial.
Below, a table is shown containing some of the environmental aspects found during the operation of a ship, and their related impacts: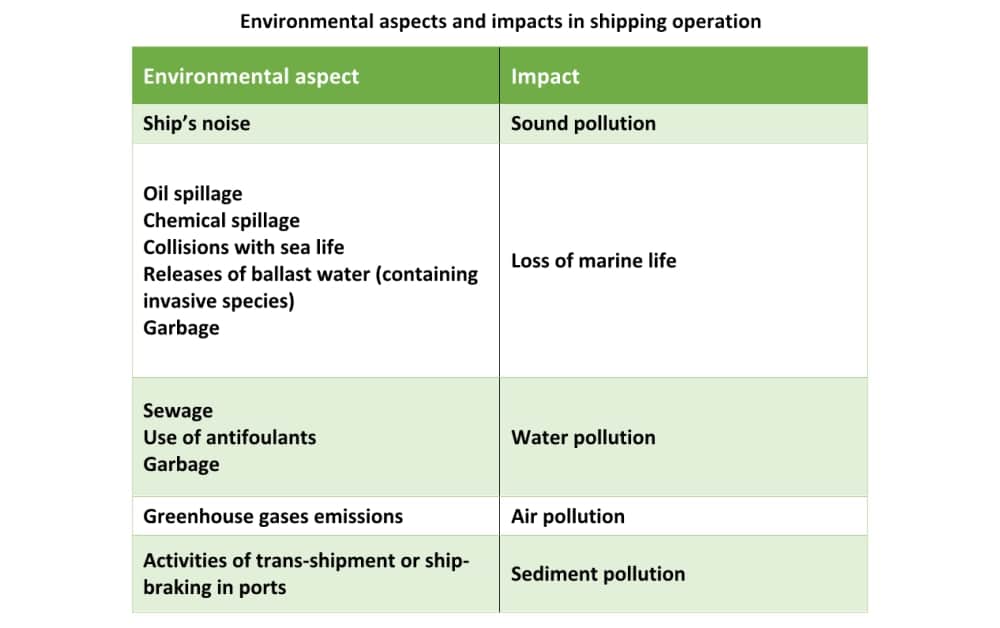 In order to reduce those significant environmental impacts found during operation, it will be required to place operational controls to mitigate and control those environmental aspects. For more information about operational controls in ISO 14001:2015, you can read the article Defining and implementing operational controls in ISO 14001:2015.
Benefits of implementing an Environmental Management System
Among the quantifiable advantages from implementing ISO 14001, we can find a reduction in the resource consumption (energy, water, and raw materials) and minimization in waste generation. Consequently, there is an enhancement of the company's effectiveness and efficiency.
Other benefits that aren't directly quantifiable and which arise from ISO implementation include:
Better corporate image and reputation
Giving response to customers' environmental needs and expectations
Improvement of relationships with authorities, local communities, and other stakeholders, which facilitates obtaining benefits, permits, and licenses
Compliance with environmental legal regulations and contractual requirements, ensuring protection from prosecution or fines
Enhancement of internal processes related to the environmental protection
Achieving better environmental performance
Reducing environmental risks
Raising competitiveness in the marketplace
For more information about ISO 14001 benefits, see the article 6 Key Benefits of ISO 14001.
ISO 14001: An opportunity to face environmental challenges in the shipping industry
The ISO 14001 standard guides organizations through the identification of their environmental aspects within their processes, as well as measurement and control of their environmental impacts. Adopting an Environmental Management System transforms shipping companies into proactive organizations in relation to managing environmental impacts derived from their operations. Therefore, implementing the ISO 14001 requirements allows shipping businesses to decrease environmental impacts and reduce costs, thereby increasing their productivity.
Register for this free online training: ISO 14001:2015 Foundations Course to learn what needs to be done to meet each requirement in your shipping company.