According to Wine America, the National Association of American Wineries, the wine industry was reported to be worth $220 billion to the US economy alone in 2017. As with any sector of this size and level of activity, there will be a subsequent environmental footprint and risk of environmental impact if not managed correctly. With further increase in wine consumption likely, and France, Italy and Spain producing even more wine than the United States, the potential global environmental impact this sector has is huge. With ISO 14001 being the premier standard used by global organizations to establish Environmental Management Systems (EMS), it is clear that ISO 14001:2015 can and should be used to control and mitigate environmental risks in this sector if the business is to be sustainable for future generations. So, let's see the main benefits of ISO 14001 for the wine industry.
Why should wine businesses adopt ISO 14001:2015?
The wine industry's future depends on finding a model that is efficient and sustainable to allow future generations to have access to the same resources as the current generation does. Previously, we examined exactly what is meant by "sustainability" in the article How can ISO 14001 implementation contribute to sustainability?, and this article also outlined some of the basic behaviors and processes you can adopt to help your business become more sustainable. Understanding sustainability, what it means, and where the responsibilities lie can provide an excellent foundation for reducing the environmental risk your business creates, but there are also some specific sections of the standard itself that, if understood and implemented correctly, can really improve your organization's environmental performance.

ISO 14001:2015 – What clauses can help?
Clause 4. This clause deals with defining the context of the organization, and this is an initial and critical part of establishing the parameters of the EMS for your wine business. Understanding the scope of your EMS and your business activities, knowing what legislation and compliance obligations you must meet, and understanding the needs of your interested parties are all central to having an effective EMS and ensuring that your wine business works within the law. As success for any wine business must include consistency and sustainability for future success, clause 4 becomes vital. What legislation must be met? What national and local regulations must be met? What do your customers, stakeholders, and shareholders expect? Determining the context of the organization in ISO 14001 can provide you with more details on this.
Clause 6. Planning within the EMS is dealt with in clause 6, and again, this can be critical to any wine business. As well as addressing environmental impacts, aspects, and compliance obligations, this clause also deals with the topic of "risk and opportunity." Do risks exist in the way that your land is farmed, how your grapes are grown, and what machinery your organization uses to do this? Do these activities bring risk to the future sustainability of the land you grow on? Can initiatives be developed to mitigate these risks and safeguard your future? Does opportunity exist amidst this assessment of risk? Can an opportunity be defined for a wine producer who markets a product that has a low environmental footprint and has sustainable grape growing as a primary business objective? The article Does your EMS need a risk and opportunity procedure? can provide guidance and ideas on this topic.
Clause 8. This clause deals with the "operational" aspects, including "emergency preparedness and response." It is likely that your wine business uses pesticides and growing agents, and it almost certainly uses gas-consuming vehicles to move and process your product. As well as planning to control this risk and minimize its environmental impact, the possible risk and effect of an environmental accident and incident must be considered and planned for. Ensuring that you have an environmental response policy that is carefully considered, reviewed, and rehearsed, if practical, can be the difference between your business surviving or not in the event of an incident – whether chemical-, fire-, or flood-related. ISO 14001 emergency preparedness and response can help you understand and plan for such events, ensuring that long-term sustainability truly becomes a goal for your wine-making business.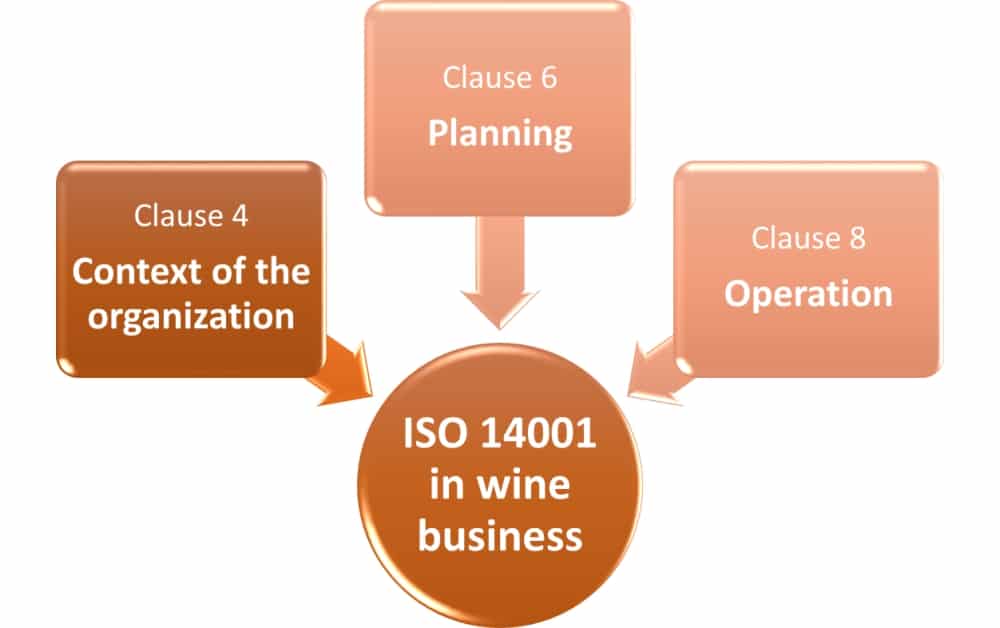 ISO 14001:2015 as a business tool for your wine company
Implementing ISO 14001:2015 in the EMS of your wine business can bring massive benefits to your organization in terms of reputation, profitability, and long-term sustainability. In How to manage outsourced suppliers in line with ISO 14001:2015, we considered the environmental and financial benefits of establishing good practices with your suppliers, and ensuring that your own organization truly takes responsibility for the environmental impact of your product, including that realized by your supply chain. The good news for your wine business is that these initiatives not only encourage efficiency and consistency, but usually have financial benefits too, as explored in How to ensure your ISO 14001 implementation is profitable.
Improve performance and beat your competitors
It therefore becomes clear that not only can an ISO 14001:2015-compliant EMS help deliver a more efficient environmental performance, but it can also drive increased profits and guarantee greater sustainability, both in terms of long-term business viability and greater resilience in the event of environmental incidents that may occur. Implement ISO 14001:2015 in your wine business now and beat your competitors to these benefits.
Why not use this free ISO 14001:2015 Gap Analysis Tool to assess the EMS compliance of your wine business versus the standard.