There is no doubt that ISO 14001 is one of the most successful management standards used by companies worldwide to improve their environmental performance and, thereby, save resources and money and gain prestige among consumers. Since its first publication in 1996, more than 300,000 organizations around the globe have implemented an Environmental Management System following its requirements. In this article, I will explain the history of ISO 14001 and how it has become the most used preventive tool for businesses that want to minimize their significant impacts to the environment.
For more information about the benefits of implementing ISO 14001, see 6 benefits of ISO 14001.
The development of ISO 14001
The increasing global concern of environmental issues is relatively new; that is why Environmental Management Systems appeared just few decades ago.
It was in the 1960s when the environmental movement started to become popular, followed in 1972 by the first United Nations conference on the human environment in Stockholm. But it wasn't until 1992, during the Rio de Janeiro Earth Summit, when the United Nations reached an agreement in order to protect the environment by reducing the negative impacts of business' activities. The same year, BSI group (British Standards Institution) published the world's first Environmental Management Systems standard – the BS 7750. It provided the basis for the International Organization for Standardization to finally develop ISO 14001 – "Environmental Management Systems – specification and guidance for use" in 1996.
Before its first launch in 1996 of the ISO 14000 series of standards, organizations already voluntarily had been developing their own Environmental Management Systems in order to minimize the negative effects of their processes on the environment. However, they didn't have the necessary tools to compare their environmental practices and impacts until ISO established ISO 14001 as a common framework for comparison.

Evolution of ISO 14001
The evolution of the ISO 14001 standard since its conceptual birth can be understood in the following graphic: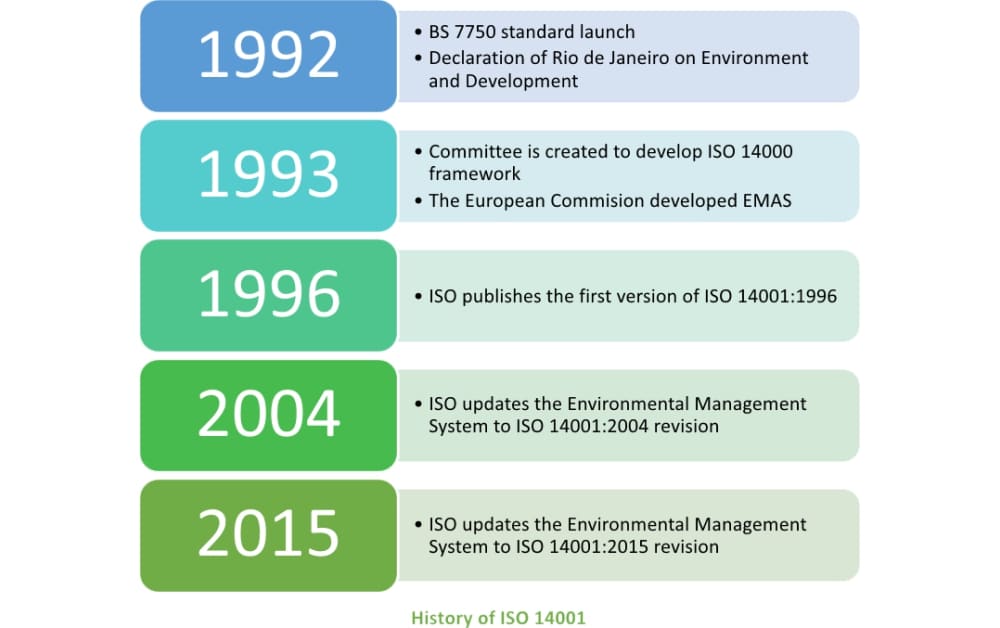 In 1992, the British Standards Institution developed BS 7750, a standard used for environmental control in both manufacturing and service companies. By implementing BS 7750, organizations could demonstrate that they complied with health and safety regulations, other local and national environmental requirements, and codes of practice in their industry sectors. At the same time, Environmental Management System standards were published in other countries, like Spain and Ireland, and the European Commission developed the Eco-management and Audit Scheme (EMAS), similar to BS 7750 with extra requirements like public reporting.
The first revision of the standard came eight years later, in 2004, and introduced some minor changes to ISO 14001:1996, mostly focused on making its requirements more understandable, but also to facilitate the integration with other standards such as ISO 9001.
The latest version of ISO 14001:2015 brought many deeper changes to the Environmental Management Systems. The most significant one is adopting the high-level structure contained in Annex SL, which eases the integration with other standards, as it is common to all ISO management system standards. Also, new requirements for risks and opportunities were introduced, along with the removal of mandatory procedures and other modifications. To learn more about the changes in the latest version of the standard, see this infographic: ISO 14001:2015 vs. 2004 revision: What has changed?
Keys to success throughout years
Since its first introduction, ISO 14001 has been continually improved to help companies face increasing environmental issues in an effective and productive way. But what other reasons are key to ISO 14001's success throughout the years?
ISO 14001 not only has been used as a framework to minimize the negative impacts that affect the environment (e.g., air, water, land) – the standard has also helped companies to comply with the applicable laws and regulations and to continually improve their Environmental Management Systems. In addition, over the years, there has been an increasing demand from consumers of environmentally friendly products or services, and having a globally recognized certification in ISO 14001 helps to demonstrate the company's engagement with the protection of the environment.
Also, ISO 14001 can be applied to any organization, of any size or sector, including public and private, and in any industry, such as manufacturing or service industries, and even local governments.
To learn more details about what the standard actually requires, download this free white paper: Clause-by-clause explanation of ISO 14001:2015.