According to IATF 16949, one of the key requirements in the automotive industry, is customer specific requirements which guide your company to gaining customer satisfaction. In this article, learn more about how to successfully define, evaluate and meet this area of the IATF 16949-based Quality Management System by handling and updating the external documentation.
Customer satisfaction as a main goal
It is important to remember that the IATF 16949 is an automotive quality management system where IATF 16949 member OEM (Original Equipment Manufacturer) companies are the owner of the standard. Customer specific requirements are one of the applicable requirements with ISO 9001:2015 and IATF 16949:2016. The main goal within the standard is customer satisfaction by continual improvement, defect prevention, and reduction of waste and variation.
If customers for an organization are IATF 16949 member OEMs, it is easy to find customer specific requirements. But for other customers, it must be specifically asked if they have any special manual or procedure for their specific requirements.
Learn more about what benefits IATF 16949 brings in the article Key Benefits of IATF 16949 Implementation.

Elements in establishing QMS with Customer specific requirements
During establishment of a quality management system, one of the sources that must be used is customer specific requirements (CSR). These requirements are referenced in elements 4.3.2 – 7.5.1.1.d and 9.2.2.2 of the IATF 16949 standard. The requirements for these elements are as follows:
Customer specific requirements. According to IATF 16949 requirement 4.3.2, "Customer-specific requirements," all customer specific requirements will be evaluated. By "all customer," it refers to all direct customers of the organization. These can be IATF 16949 Original Equipment Manufacturers, non-IATF 16949 OEMs, and automotive customers in the supply chain referred to as Tier 1, Tier 2, or Tier 3 customers. Customer specific requirements are available in the IATF 16949 website, in customer portals, or upon directly asking a customer in order to share with the organization.
Keep in mind that, as customer specific requirements are external documents, updates of these documents will also be monitored.
Quality management system documentation. According to 7.5.1.1, "Quality management system documentation," an organization's quality management system will include a quality manual. Within the quality manual, a document such as a table, a list, or a matrix, will be available which indicates where within the organization's quality management system their customer-specific requirements are addressed. Like IATF 16949 and ISO 9001 requirements, customer specific requirements are mandatory for an organization.
Within their processes and/or other documentation, organizations must describe how they will implement the requirements. So, like reading IATF 16949 elements one by one, all customer specific requirements must be evaluated and included in an organization's system documentation.
For more about documentation in IATF 16949 read the article How to structure IATF 16949:2016 documentation.
Quality management system audit. According to 9.2.2.2, "Quality management system audit," an organization will audit all quality management system processes, and customer specific quality management system requirements will also be sampled to verify effective implementation. This means that, if an organization is using any checklist as an audit questionnaire, customer specific requirements must be included in these questionnaires. The table, list or matrix that is prepared for a quality manual can be a good source for determining which customer specific requirements will be included in which process questionnaires.
For more about audits in IATF 16949 read the article IATF 16949 Audit Types & How they Affect Process Improvement.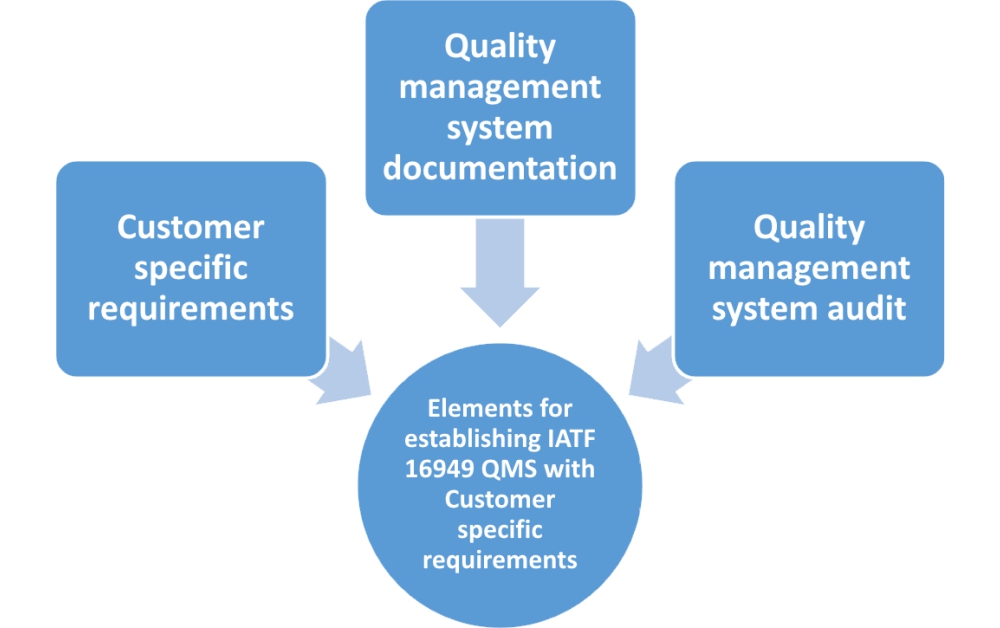 Start with hearing "customers voice"
To conclude, we must hear the "customer's voice" as the underlying structure of our systems. We must then build the system on these requirements. If your company's goal is to improve customer satisfaction, then you need to start with specific requirements to make the final outcome a successful fulfilment of your customers' expectations
To learn more about which documents are needed to implement customer-specific requirements in IATF 16949, download this free Checklist of Mandatory Documentation Required by IATF 16949:2016.