Many internal IT organizations believe that ITIL and ISO 20000 were made exclusively for large, enterprise-grade organizations, or IT service providers. Well, like it or not, we are all service providers – we just provide services from different places; you can read more on this topic here: ITIL Service Provider types – Type I: Internal service provider. ITIL Capacity Management is one of those processes that most companies will choose to implement last, if choices also include anything from Service Operation (Incident Management, Problem Management, Technical Management, etc.). But, from a business perspective, Capacity Management is the one that assures capacity of IT services according to requirements (SLA), and alignment with business needs.
As the Capacity Management process is pretty straightforward in its complexity, and well described in this article: Three faces of Capacity Management, within this article we'll show you the elements of a good Capacity Plan, its role, and its importance within the service lifecycle.
At the beginning, there is scope
Having business demands (drivers) collected in a single place on one hand, and available IT resources on the other, allows organizations to identify any inefficient or wasteful resources at a single glance. Therefore, one of the first steps in writing down a Capacity Plan would be to list all business demands (drivers), and IT services supporting them.
If there are any business services that aren't supported by your IT organization, make a clear distinction that such services aren't in the scope of this Capacity Plan, and why.
Manage the resources required for IT service delivery
Now that we have a high-level IT and business services overview, we need to drill down to the actual physical resources that drive IT services.
This part is fairly technical, as it includes actual hardware components (and other resources) and their inner workings, and only subject matter experts generally know its impact on a service. Physical resources will include the server's physical properties (e.g., CPU, RAM, HDD, INAC, etc.), licensing, running modes (e.g., physical, virtual, clustering, etc.) or service level (e.g., failover, load balancing, high availability, security, etc.).
Those properties should be correlated as closely as possible with expected service level in terms of capacity and/or performance.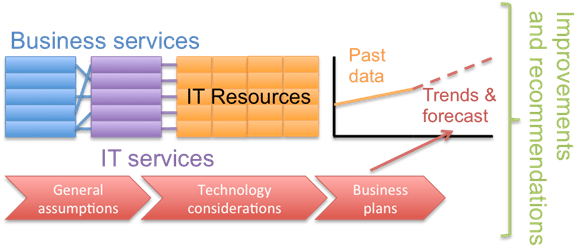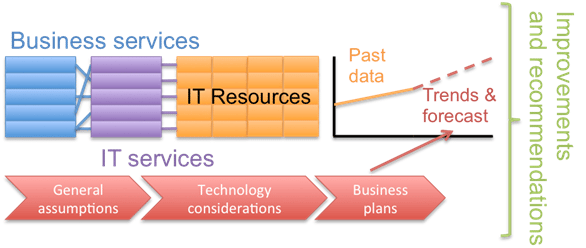 Figure 1 – Elements of the Capacity Plan
Gather and evaluate performance data
Once we have all the relevant data regarding business needs, supporting IT services, and their combined impact on service performance, we should gather the data that will compare our resources and required capacity, and record that data within the Capacity Plan.
Evaluating performance data is not an easy task, and is generally performed by subject matter experts. Aside from collecting hard data, any incidents related to insufficient capacity should be recorded and evaluated alongside the performance data itself.
Analyze the data, spot the trends, make the forecasts
Once we have all the relevant data gathered and evaluated, as time passes, it should be easy enough to spot trends that happen naturally, and determine whether they are aligned with business expectations.
Those trends are your basis for making short-, medium-, and long-term expectations regarding capacity. The purpose of such monitoring is to avoid the negative business impact that a lack of capacity may present. A common example is a lack of storage space; from the moment when Incident Management records a "low disk space" alert, until you order, set up, and implement additional storage capacity (not to mention find the budget for such a scenario), you may be forced to either implement unhealthy workarounds (external USB drives) or shut down the service completely.
Forecasts and what-if analyses are here to help predict and prevent such events, and respond to them in a timely manner without impact to agreed service levels.
Improvements and recommendations
As the last chapter of our Capacity Plan, we should write down any improvements and recommendations that are the product of data gathered, trend analysis, forecasts, business plans, etc.
If some service is using a less-than-expected amount of resources and trends are negative, it is up to Capacity Management to recommend its reevaluation / redesign in order to eliminate extra resources that are not used, and shave off costs.
On the other hand, if new technology shows up, or trends show faster-than-expected growth in demand, Capacity Management should be the first to react and recommend an increase of required resources.
The list of improvements and recommendations should be accompanied by related costs, impact analysis, expected timescale, and affected resources and drivers.
The Capacity Plan is important for effective service management
The Capacity Plan is the cornerstone of the Capacity Management process, and good capacity management is an important part of the infrastructure and deployment planning. Within Service Design, many other processes are highly dependent on it: Design Coordination, Availability Management, IT Service Continuity, Information and Security Management, and others.
Many processes outside Service Design depend on it as well: IT Financial Management (Service Strategy), IT Operations Control, Application Management, and Technical Management (Service Operations).
With all that newly acquired information, is there any reason why you haven't started working on your own Capacity Plan?
To get more insight into Capacity Plan content, download a free preview of this Capacity Plan template.