ISO 27001 vs. COBIT: A comparison
We often come across discussions related to comparisons of different governance standards and frameworks, such as ISO 27001 and COBIT. ISO 27001 focuses on information security controls, while on the other hand, COBIT, which is a governance framework, also includes some ISO 27001-related topics such as security, risks, managing changes, etc. in its domains. This article explains the similarities and differences between ISO 27001 and COBIT.
Basics
To begin with, what is ISO 27001 and what is COBIT?
ISO 27001 is an international standard for the establishment, implementation, maintenance, and continual improvement of an Information Security Management System. The standard is a joint effort by the International Organization for Standardization (ISO) and the International Electrotechnical Commission (IEC).
Control Objectives for Information and Related Technologies (COBIT) is an IT management framework developed by the Information Systems Audit and Control Association (ISACA). It is used for business development, organization, and implementation strategies around information management and governance.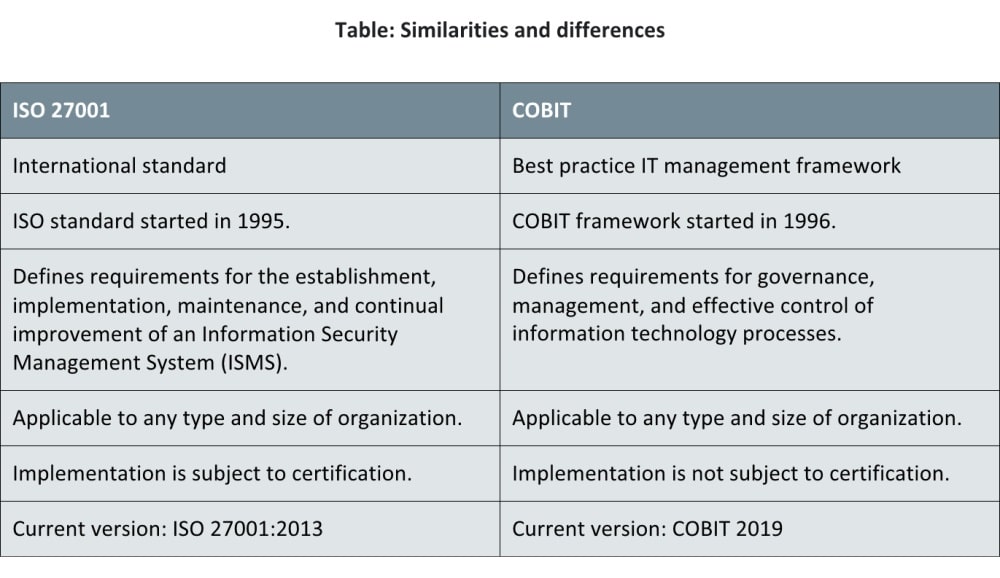 Certification
An individual can get certified for ISO 27001 by attending the course and passing an exam, for example, as a Lead Implementer or Lead Auditor.
However, ISO 27001 is primarily intended for the certification of companies – to learn more, read the article ISO 27001 certification for persons vs. organizations.
On the other hand, COBIT certification is possible only for individuals – an individual can get certified in COBIT 2019 Foundation or COBIT 2019 Design and Implementation. An organization cannot be certified against COBIT.
Key difference between COBIT and ISO 27001
The key difference between ISO 27001 and COBIT is that the first one is solely for the purpose of information security, and the second one is for management and governance of information technology business processes.
We can consider COBIT to be an umbrella or superset that focuses on management of information technology (IT) and governance. COBIT not only talks about security in an organization, but also includes the way an organization actually organizes, arranges, and oversees the organization of IT operations. It includes all information technology controls, measures, and processes. It helps an organization to map its own business goals to its IT goals. Also, it supplies measurements and provides maturity models to measure an organization's achievement. Additionally, it helps to identify the organization's key business responsibilities and the IT process owners.
ISO 27001, on the other hand, is an international standard for Information Security Management Systems. It focuses on performing a risk assessment and then applying specific security controls for protecting the organization's critical information assets.
Benefits
The main benefit of implementing ISO 27001 is a systemic Information Security Management System that helps with the identification of critical information, the information security risk assessment of the system, and the implementation of security controls, all of which help to create a secure culture in the organization.
ISO 27001 is beneficial for the organization in terms of its security while, on the other hand, COBIT helps an organization to have a systematic approach and in meeting the organization's performance goals. Some other benefits of COBIT include addressing all organizational needs, like the needs of stakeholders, and the utilization of innovation and technology.
For more about the benefits of ISO 27001, read the article Four key benefits of ISO 27001 implementation.
How ISO 27001 and COBIT are related
ISO 27001 consists of 11 main clauses (out of which 7 are mandatory), and 114 controls in the Annex A (which are selected based on the results of risk management). COBIT 2019 is based around a core model of 40 management objectives in five categories. This is how ISO 27001 and COBIT are related: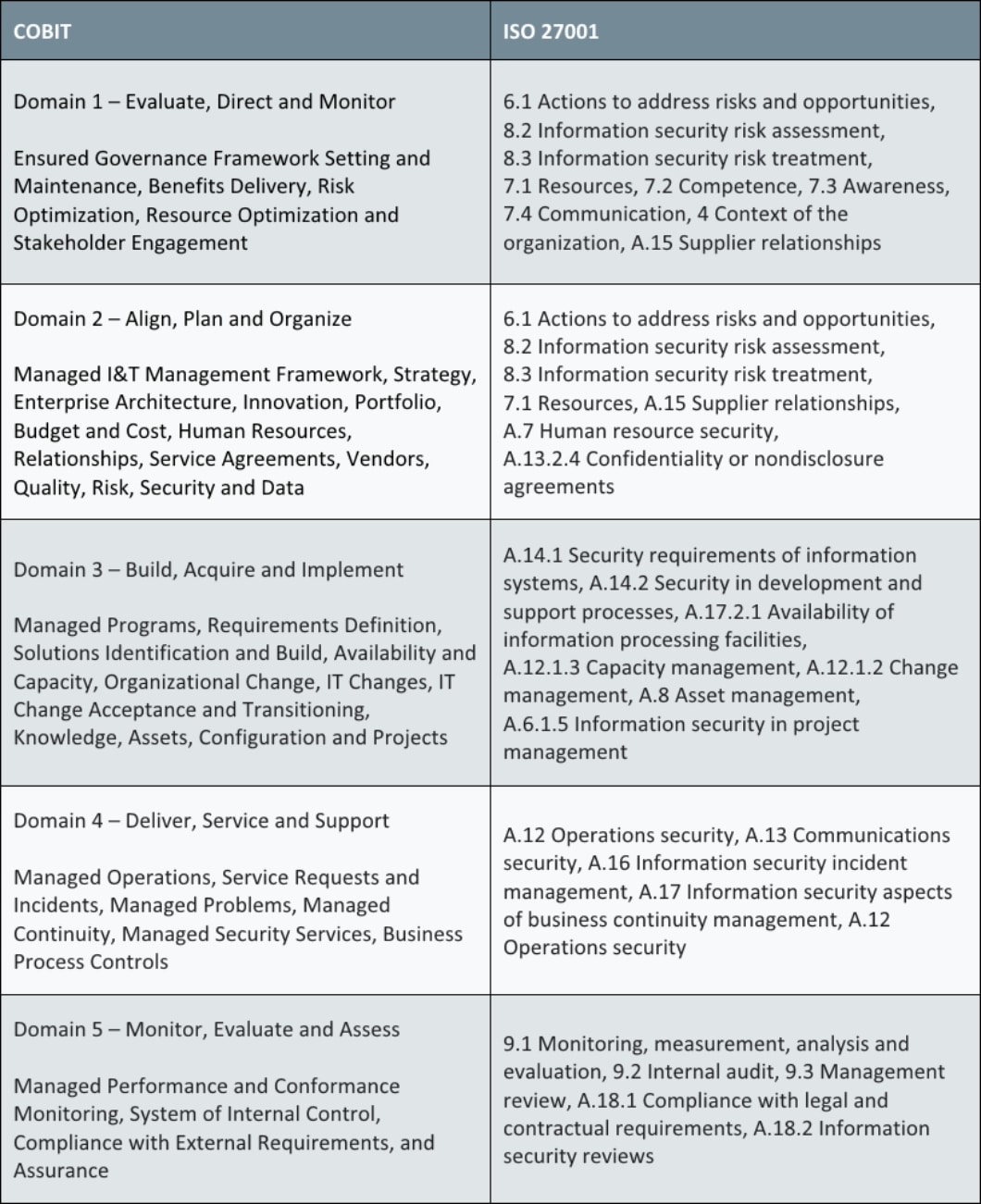 Which one to choose?
If you are looking for an integration of different frameworks like ISO 27001, COBIT, and COSO, read the article How to integrate COSO, COBIT, and ISO 27001 frameworks.
As explained in this article, ISO 27001 is an international standard focusing only on security, while COBIT has a wider scope, focusing on information technology governance, though security is also part of the framework.
Hence, if your target is to protect the information assets of your organization by implementation of appropriate and relevant security controls, then go for implementation of ISO 27001. However, if you are looking for an information technology governance and management model for the business process owners and managers to improve business process management, while enhancing the value delivered from your IT business and managing IT risks, then go for the COBIT framework.
To learn more about the integration of the most common security frameworks, download this free white paper: How to integrate ISO 27001, COBIT, and NIST.
---
About the author:
Neha Yadav has experience in Information Security Management Systems, Information Technology Service Management Systems, Quality Management Systems, and Business Continuity Management Systems. She holds an engineering degree in Computer Science. Among her certifications are: ISO 27001 Lead Auditor and ITIL V3, and she has attended multiple information security training courses. She has experience in consultancy, training, implementation, and auditing of various national and international standards.