There are many reasons to use a consultant when you are implementing the requirements of ISO 45001:2018 to create your Occupational Health & Safety Management System (OHSMS). However, there are also reasons why this could be an undesirable option for your company. If you have looked at the benefits and drawbacks, and decided that this is the best approach for your organization, then you will want to make sure that you get the best consultant for your needs. To do this, it helps to consider a few aspects of your organization before you approach different ISO 45001 consultants to make a decision.
For more on the benefits and drawbacks of using an ISO 45001 consultant, see the article: Do you really need a consultant for implementation of ISO 45001?
Know your business first
Different industries have very different occupational health & safety (OH&S) hazards and risks. Knowing what is required for OH&S within your industry will help you to identify the experience needed by a consultant to really help you with implementing your management system. Knowing the hazards of the chemical industry is different than knowing the hazards of the electronics industry, so it is important to choose a consultant who knows your industry. If you do not take this into account, you may end up wasting time in teaching the consultant about your industry before they can get to work on building your OHSMS.
For instance, one big aspect of the OHSMS is legal compliance, and your current state of knowledge about this can greatly affect your choice of consultant. If you are comfortable with your current status of compliance to applicable laws, then this is not a strict knowledge requirement for your consultant. However, if you are not satisfied with your knowledge of the laws that apply to you and you are expecting a consultant to identify all of the legal compliance requirements for your company, then it is mandatory that they have the experience with your industry.
It is important that the consultant also understands the tools you use to do business. Is the consultant capable of working with your particular content management systems, documentation systems (such as documentation in the cloud or electronic document system) and communication systems? Not being able to adapt to the way your company works could be cause a problem with the implementation.
Some questions you will want to ask the consultant would include: What is your experience in our industry? What OH&S roles have you had in other companies? What is your experience in identifying OH&S hazards & risks? What experience do you have with training people in OHSMS concepts?

Who will the consultant need to work with?
Implementing a management system is not a one-person show, and people in your organization will need to interact with the consultant. This can be on a simple basis where the consultant will meet with key process owners to identify the hazards and risks that are present in the company processes, or it can be meeting with top management to discuss how worker participation and consultation will work. Interactions with your team will need to be considered before you choose a consultant, including simple considerations such as language and culture of the employees of your company.
One big aspect to consider is the temperaments of the people in your organization that the consultant will be dealing with. In the same way that you would interview a new employee to join your team, you will want to interview the consultant to ensure that their personality is compatible with everyone they will need to get along with. Choosing a consultant that will work well with your team can be a critical component for the implementation to be on time and meet your needs.
How will you balance cost and work for your employees?
Since the consultant will not be doing everything on their own, you need to understand how much work can be expected from your employees. What is the team capable of? What skills do you already have? How much time is available for meeting with the consultant or performing other tasks? There is a broad range of expectations between consultants about which activities will be done within the company, and which activities they will do themselves. It is important to have this discussion with your consultant early on, so that you know how work will be distributed. This can be one of the main differences in prices between consultants.
Remember, just having a lower price is not the best determining factor for a consultant, since this could mean that they expect a lot to be done by your team. For example, do you expect the consultant to do all the documentation, or do your employees have technical writing skills? This sort of simple expectation could greatly affect which consultant you choose as you will need to focus on the skills that will be required of the consultant.
For some help when interviewing a consultant, check out this useful checklist: List of questions to ask an ISO 45001 consultant.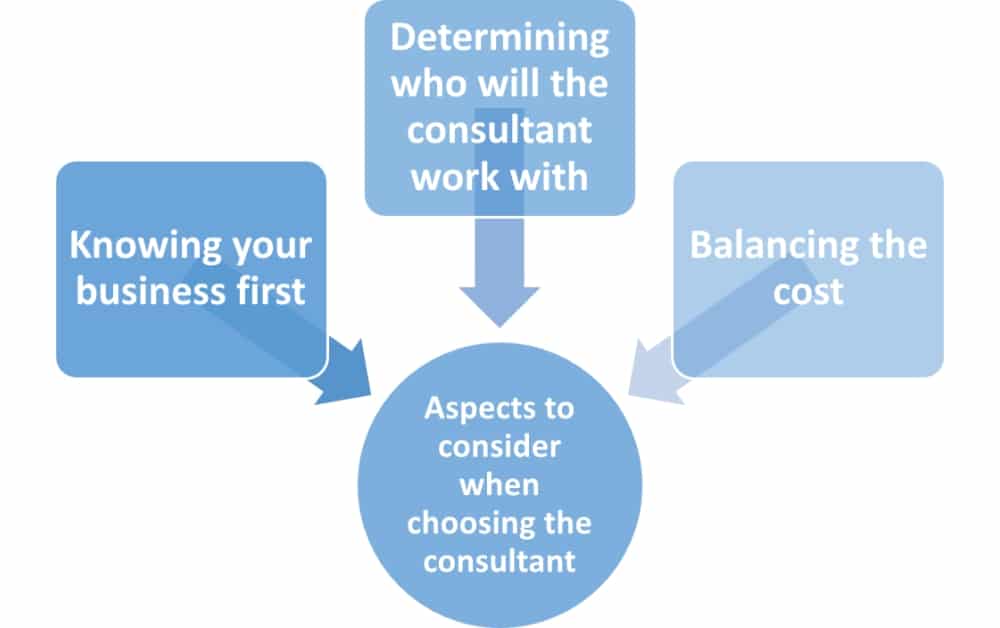 Make the decision that works for your company
Every company is different, and it is important to remember that the consultant will have to work very closely with people within your organization. This is why soft skills such as collaboration, building consensus and clarification are more important than any impressive experience the consultant may talk about. Make sure you know the needs of your company before you try to choose the right consultant. You are looking for someone who can help you to build the best OHSMS for you, not someone who will just give you a one-size-fits-all system that is complex and hard to use.
For detailed comparison between using a consultant and implementing ISO 45001 yourself, download this free whitepaper Implementing ISO 45001 with a consultant vs. DIY approach.