As a manufacturing company, you might be considering the need for an Occupational Health & Safety Management System (OHSMS) for your organization, and ISO 45001:2018 is a standard that you should consider as the requirements for implementing the management system. The manufacturing industry has a critical need for good occupational health and safety management, since many hazards are present that need to be controlled. ISO 45001 provides a globally recognized set of requirements for creating an Occupational Health & Safety Management System that can be tailored to your manufacturing industry.
ISO standards for the manufacturing industry
Safety management systems are not new to the manufacturing industry, as the safety of workers is a critical factor in the ability to get the work done. However, many safety management systems are cobbled together to meet legal requirements as they are identified. To improve this situation, the International Organization for Standardization (ISO) has collected the worldwide best practices for managing occupational health & safety (OH&S) within a workplace and compiled a set of requirements in the ISO 45001 standard.
While ISO 45001 includes an appendix with guidance for implementation, ISO has also released supporting standards to help with implementation and other aspects of occupational health; a quick search lists 36 standards on the ISO webpage. ISO/AWI 45002 gives additional general guidelines for implementing ISO 45001, and the new ISO/DIS 45003 is being discussed for managing psychological health & safety at work. Other guidance documents include ISO/TS 24179:2020 for OH&S metrics for human resources and ISO/TS 20559:2020, which gives guidance for the development and use of a safety signaling system. None of these additional standards are required for the implementation of ISO 45001, but they can be used to guide you for certain aspects of OH&S management.
For more on how ISO 45001 handles the assessment and control of hazards, see the articles:  How to identify and classify OH&S hazards and 5 levels of hazard controls in ISO 45001 and how they should be applied.
Implementing ISO 45001 safety standards at your manufacturing organizations
As mentioned above, the requirements of ISO 45001 include all of the processes to build a world-class OHSMS, which goes beyond simply meeting legal requirements and works toward improvement and reducing injury and ill health in your workers. Health and safety management includes not only identifying all of the parties that have an interest in OH&S at your organization, but also to identify risks and hazards so that they can be properly controlled or eliminated. ISO 45001 is intended to be used by any organization, in any industry, anywhere in the world, and as such is uniquely written so that a manufacturing company can tailor the requirements to suit their individual needs and address exclusive hazards within the manufacturing industry.
Implementing ISO 45001 is best done with a systematic approach, starting with top management support and approval. Next, it is important to understand your legal requirements, which will help you to define the scope of your OHSMS as well as the necessary processes and procedures you will need. Implementing the processes, including incorporation of processes you may already have in place, followed by training to ensure that all changes are incorporated into workers' daily performance, are the next critical steps. Finally, once you are using your OHSMS processes and maintaining records, you will want to utilize your processes for internal audits, management review, and corrective actions to assess and correct the system you have put in place. You will then be ready for certification of your management system.
By systematically going through the requirements, you can ensure that your unique manufacturing industry requirements are included, and that you leverage processes that are already in place.
To better understand the implementation of ISO 45001, see the article: 12 steps for implementation and certification against ISO 45001.
How ISO 45001 improves the manufacturing industry
One of the key principles behind the ISO 45001 standard is that the OHSMS needs to improve over time, and finding improvement is important for any organization that wants to stay in business. This is one of the key benefits of ISO 45001 for your organization: finding ways to improve your company processes. Having a well-planned OHSMS also allows you to better maintain your compliance with legal requirements for health & safety, and can lead to reduced employee turnover, since you are working to be an employer who cares about a safe working environment. All of these paybacks for your investment in ISO 45001 can ultimately lead to an improved image and credibility with interested parties. You can learn more about these benefits of ISO 45001 in this article: 4 key benefits of ISO 45001 for your business.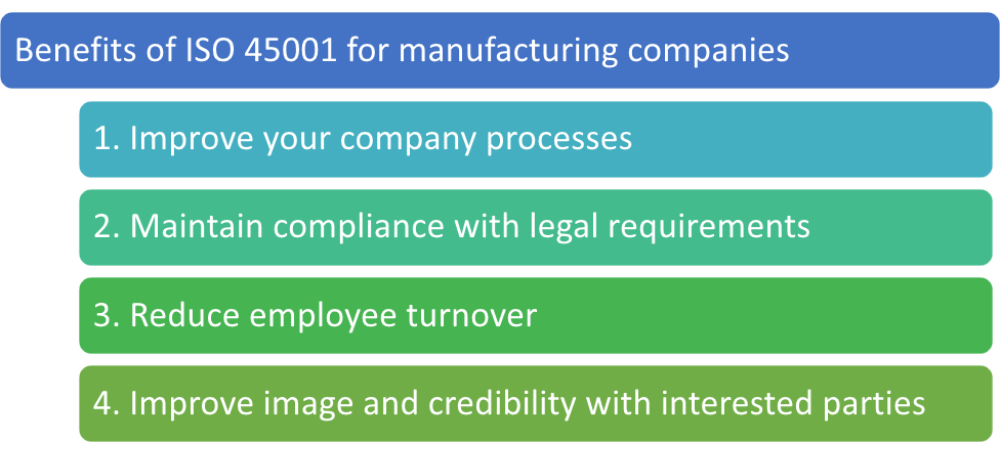 An OHSMS designed using ISO 45001 also aligns well with other requirements for quality management, where you want to find ways of improving your system for creating and delivering products and services to your customers. This alignment of your management systems will aid in finding overall improvements that will make your processes not only more efficient, but also safer to perform. Safer operations mean less injury and better health for your workers, and a more consistent workforce for quality management.
By improving your processes for OH&S, you can gain the benefits associated with a workforce that knows that when they come to work, they will be able to work safely, any hazards they identify will be addressed, and they will leave work without suffering injury. A good OHSMS provides workers with the confidence they need to do a good job, which improves the overall organization.
For a better understanding of the ISO 45001 implementation process, download this free Diagram of ISO 45001 Implementation Process.