In any management system, it is important to control your changes to the management system, and there is no difference with a Quality Management System (QMS) created using the requirements of ISO 9001:2015. While QMS change management may sound like a complex activity, it can be thought of in quite simple terms that will help you to understand how this important activity fits into your QMS.
Here is what the ISO 9001:2015 requirements call for, how they have changed, and some examples to explain the process.
What does ISO 9001:2015 require?
When it comes to planning changes to the QMS, the ISO 9001:2015 requirements are fairly short and simple. In fact, there is one modest sentence for clause 6.3 (Planning of changes), with an additional four points to consider. The sentence says: "When the organization determines the need for changes to the QMS, the changes shall be carried out in a planned manner." So, the real requirement from the ISO 9001:2015 standard is that you need to make a plan when you are changing the QMS, so that you can ensure that the change is made properly, but what considerations are necessary with this planning?
The four things that are highlighted in the requirements as important considerations for changes to the QMS are as follows:
The purpose of the changes and the potential consequences: When making your plans for QMS change, you need to know why you want to make changes; there is no need to change the QMS just for the sake of making a change. Why are you doing it, and equally importantly, what are the expected consequences of making the change, both good and bad?
Maintaining QMS integrity: Your QMS processes are there to meet customer requirements, enhance customer satisfaction, and continually improve the QMS; any changes you make need to ensure that these goals still happen. If you are making a change that will negatively affect your ability to improve customer satisfaction, then this change should not be made.
Resources availability: Part of any plan for change needs to assess the resources required and make sure they can be made available in the time necessary to make the change.
Effects on responsibilities and authorities: While the responsibilities and authorities for your QMS may not change, if there are new or changed responsibilities, this needs to be part of your plan. Many plans for change fail after implementation simply because there is no one assigned to maintain the change after it takes place. Changes to improve the QMS need to have a leader to maintain the improvement after the work is done.
So, the message of the ISO 9001:2015 standard is that you need to plan any changes to the QMS, and those plans need to include consideration of four important elements of that plan to make it successful and sustainable. Changes can become necessary in a QMS, since the QMS should not be a static entity if you are working towards continual improvement, but these changes need to be planned.
In fact, if you are currently in the process of transitioning from the ISO 9001:2008 requirements to the ISO 9001:2015 requirements, then managing the change of your QMS is what you need to be doing, so these requirements are of paramount importance to you.

How do you make QMS changes?
The change management process identified in the ISO 9001:2015 requirements can be as simple as a seven-step process, as follows: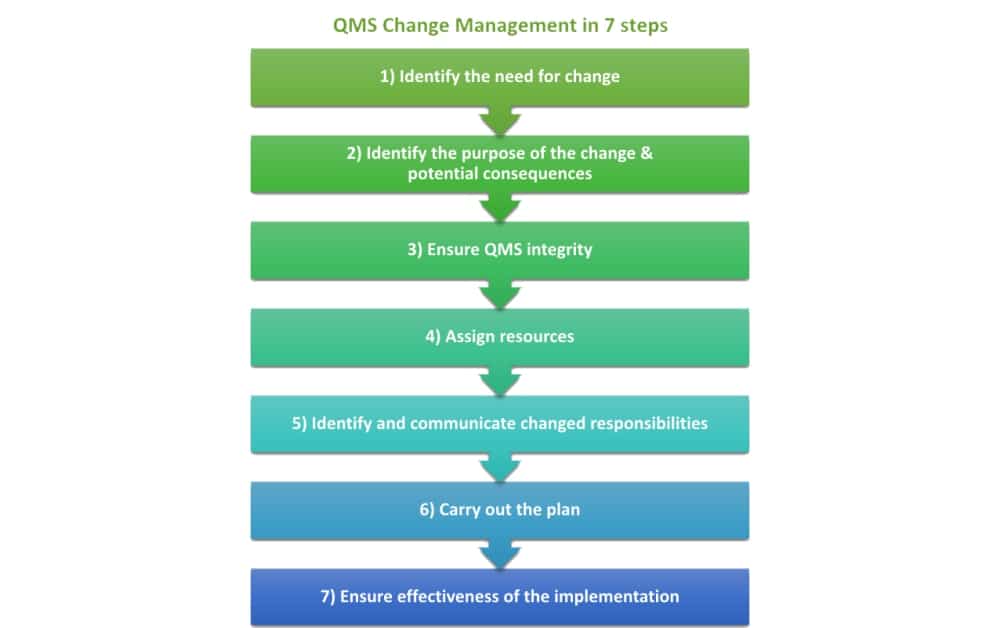 Identify the need for change: For example, you identify that you can improve customer satisfaction if you implement a process for purchasing raw materials instead of outsourcing this process; this is due to a reduced time for processing.
Identify the purpose of the change and potential consequences: The purpose is to reduce the processing time and improve customer satisfaction, but one negative consequence could be higher prices (a risk that needs to be addressed). Plans can be made to hire employees, find and approve suppliers, and put the process in place.
Ensure QMS integrity: The plan needs to ensure that you do not have problems elsewhere in the QMS due to this change. You need to ask if the incoming inspection of raw materials needs to change due to this new process, or not? Also, the timing of process implementation needs to be done so that there is no interruption in raw material flow that will affect meeting customer requirements.
Assign resources: Identify the resources required to put the plan into effect, and assign those resources.
Identify and communicate changed responsibilities: With new employees, a need may arise for management of those employees. Who will the new purchasing people report to?
Carry out the plan: Put the plan into place using the resources identified.
Ensure effectiveness of the implementation: Before considering the plan to be complete, it is important to ensure that everything has been covered by checking that there are no problems now present that need to be addressed.
While this is a simple process, and you can add to it as you need (such as adding in review steps), for a small change it can be this simple. Plans may be more or less complex, but the process of planning can be simple. Maintaining your QMS will require you to plan changes, as well as other items found in this article: How to maintain your ISO 9001:2015 based QMS after certification.
Plan for QMS change
The requirements of ISO 9001:2015 are clear that the most important element in QMS change management is to plan for changes, rather than just letting them happen. Plans will vary in complexity from change to change, but the important message is that a change to the QMS without a plan can cause dangerous problems that can negatively affect the ability of the QMS to function. With the amount of time, effort, and resources you have invested for a well-functioning QMS, it would be foolish to make changes without ensuring they will be successful.
Use this free online training ISO 9001 Foundations course to get a better understanding of the ISO 9001 requirements for change management.