Monitoring and measurement have always been critical for managing the ISO 9001:2015 Quality Management System (QMS). These requirements for collecting data are crucial for making sure that your QMS is meeting the requirements you have set for your processes, as well as for your products and services.
In this article, we will talk about evidence-based decision making in ISO 9001 and what ISO 9001:2015 monitoring and measurement is all about.
What is meant by evidence-based decision making in ISO 9001?
Evidence-based decision making in ISO 9001 is one of the seven main principles upon which the QMS standard is based. In order to properly manage your QMS, you want to rely on good data rather than just guessing what needs to be done. While you will not find specific requirements for evidence-based decision making as per ISO 9001 clauses, you will find requirements for top management review of the system based on data; this is where the monitoring and measurement results are necessary.
The most important application for the data gained is to take the actual results of a process and compare them to the desired results that were set as the quality objectives for that process in order to see how well the improvement is proceeding. In order to have this as a main principle, you need to have evidence to use for making decisions. Monitoring and measurement results give you this evidence.
For more information on the management principles behind the ISO 9001 standard, see this article: Seven Quality Management Principles behind ISO9001 requirements.
Why should monitoring and measurement be used?
As you can see, if your company is trying to make good evidence-based decisions to improve its effectiveness and efficiency, the evidence needs to be accurate and adequate to assess whatever process or product is being reviewed. The well-thought-out application of monitoring and measurement throughout the Quality Management System can help to ensure that the evidence used to make decisions best meets the needs of those making the decisions.
The processes of the Quality Management System need to be monitored, and measured if possible, to ensure that they are performing as designed – what the standard calls achieving planned results. Ensuring that your process is behaving as planned is the first step in being able to improve the process, which is the goal of having a QMS. So, for each process, comparing the results to the expected results that were planned per the objectives, and correcting the process when results don't meet expectations, is crucial. For instance, your design and development department might choose to measure the number of design changes needed due to errors in the design as a way to know how well the process is doing. If this number increases from a reasonably agreed value, then the process owner knows something is wrong that needs to be corrected. This is followed up by management review of the monitoring and measurement results, which will decide on the need to change resources for a process.
Some examples that may come from the monitoring and measurement management review could include monitoring your process for corrective actions to ensure no repeat problems, reviewing internal audit results that monitor processes, and reviewing the measurements for product conformance to ensure non-conforming product is reduced. Monitoring of customer satisfaction, so that you know how the customer perceives your ability to meet their requirements, is also an important activity in the QMS. This will help to better improve not only the QMS, through improvement activities, but also how well the customers perceive the company.

Difference between monitoring and measurement
Monitoring and measurement are used together throughout the ISO 9001 standard, but they each have different meanings. To monitor is to watch closely in order to observe, record, or detect; in effect, it's an act of surveillance. Meanwhile, measurement is the act of determining the actual traits of something (such as dimensions, capacity, etc.). So, what are some monitoring and measurement examples?
Monitoring could be used as a method to determine if a process is starting to approach a limit. This could include a process control chart, where measurements of a product created by the process indicate tool wear in a machine, or a monitoring alarm on the temperature of the process, which will alert you to the temperature increasing to a level that the process will not work or will become dangerous. On the other hand, measurement would be used to determine the actual value of the characteristic in question and how much it differs from a required value, possibly for use in a test report. For instance, the measurement of the actual temperature of a process that is used to determine if the process works.
Both monitoring and measurement are valuable tools, but give different evidence for decision making. Remember, monitoring and measurement can include product measurement and product monitoring to gather the necessary information as well.
For some more direction on the use of monitoring and measurement in the QMS, see the article: Practical tips for measuring your QMS according to ISO 9001:2015 clause 9.1.
ISO 9001:2015 monitoring and measurement procedure
Many of the procedures for monitoring and measurement may be embedded in other procedures. For instance, your purchasing process may include information on how you will monitor suppliers (such as on-time delivery and percentage of acceptable product received), and your test and inspection procedure will guide employees on what to measure to ensure products and services meet their requirements. You may have one procedure that dictates all of the monitoring and measurement in the company, but this is not a formal requirement of the ISO 9001:2015 standard.
The critical steps in monitoring and measurement that could become part of a procedure include:
Identify where monitoring and measurement are needed within your processes.
Identify what type of monitoring or measurement you need to use.
Identify the monitoring and measurement equipment that is necessary for each instance.
Ensure necessary calibration or verification of monitoring and measurement equipment.
Identify how monitoring and measurement data will be collected, and who will do it.
Identify how monitoring and measurement data will be reviewed, and who will do it.
Identify how monitoring and measurement information will be escalated to senior management when necessary.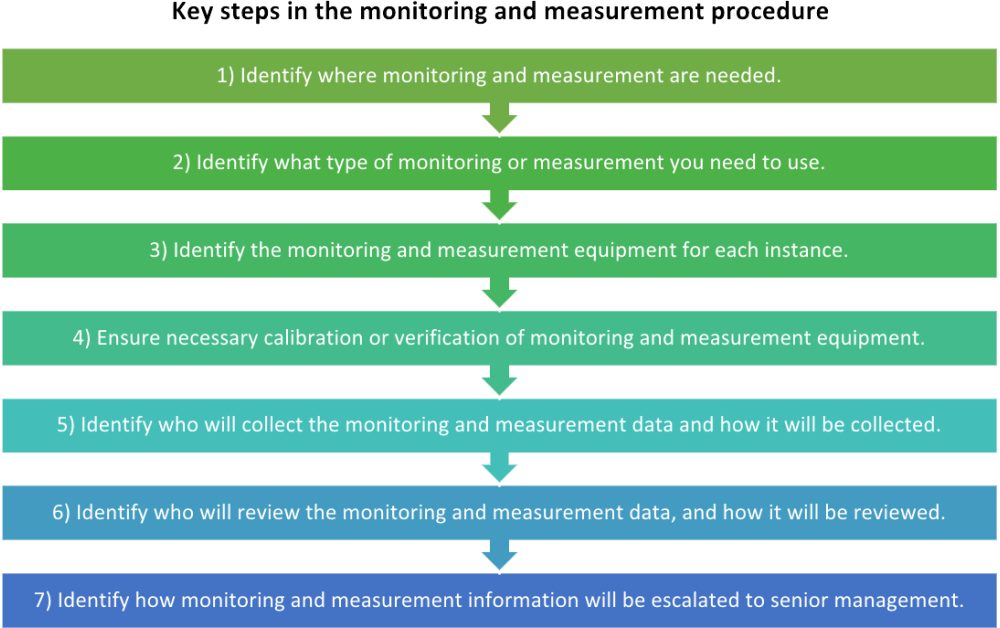 For more on the relation between monitoring and measurement and the monitoring and measurement equipment, see the article: Monitoring and Measurement Equipment Control.
What section in the ISO standard defines the requirements of measurements?
ISO 9001 clause 9.1 is called "Monitoring, measurement, analysis and evaluation" – it includes the requirement to take measurements in the QMS, but it also points out the crucial step of the review of these measurements. The intent of the standard is not to measure everything you do in the QMS, like some sort of activity that is just to make people busy; instead, clause 9.1 addresses the need to also review the data you are collecting to determine if action is needed. You don't need to simply collect data if it is not going to tell you something important; the reason to collect data is to use it.
One critical part of the QMS that relies on accurate measurement is the quality objectives, as per clause 6.2 of ISO 9001:2015. These quality objectives, and the plans to achieve them, are one of the main ways to work towards improvement. The decision on which objectives to set, and tracking how well the objectives are progressing, rely on monitoring and measurement data.
For more information on the requirements for monitoring and measurement and quality objectives in ISO 9001, see the article: Analysis of measuring and monitoring requirements in ISO 9001:2015 and How to Write Good Quality Objectives.
Monitoring and measurement – The path to improvement
As you can see, the requirements of monitoring and measurement in ISO 9001 clause 9 are intended to give you the tools that will lead to improvements, not to add complexity and costs to your company. By focusing your monitoring and measurement on what is important to know in order to see improvement, you can help make your company better in the long run.
To learn more about the internal audit, a critical tool for monitoring QMS processes, see the online ISO 9001:2015 Internal Auditor Course.