If your organization is implementing ISO 9001, but lacks the internal skills to see the project to completion, then a likely course of action may be to engage the services of a consultant. Consultants come in all shapes and sizes, and the happiest choice is the one who best meets your specific needs. You might be thinking: "How do we even know what our needs are?" This article provides some guidance on how to make the best possible decision for your organization. The answers to the following questions will help you get there.
What's the price tag?
This will be a key consideration in most organizations. So, if consultant A quotes 50% of consultant B, does that mean you should definitely pick A? Most of us will agree that the answer is "Not necessarily," because we all know that cheaper options sometimes turn out to be a costly letdown and send us back to the drawing board. But since resources are always finite, we do have to operate within the confines of a budget. The price decision must be made within the context of the following considerations.
What business are you in?
Since ISO 9001 is about process management, a consultant must have a good understanding of the processes of your business in order to help you build an effective system. Incoming consultants will always start by familiarizing themselves with your business processes. For this reason, a consultant who has experience in your industry is obviously a better choice. The one starting with zero knowledge will have a steeper learning curve, and it will most likely be on your time.
Take note that industry knowledge can also be gained from previous consulting or auditing experience.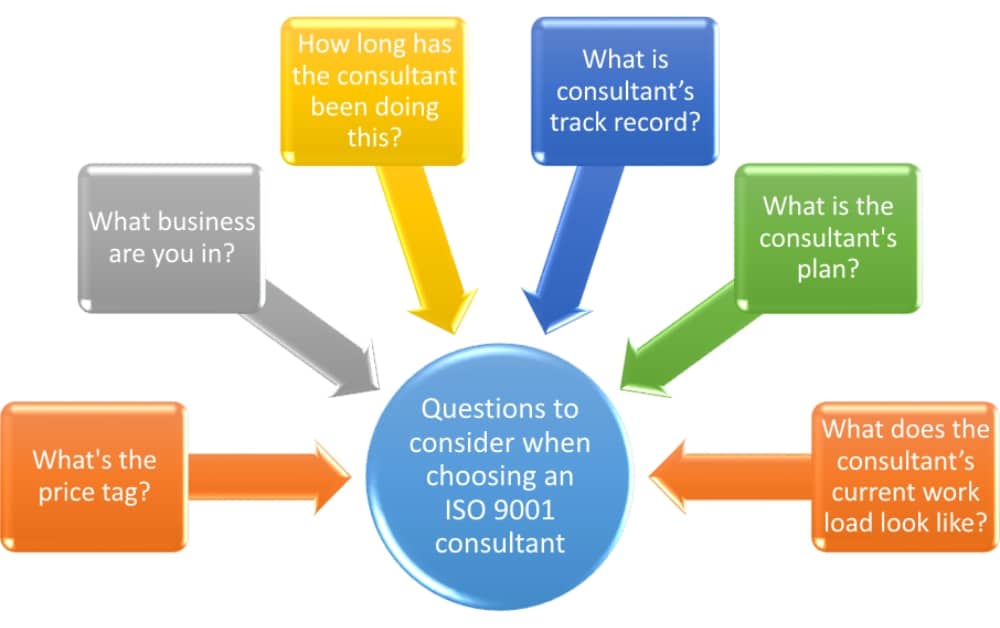 How long has the consultant been doing this?
A consultant with ten years of experience is likely to be very familiar with how to implement ISO 9001 and all the steps involved in the certification process. This means the shortest possible implementation time for you and fewer costly mistakes. In fact, an experienced consultant who is an industry outsider may well be a better bet than a newbie who has worked in your industry. This is because there is value in knowing the implementation and certification steps and how to avoid the pitfalls. Having said that, the younger newbie is likely to be savvy with new concepts, such as ways of managing documentation in the age of digitization. It's a delicate balance.
A case in point: I once encountered an organization that had been preparing for certification for several years under the guidance of a consultant. (This timeline alone was a red flag!) During this time the standard was revised to the next version. (ISO standards are subject to revision every 8 years or so. When a new revision is issued, a transition period is set during which the old standard remains valid and auditable. After that it becomes obsolete.) They continued to battle towards certification to the old standard, with the intention of then transitioning to the new standard. They did this even as the end of the transition period approached. All this was at the advice of a consultant who had no competence in the new standard and needed to buy time.
What is consultant's track record?
How many successful implementations of ISO 9001 does the consultant have under his/her belt? Which other organizations has he/she consulted for? What do his/her former clients say about him/her? It's worth taking a little of your time to check references.
What is the consultant's plan?
It is also a good idea to discuss their implementation plan: the steps and sequence to be followed, and the level of participation required from your team. Be wary of the consultant who asks very little of you, and promises to deliver a ready-to-certify system. Consultants' styles tend to vary from the ones who like to do everything for you, to the capacity builders who grow competence in your team. The latter involves more work for you, but delivers far greater value than the other end of the spectrum. You should aim to have a system where the people in the organization take ownership.
If the consultant is also going to deliver training, be sure to also specifically check references for this. Not all consultants will have the full skill set. You might decide to hire a consultant to help you determine scope, context, policy, risks, objectives etc., and to develop documentation; but have training done elsewhere.
For more help with hiring a consultant download this free List of questions to ask your ISO 9001 consultant.
What does the consultant's current workload look like?
Is your prospective consultant currently involved in other projects? Does he/she work alone? Will the consultant personally manage your project or might you end up with less experienced/competent junior associates?
Note that hiring a consultant isn't always a "must." Learn more in the article Do you really need a consultant for implementation of ISO 9001?
The final choice
The discussion above suggests that the ideal consultant has many years implementation experience, work experience or a professional background in your industry, good references, and reasonable rates. In addition, also make sure that you are satisfied with his/her educational qualifications.
Finally, one more important question to ask yourselves is: "Does the consultant have good people skills?" It's obviously more productive to work with someone who can get along with your internal team at all levels in the organization, while delivering the desired results.
For more in-depth comparison between implementing ISO 9001 with a consultant and doing it yourself, download this free white paper: Implementing ISO 9001:2015 with a consultant vs. DIY approach.