Updated: October 19, 2023.
Regulatory requirements for medical devices are becoming tighter every year. Manufacturers are expected to prove that their quality management processes are under control to ensure best practice in everything they do, while observing an increasing number of regulations in many countries. ISO 13485 has gained significant recognition around the world; but, depending on the country, there are other regulations that manufacturers must comply with. Is ISO 13485 an international standard? Is ISO 13485 required in the USA, Canada, and Japan? Is it mandatory in Europe? Where is ISO 13485 required? Learn in this article.
What countries require ISO 13485 certification?
Europe – the MDR 2017/745 and ISO 13485:2016
UK – UK MDR 2002
Canada – CAN/CSA-ISO 13485:2016
USA – US Quality System Regulations (21 CFR 820), together with ISO 13485
Japan – ISO 13485
Australia – The Therapeutic Goods document requires ISO 13485:2016.
Singapore – ISO 13485
Malaysia – The Medical device act (Act 737) requires ISO 13485.
Regulations with which manufacturers must also comply
The international standard ISO 13485 is intended to help organizations that are involved in the design, production, installation, and servicing of medical devices and related services to build Quality Management Systems (QMS). A QMS that conforms to ISO 13485 requirements is a set of documented and interrelated processes, including any necessary forms or templates, which are established, implemented, and maintained to fulfill the provisions outlined in the standard's requirements. The aim of the QMS is to meet the customer and regulatory requirements for businesses operating in the medical device sector. But ISO 13485 is not the only standard that medical device manufacturers must be in compliance with. Each of the listed markets has its own regulation for medical products, with which manufacturers must also comply, in addition to ISO 13485:
| | |
| --- | --- |
| EU | MDR 2017/745 |
| UK | UK MDR 2002 |
| USA | FDA Title 21 CFR Part 807 |
| Canada | Canadian Medical Device Regulations (SOR 98-282) |
| Saudi Arabia | Medical device and supplies regulation |
| Japan | Application for Accreditation |
| Malaysia | Medical device regulation 2012 |
| Singapore | Health Products (Medical Device) Regulations 2010 |
| Australia | Therapeutic goods (medical devices) regulations 2002 |
Countries and regions required to certify against ISO 13485
Now, let's see more about which countries and regions are required to certify against ISO 13485
Europe. Companies active in the EU market are expected to have a Quality Management System (QMS) certified under ISO 13485:2016, according to the MDR 2017/745. This applies to the following business entities:
Medical device manufacturers – meaning both manufacturers of medical devices and in vitro diagnostic devices, as well as manufacturers of the devices listed in Annex XVI of the MDR
Medical device developers, including software as a medical device
Medical device contract manufacturers
Manufacturers of medical device parts or components as described in MDR Article 23 and In Vitro Diagnostic Medical Device Regulation (IVDR) Article 20
Service providers for medical device installation, servicing, or maintenance
EU distributors or importers that undertake activities corresponding to manufacturer obligations described in MDR/IVDR Article 16(1)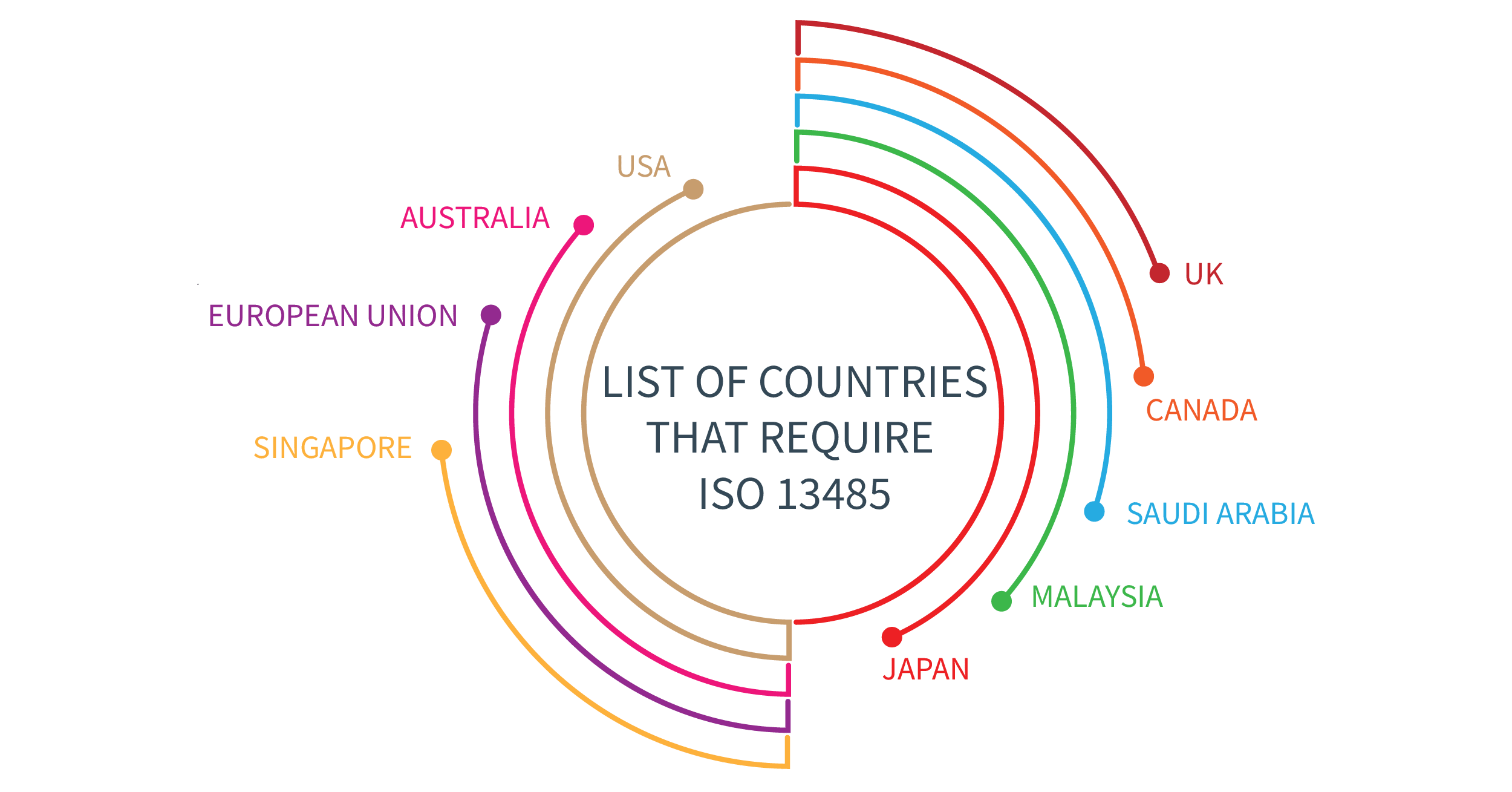 UK. With Brexit, the UK has prepared their own set of rules for registering medical devices on the UK market under the Medical Device Regulation 2002 (SI 2002 No 618, as amended) (UK MDR 2002). ISO 13485:2016 is recognized as the designated standard for the UK MDR 2002.
Canada. The Canadian Medical Device Regulations (SOR 98-282) require QMS certification under the Canadian version CAN/CSA-ISO 13485:2016, Medical devices — Quality management systems — Requirements for regulatory purposes.
USA. The US Food & Drug Administration (FDA) has Title 21 Code of Federal Regulation (CFR) Part 820 Quality System Regulation. This regulation is the current quality system for medical devices used by the FDA. While there are many similarities, ISO 13485:2016 is more up to date than 21 CFR 820. But because ISO 13485 is so widespread, the FDA issued in February 2022 a proposed rule to harmonize the US Quality System Regulation (21 CFR 820) with ISO 13485 and make ISO 13485 mandatory. The final rule will replace the current QSR, and the new rule will be referred to as the Quality Management System Regulation ("QMSR"). The FDA proposes to make the QMSR effective one year after the publication date of the final QMSR rule in the Federal Register.
Saudi Arabia. In the document Requirements for Inspections and Quality Management System for Medical Devices, is stated that Quality Management System for medical device manufacturers must be according to the latest version of the Saudi Standard (SFDA.MD/GSO ISO 13485) or its equivalent.
Japan. Japan has largely embraced ISO 13485 as the basis for their QMS requirements. However, Japan's Ministerial Ordinance on Standards for Manufacturing Control and Quality Control for Medical Devices and In-Vitro Diagnostics (MHLW MO 169) contains additional QMS requirements that medical device manufacturers must meet to be in full compliance. MHLW MO 169 was revised to align with ISO 13485:2016 on March 26, 2021. The transition period is three years, no later than March 25, 2024. Correspondence between ISO 13485:2016 and MHLW MO 169 is on the following link: https://www.pmda.go.jp/files/000239873.pdf.
Malaysia. The Medical device act (Act 737) requires all manufacturers to have implemented a Quality Management System according to the ISO 13485 standard. Other entities, like distributors, importers, and authorized representatives, must be in compliance with the good distribution practice of medical devices (GDPMD).
Singapore. Singapore requires that medical device manufacturers have an ISO 13485-compliant QMS as described in the document Health Products (Medical Device) Regulations 2010.
Australia. The document Therapeutic Goods (Conformity Assessment Standard for Quality Management Systems) Order 2019, published on March 26, 2019, states that the conformity assessment standard for Quality Management Systems is ISO 13485:2016.
Globally recognized certification
From this review, it can be seen that ISO 13485 is recognized worldwide as a major standard in quality assurance systems for medical device manufacturers. Although some markets have some updates, ISO 13485 still remains the main base.
To learn more about the ISO 13485 requirements and how to implement them, download this free white paper: Clause-by-clause explanation of ISO 13485:2016.