These days, SFIA is a hot IT topic, and more and more companies successfully combine this framework with ITIL, which was recently revised. In this article, learn why and how to use SFIA and ITIL 4 to get the best from your digital service business.
What are ITIL 4 and SFIA 7?
ITIL 4 (latest release of IT Infrastructure Library by AXELOS: February 2019) is known as a best practices framework for managing services for an IT function or department in any organization.
SFIA 7 (latest release from SFIA foundation – UK: March 2018) is a global standard framework for HR competency assessment for people who manage or work in or around information technologies, digital transformation and software engineering. Thus, SFIA has become the globally accepted common language (used in more than 100 countries) for the skills and competencies related to ICT.
For more about benefits of ITIL read the article 5 ways ITIL can help your small business grow.

Mapping SFIA and ITIL 4
SFIA 7 has 2 axes. On one axis, it defines levels of responsibility (Levels 1 to 7), for example: Apply, Enable, Ensure, which will be the equivalent to brief descriptions of competence profiles in ITIL 4. The other axis defines professional skills available in a specific range of levels.
ITIL 4 describes 34 practices. Most of these practices can be mapped directly or indirectly to one or more professional skills (out of 102 skills) described by SFIA 7. Refer to the table below where ITIL 4 practices are mapped to SFIA 7 skills. Note that for some practices, more than one SFIA skill can be mapped, so the table can be updated further with 1 or many practices mapped.
Adopting ITIL practices will help implement ISO 20000. For more about ISO 20000 benefits, download the free white paper How can ISO 20000 help your business grow.
Steps to align resources for adopting ITIL
Let's illustrate the process of allocating resources using SFIA for implementing ITIL with the following steps:
Step 1. Determine skills needed for a practice in ITIL implementation, for example: "Service Level Management." This is one of the key practices in ITIL. In order to implement this practice, skills and competencies needed (as per SFIA 7) for typical resource are:
Service level management
Relationship management
Business analysis
Supplier management
Other skills are also needed for ITIL practice implementation such as managing relationships with customers, analyzing business needs and managing suppliers. These are important for managing service levels.
Step 2. Map skills from SFIA to skills/competencies in an ITIL practice (in Step 1). If one refers to the SFIA 7 reference guide, you will able to find descriptions for all the skills listed. One of these skills is Service Level Management.
Step 3. Create SFIA professional skills repository (skills assessed and compiled based on each individual resource interview) of the current IT team.
Step 4. Find which levels of SLMO are needed for resources in the organization, e.g. 2 resources having SLMO skill at Level 4, and 1 resource at Level 5. What resources are needed and the necessary level of SLMO SFIA skill for implementation of Service Level Management should be decided in this step.
Step 5. Assess current IT team for SFIA generic skills and specific skills like SLMO and appropriate level (one of the levels from 1 to 7).
Step 6. Rate current IT team for their professional skills on scale of 1 to 5.
Step 7. Perform resource skills gap analysis based on skills acquired versus skills required.
Step 8. Identify training needs for resources to attain specific level of responsibility.
Step 9. Identify team to develop checklist/questionnaire for SLM implementation.
Note: For any resource, the generic level of responsibility should match with the specific level of responsibility for the majority of professional skills you have acquired.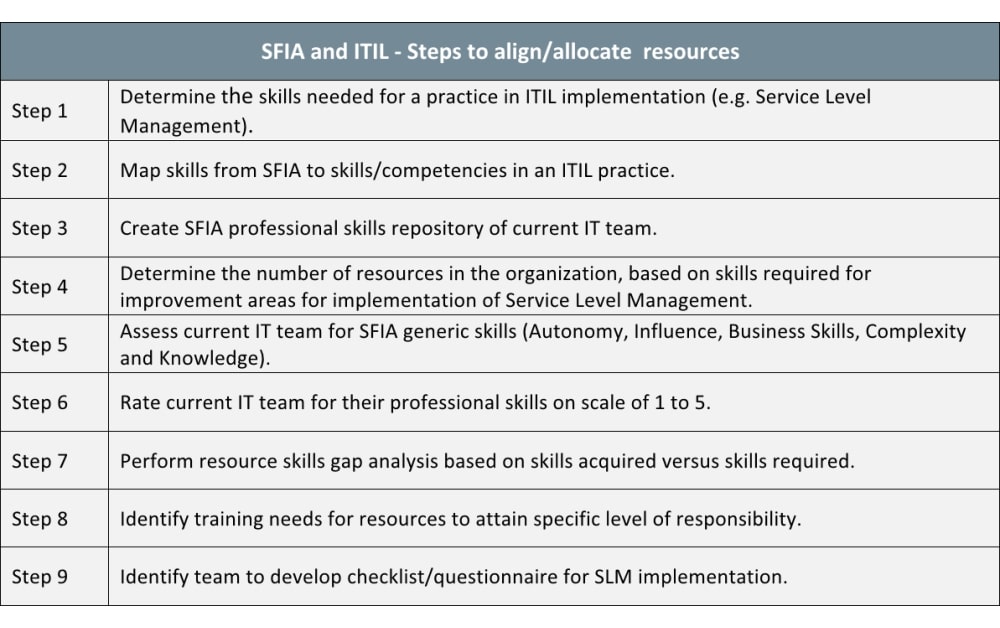 Similar procedure (Step 1 through Step 9) should be followed for implementation of other practices in ITIL.
SFIA facilitates the implementation of ITIL practices
To summarize, for any IT organization (irrespective of client business domain) using SFIA will be one of the parameters which will facilitate implementing ITIL practices because of the synergy between the two frameworks.
Both SFIA and ITIL keep evolving based on feedback from large corporations, customers, individuals and periodic revisions to keep in sync with latest technology and changes in business.
To learn more about the steps in implementing ITIL download this free ITIL implementation diagram.