When it comes to choosing suppliers and service providers for your company, you should work with the utmost care. As we will discuss in this article, your company's success – and even its survival – may depend on it. Today, we take a closer look at why you should go for an ISO 27001-certified hosting partner instead of just any arbitrary hosting provider out there.
Hosting is essential to your company's processes
Hosting is at the core of any business. Whether your company stores its own information or customer data – or maybe even both – with a hosting provider, we can consider the information within this internet infrastructure as being essential to your company's business processes. From single websites, membership sites, and e-commerce web shops on the one hand, to data from employees or customers on the other hand – all kind of relevant data will be stored by your hosting partner.
While it is convenient and economically reasonable to keep relevant data in the cloud, regulatory requirements, for instance, by governments, also have to be met. Learn more about ISO 27001 benefits in Four key benefits of ISO 27001 implementation.

Nine reasons to use an ISO 27001 hosting provider
Here are nine key reasons for choosing an ISO 27001-certified hosting provider.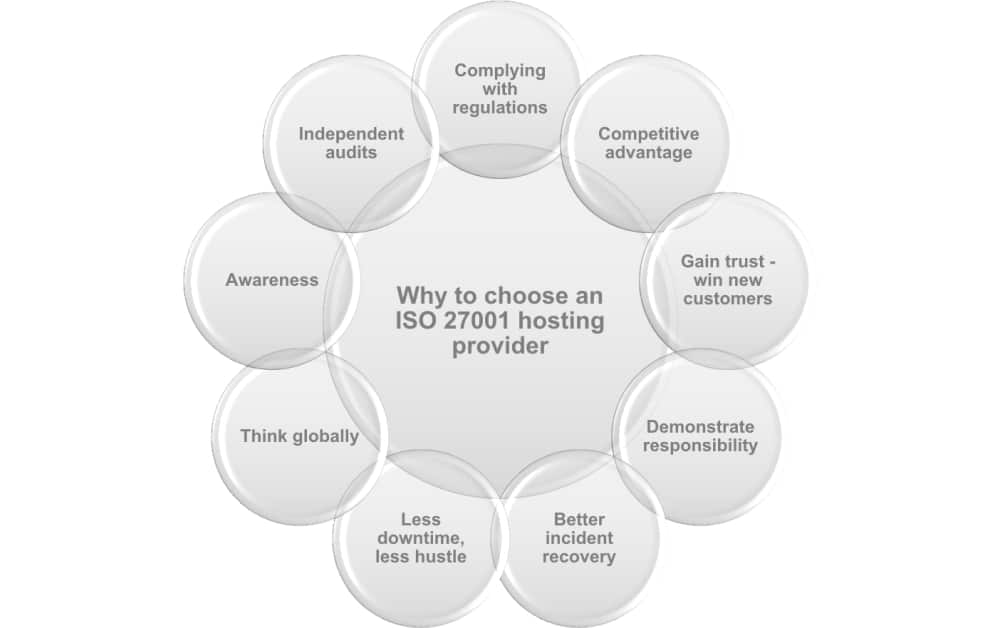 #1. Awareness. An ISO 27001 hosting provider, at some point, proved that the company believes and works according to an information security guideline. The awareness of the employees regarding information security should be noticeably higher compared to other hosting providers. Standards, such as for testing software or components, backing up systems, and firewall structures to mention only a few, should be in place and in action.
#2. Independent audits. By choosing an ISO 27001-certified hosting provider, chances are good that your data is safe. Any company certified according to ISO 27001 has to undergo audits and prove that an Information Security Management System is in place. Unless you want to audit your hosting provider yourself, it's a good idea to choose a hosting partner that was audited and certified.
#3. Complying with regulations. By choosing an ISO 27001 hosting partner, you also show interested parties, like the government, that you comply with regulations. You demonstrate that you take your responsibilities seriously and work according to best practice yourself. This is also useful for prospective clients.
#4. Competitive advantage. Even if your company is not certified according to ISO 27001, some of the benefits of your ISO 27001 hosting partner rub off. Your company will automatically gain trust. Going for ISO 27001 hosting can even prove to be a competitive advantage, which takes us to the next point.
#5. Gain trust – win new customers. Whenever you can tell your customers that your (and their) data is safe, you gain trust – and new customers. Customers tend to choose reliable partners. Let prospective buyers know you are working with an ISO 27001 hosting provider, and that their data is safe with you and your service partners.
#6. Demonstrate responsibility. And what if something happens anyway? Let's say an incident happened. On the one hand, you – and especially your hosting partner – can solve the problem (and make sure it does not happen again). The ISO 27001 standard actually provides a guideline for your hosting partner on how to handle incidents. By working according to the ISO 27001 standard, continuous improvement will lead toward growing awareness and preventing further incidents similar to the one that happened. On the other hand, you can still demonstrate what you did beforehand. Not all risks can be predicted and prevented. But when you – and you hosting partner – did the best possible job, responsible authorities tend to be more lenient and cooperative toward your efforts.
#7. Better incident recovery. Not only will your company look better in case of an incident (at least you tried your best to prevent one), but also, an ISO 27001-certified hosting partner will recover faster from an incident. Your company will be back up and running more quickly, too. Moreover, according to ISO 27001, your hosting provider will also assess the incident and take precautions against any related or similar incidents. An important part of any ISO 27001 certification is continual improvement.
#8. Less downtime, less hustle. Any ISO 27001 hosting partner should deliver outstanding security measures. Downtime – as one bonus – should be minimal. As a result, an ISO 27001 certification goes beyond any service level agreement. In general, working with an ISO 27001 hosting company should save your company money – at least in the long run. Less downtime and less hustle let your company work more efficiently, too.
#9. Think globally. All the above-mentioned benefits also work in global environments. ISO 27001 is a recognized standard all over the world. So, whenever you handle data globally and have to meet regulatory requirements in different parts of the world, working with an ISO 27001 hosting company makes your work easier.
Learn more about information security in business in the article Where does information security fit into a company?
An ISO 27001-certified partner brings many benefits
If you think information security is important for your company, you should definitely consider choosing an ISO 27001-certified hosting partner. Access to your data, security of the stored information, and compliance with regulatory requirements are the main benefits you gain from using an ISO 27001 hosting partner. But, as described before – the benefits of using an ISO 27001 hosting provider are manifold.
Hosting is especially important if you are a SaaS company. For more about ISO 27001 for SaaS, download this helpful white paper: How is ISO 27001 applicable for Software-as-a-Service companies?