Updated: July 10, 2023.
If your company is in the process of establishing an OH&SMS (Operational Health and Safety Management System) certified according to ISO 45001, or already has one, then all of the assistance you can harness to attain and maintain good performance is most welcome. Whatever the size of your organization, you will almost certainly have an employee base with various skillsets and qualifications, whether gained through formal education, previous workplaces, or during employment with your organization. So, given that this is almost a "hidden" advantage for many businesses, is there a way that we can harness these skills and qualifications to benefit the company's OH&SMS?
Specific certifications for improving the performance of the organization's OH&SMS include:
Project management
Identification of risk and opportunity
Internal auditor training
Day-to-day roles and responsibilities
Assessing the potential of employee capability
Employees with personal qualifications and certifications are a huge asset to any organization, but can often be overlooked when an organization plans a project, especially in an age where outsourcing tasks has become standard in many sectors. It does, however, make good business sense for any organization to assess the personal certifications and qualifications of its workforce, as in many cases these skills and experience can be used to improve the performance of your organization's OH&SMS. In a previous article, How to ensure your ISO 45001 investment is profitable, we looked at the factors that can ensure the profitability of an ISO 45001 project, but perhaps assessing the skillset of your employee base should be the starting point here, to ensure that your organization does not hire external help that technically may not be required. You may only need help from an online resource or documentation toolkit to assist with your implementation.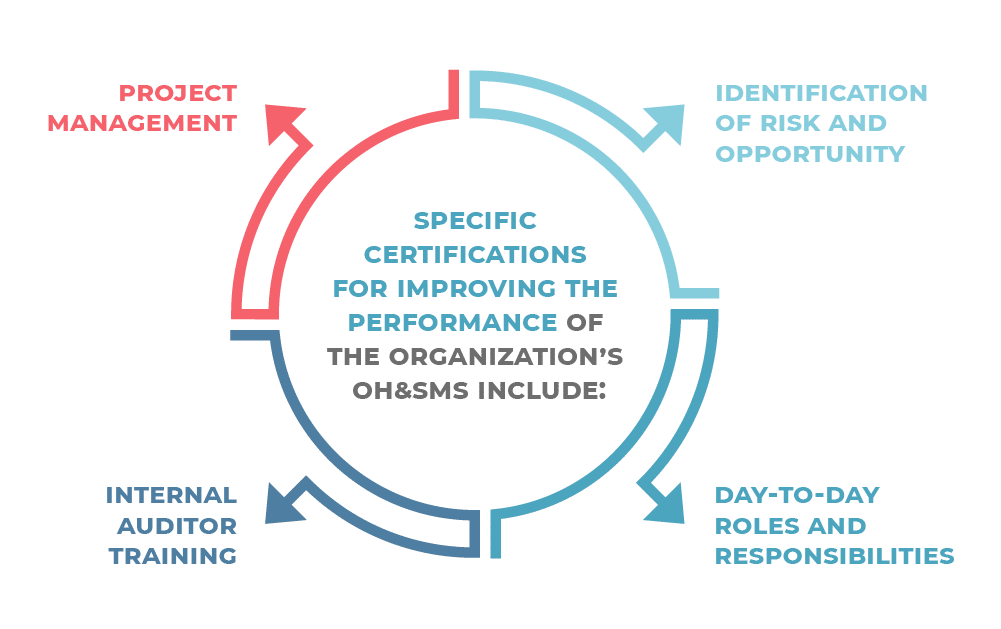 This is why it makes sense to do a skillset "Gap Analysis" when the implementation, roles, and responsibilities of your OH&SMS are set out, in order to verify whether or not any of the key tasks can be undertaken by your existing employees who may already have certifications of their own. So, what types of specific certifications can improve the performance of the organization's OH&SMS in this context? Let us examine the possibilities:
Maximizing the benefit of your employees' personal certifications
As we can see, there are many opportunities for the organization to marry up the skillsets and qualifications of employees to the benefit of the OH&SMS. However, it is vital that the organization takes the time to assess the system's needs against these certifications, and discuss with the employees what is possible and to what extent they are able to work on this project, considering current work commitments. Regardless, it is clear that if existing workloads can be adjusted, most organizations can derive huge benefits from utilizing the skillsets of certified employees to the benefit of the OH&SMS, even in the fields of training and communication, as well as the elements mentioned above. Why not examine your workforce's certifications today, engage with your people, and plan the way forward – whatever the stage of your OH&SMS implementation or operation? The benefits are there for all to see.
This ISO 45001 Internal Auditor course will teach you or your employees everything needed about the ISO 45001 and how to perform an internal audit.