Have you ever wondered why the ISO 9001 standard has some of the requirements that it does? Or have you wondered why a requirement is worded the way it is? By understanding the main principles behind the writing of the standard you can not only understand the requirements better, but you can also work on a more successful implementation of the requirements into your Quality Management System.
There are seven Quality Management Principles upon which the ISO 9001 requirements for Quality Management Systems are based. These are not presented in any order, as they are all seen as equally important to running a good quality management system. They are equally applicable to product- or service-based organizations, and they are important organizational ideas behind any system for quality management.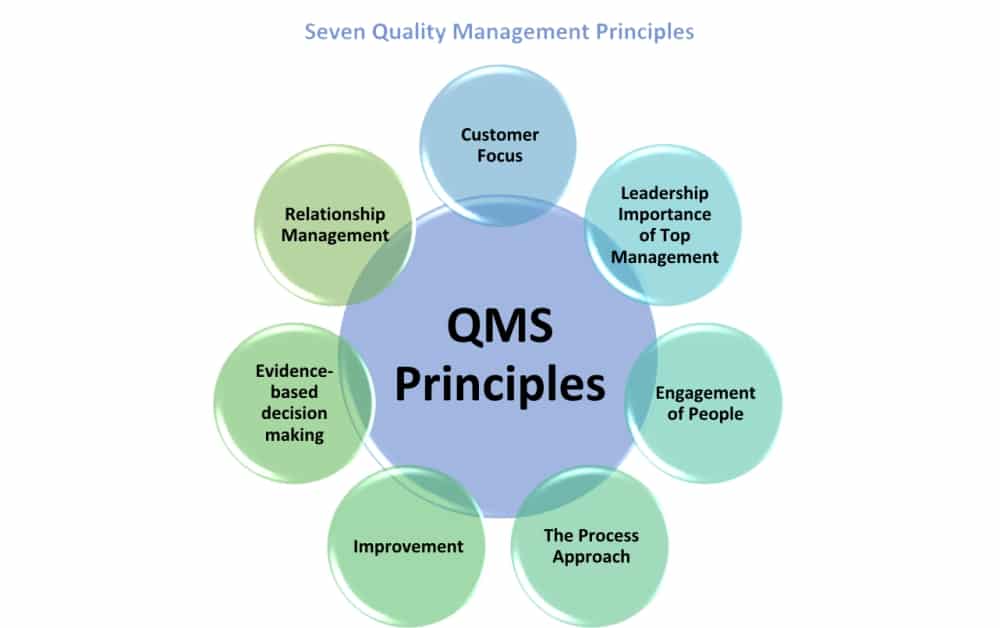 QMP1 – Customer Focus
Since the whole goal of a company is to provide products or services to customers, it makes sense that there is a focus on customers as a main element. This starts with knowing your customer and their requirements, ensuring there is communication with customers throughout the process, and measuring the satisfaction of your customer as a way of measuring if the requirements, spoken or unspoken, have been met.

QMP2 – Leadership Importance of Top Management
It has been said many times that if the top levels of management are not behind the implementation of any QMS, it is bound to fail. While this may not always be a fact, it is true that the more involved the top levels of management are in the QMS, the better the chance of success, and the better implemented the end result. If top management – who is responsible for controlling the cash flow of the organization – can see the benefit of the system, it is much more likely to be used to its fullest advantage.
QMP3 – Engagement of People
It is important that people throughout the organization create value, especially in our ever-growing competitive world. To ensure this, the QMS must focus on the competence of people to help them become engaged in the processes to build value in them. By having empowered and engaged people in the organization, this can become a driving force behind meeting the objectives of the organization.
QMP4 – The Process Approach
Trying to understand, control and improve an overall system can often be complicated, which can make any efforts doomed to failure. However, by looking at the overall system as smaller interrelated processes you can focus your efforts toward more consistent and predictable results on the individual processes of the system. Controlling and improving the individual processes can be a much easier and more effective way to control and improve the entire system.
QMP5 – Improvement
Companies that stay stagnant in an ever-more-competitive market will quickly be overtaken by their competition, and in order to counteract this pressure the company must improve in order to drive down cost and maintain market share. This allows the company to react to changes in internal or external conditions to create new opportunities. The whole idea of having a quality policy, with objectives that are consistent with this policy, works toward improvement. Objectives need to be planned and SMART (Specific, Measurable, Attainable, Realistic, Time-based), and will not work without commitment to change.
QMP6 – Evidence-based decision making
It is said that you are more likely to get the desired results by basing decisions on analysis and evaluation of data rather than a gut instinct of the situation. This is why there is a focus on monitoring & measurement in the ISO 9001 requirements (in fact, 4 of 6 mandatory documented procedures are from this section). In order to know that a process is functioning properly we need adequate data, and in order to plan and assess improvements this data is even more important. Because of this, maintaining good records becomes crucial to facilitate many of the other Quality Management Principles.
QMP7 – Relationship Management
Because the interaction with interested parties such as customers, employees and suppliers can influence the performance of an organization, it is critical to manage these relationships. The focus is often on managing the relationships with the supplier network, but maintaining the relationships of all parties is important to optimize their impact on the organization and make sustained success more likely. Successful companies see these relationships as partnerships rather than strictly customer/supplier interactions.
How to use the Quality Management Principles in your QMS
By understanding these overall principles, and putting a focus on them into your QMS, you will find it easier to implement the requirements and find that the end result will be more focused to your needs as a company. If you are aligning your Quality Management System to the requirements of ISO 9001, how much simpler will the implementation be if you also ensure that your processes focus on the same principles as the requirements, and how much more effective will your system be? How can you ignore the principles behind the system if you want to ensure that your QMS will function so that you see the most benefit?
Click here to see a free preview of the Quality Manual template.