When implementing a Quality Management System (QMS) for your medical device manufacturing organization, you will find that one of the first things you need to write according to ISO 13485:2016 is your Quality Policy. So, you may wonder what this Quality Policy is and why it is necessary for the QMS. In this article, we will examine this important piece of documented information for your QMS.
Key elements of an ISO 13485 Quality Policy:
Adapt the policy to the organization.
Define a framework for setting your quality objectives.
Establish the commitment to meeting all requirements.
Establish the management commitment.
Communicate the Quality Policy.
Ensure the regular review of the Quality Policy.
What is the ISO 13485 Quality Policy?
The Quality Policy should be the overall goal of the organization, and is written by top management in order to direct everyone in the organization as to how medical devices will be created and delivered to the customers.
This top-level policy is intended to be communicated and understood by everyone in the company, so they can all follow one strategic direction on how product development happens and how requirements will be met. Commitment to quality can then be used throughout the organization as a focus on how processes are performed, and as a guide for the quality objectives of the organization—those main improvement aims that the company plans to achieve.

Why is it necessary to have a Quality Policy?
Along with guiding the commitment to achieving quality objectives, the Quality Policy is a reflection of the organizational goals for providing medical devices. As such, the Quality Policy can be a filter for making decisions within the organization.
For instance, if your Quality Policy includes a commitment to meeting customer and legislative needs for the medical devices you provide, then a manager who is assessing the resource needs of their process can ask themselves: "Will changing this resource need improve our ability to meet customer and regulatory requirements?" If the answer is no, then a different decision, one that will help to meet the company's goals, should be made.
How do you write the ISO 13485 Quality Policy?
As a mandate of ISO 13485, the Quality Policy for your medical device organization needs to meet some requirements, although the standard does not include many mandatory items: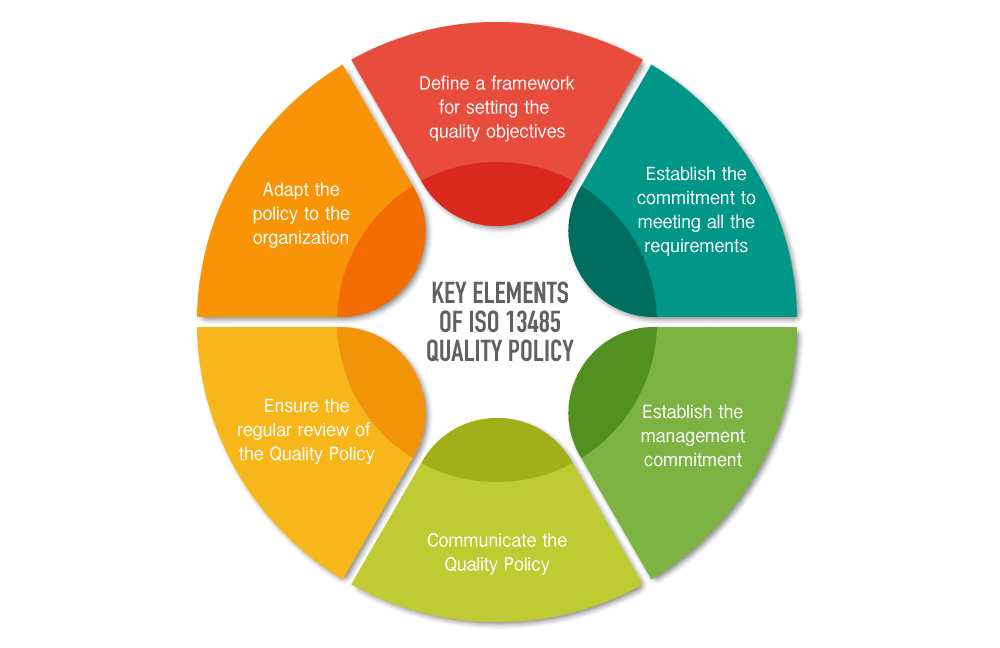 You need to adapt the policy to your organization, meaning it cannot be copied from somewhere else; it needs to be related directly to what you do.
The policy must include your commitment to meeting all requirements for your medical devices, which includes legal requirements applicable to you, and to commit to an effective QMS as applicable to your specific and unique product. Management commitment that all risks will be minimized to ensure a safe and effective medical device is also often seen in Quality Policy.
The policy gives a framework for your quality objectives, defining how the objectives will be proposed. So, it is common to include commitments that will provide a framework for these quality objectives you want to improve as an organization, such as on-time delivery or product development.
The policy must be communicated to all employees within the company, as well as interested parties when appropriate, so that everyone understands this top-level goal of the QMS.
There must also be a process to regularly review the Quality Policy to ensure that it is still applicable to the organization's strategic goals and direction, as well as the changing needs and expectations of interested parties.
Steps for writing the Quality Policy
When writing the Quality Policy for your medical device organization, there are many factors to consider to ensure that your Quality Policy will provide useful guidance for your employees.
Start with the requirements of customers and other interested parties.
The customers to whom you provide medical devices, as well as legal entities, will have many requirements on how you create and deliver your products. So, these need to be considered when creating the Quality Policy.
Know the requirements of internal parties.
If you are expecting all employees to know, understand, and use the Quality Policy, then you need to ensure that the Quality Policy is applicable throughout the organization. People need to see how the Quality Policy applies to their jobs.
Include the ISO 13485 requirements.
While there are not many requirements in ISO 13485, as listed above, clause 5.3 does include some considerations for the Quality Policy. Make sure these are included.
With all of this information gathered, the Quality Policy can be written with a view to guiding the organization towards meeting the requirements and goals necessary to ensure customer satisfaction and meeting the legal requirements of your medical devices. Once written, ensure that the Quality Policy is communicated and understood throughout the organization. By thoroughly reviewing all of the necessary requirements, you can create a better Quality Policy that will guide your organization to success. In addition, quality objectives need to relate to the Quality Policy: if there is an improvement objective that the company wants to achieve, then it should be relevant to the policy.
For more on how communication works in ISO 13485, including communicating the Quality Policy, see the article: How to comply with the latest changes in ISO 13485 clause 7.2.3 Communication.
Make the Quality Policy work for you
Although it is a requirement of ISO 13485 to create a Quality Policy, which will guide your employees on how your medical devices are produced and delivered in your organization, don't see this as simply something you are doing to meet the requirements. The Quality Policy should be a tool you can use to ensure that your QMS is consistently applied by all employees of the organization, and that you are ensuring safe and effective medical devices—and, in doing so, you can make sure that everyone is working towards your goals of meeting the necessary requirements and improving customer satisfaction.
To learn more about clause 5.3 about the Quality Policy and other ISO 13485 requirements, download this free white paper: Clause-by-clause explanation of ISO 13485:2016.