Business needs are changing. It's happening today and it will happen tomorrow. This isn't exactly breaking news, but continual alignment and re-alignment of IT services as a business changes may be a surprise to some people in the IT services industry. For organizations that are using ITIL, that shouldn't be the case.
Already, in ITIL V3 2007 edition (current is 2011 edition), ITIL introduced Continual Service Improvement (CSI) as a stage in the IT Service Lifecycle. The approach emphasized that by entering the operational stage, management of an IT service did not a reach a standstill. Actually, it never does. CSI ensures that service will be continuously monitored, measured and improved.
Where to start?
It is difficult to answer this question, because it differs depending on services. But, the important thing is that you start somewhere. ITIL (as part of CSI) gives three possible approaches:
Service approach
Lifecycle approach
Functional Group approach
Generally, I agree with this methodology. But, from my experience, Process approach should also be listed, due to the fact that some organizations did not implement the complete lifecycle, but just some processes (e.g. only Incident Management and Problem Management from Service Operations). Let me briefly explain the abovementioned approaches.

Process approach
Incident Management and Change Management are examples of customer-facing processes. Therefore, it is important that they are consistently monitored, measured and reported. Responsible organizations will know what to do with the results – improve the process. I found some examples where organizations had to repeat tasks to solve certain incident types because Problem Management was poorly implemented (if it was implemented at all). The number of repeated incidents was the trigger to start improving the Problem Management process.
Service approach
While taking this approach, it is advisable to be careful and choose just a few services to start with. Usually, services include a lot of processes, functions and roles, so it could be resource intensive and time consuming to start with all services. The agreed service level with a customer will trigger some actions, because we have to know (and report) on SLA achievement. Even if we are achieving the agreed SLA (Service Level Agreement – formal agreement with customer), measurement can give us valuable information as to what can be improved.
Lifecycle approach
The service operation lifecycle stage is sometimes taken for granted. "It is (daily) business as usual," we used to say. But, it must be strongly emphasized that Service Operation can be a valuable source for all other service lifecycle stages (Service Strategy, Service Design or Service Transition). Basically, Service Operation has know-how gathered in praxis, which can be valuable to improve future services (or changes made on existing ones) in an early lifecycle stage. I saw that, while adopting ITIL, organizations try to use their own experience (know-how of their services) and re-use gained knowledge to improve, while developing new services.
Functional Group approach
Some functional groups could be also improved. That does not necessarily mean that end-to-end service will be improved, but certainly some part of the services. Take a server admin group as an example.  There are many parameters that you can measure and get an impression of how well they are performing. Based on results, improvement measures will be defined. Education can be just one of them.
From the above discussion, you see that CSI has to be taken very carefully, considering many parameters. But, as can be seen in the picture below, there are a few basic rules that have to be followed: Baseline and Trend. Baseline is the starting point and it gives us the ability to compare (where we are compared to where we have been). After every improvement made, new a baseline should be set. Trend is the direction in which the improvement cycle is turning. Speaking generally, improvement is acceptable as long as the trend is rising. The Deming Cycle (Plan, Do, Check, Act) is particularly applicable to CSI. The goal is steady improvement, and the Plan-Do-Check-Act cycle prevents the circle from rolling downward.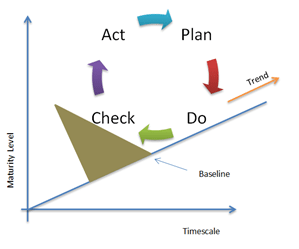 Figure: Continual quality control and consolidation
Either you didn't start, because you don't know in which direction to go (but you know that something has to be done), or you are looking to improve your services – it's the start of Continual Service Improvement. The only advice I can give you is – "Go! Start implementing CSI. Carefully, step-by-step and proactively. You will start getting results. And don't forget – improve it."
You can also download a free sample of our Continual Service Improvement Process template to learn more about service improvements.