Quite often I notice, during discussions about ITIL-based IT Service Management (ITSM), the mention of stakeholders. Although some people use it as a buzzword, those who know what it means – they know it's quite an important word.
Stakeholders exist in any element of a company's business and in any kind of organization. They also exist in our everyday life. So, in this article, I'll clarify who the stakeholders are, how to approach them, and why (and how) they are used in ITSM organization.
Who are the stakeholders?
According to the ITIL definition, a stakeholder is  "a person who has an interest in an organization, project, IT service etc." Let me explain with a non-IT example. Consider a company – who would be stakeholders in it? Employees, managers, board of management, shareholders, syndicates, customers, suppliers, vendors… etc. But, also, e.g., the community where this organization does business. That includes universities that are interested in making sure that their students have a place to work once they are done with university. Everyone living in the city where the company is located could also be stakeholders. For example, if the company has production facilities, everyone in the city is interested in whether the production considers the highest environmental standards (e.g., ISO 14001). So, those would be stakeholders in a company.

How about IT services and ITSM?
IT services (and, consequently, ITSM) deal with stakeholders in almost every process and throughout the ITSM organization. Stakeholders of an IT service are employees of the ITSM organization and the organization's management, other employees of the company, management of the company, users and customers, vendors, suppliers, regulators, partners, etc. They all have interest in IT services.
Stakeholders can be divided into two categories:
Internal – these are teams, groups, and employees who work in the same organization. In case of internal IT providers, this also means internal customers.
External – these are all parties who are not part of the same organization: typically, external customers or suppliers.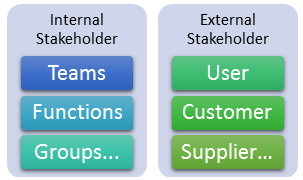 Figure: Internal and external stakeholders
Why are they important?
Simply put, they are important because stakeholders of the IT services and ITSM organization include everyone you need to deliver the services (e.g., users) or to be founded (e.g., customers). So, you can't live without them. But, let me elaborate on this in more details.
It's important to understand who the stakeholders of the IT services are, how they are using the services, and what their interests are. If you recall the IT service lifecycle – that's set in the scope of Service Strategy (read the article ITIL Service Strategy: What and Why of ITSM to learn more). By being clear as to who the stakeholders of your IT services are, you are able to define supporting organization (roles, responsibilities, teams… etc.), processes, how to manage interfaces between processes and different roles, etc. So, in different stages of the IT service lifecycle you will have to consider different aspects of the stakeholder requirements (e.g., by understanding your stakeholders' demand towards the service(s), you will be able to respond with appropriate capacity).
Let's see a few examples where stakeholders' involvement is important:
Defining the service – Service Portfolio Management has to take care that stakeholders are involved in the definition and evaluation of the service. I had witnessed a project where the service was defined and implemented by IT without the involvement of business and marketing (i.e., the right stakeholders) and it never succeeded. Read the article ITIL Service Portfolio Management Process Overview to learn more.
Deploying the service – stakeholders should be informed about the progress of the service implementation throughout the project. In such way, stakeholders will feel involved in setting up the service, but also it will be much easier to involve them in any necessary steps like, e.g., testing. If stakeholders involve external parties like the customers of a supplier, then Service Level Manager/Business Relationship Manager and Supplier Manager will be involved.
Service operation and monitoring – operation activities directly affect stakeholders' (in this case – users' and customers') satisfaction. Therefore, it's important to understand stakeholders' interests and how they use the services in order to optimize outputs (services delivered). Monitoring provides direct information to the Service Level Management, ITSM, and customer (all are stakeholders of a particular service) about the quality of the provided service and support teams.
And ISO 20000?
ISO 20000 does not use the word stakeholder, but – interested party. By definition, an interested party is a "person or group having a specific interest in the performance or success of the service provider's activity or activities." From the importance and involvement in the Service Management System (SMS) processes and related activities, interested party corresponds to stakeholder. So, everything mentioned above (i.e., ITIL related) is valid for ISO 20000. Read the article 5 key benefits of ISO 20000 implementation about ISO 20000 implementation.
Two-way road
As you could see, stakeholders are interested in the activities, targets, resources, or deliverables. Their involvement is not unidirectional, but rather bidirectional. The ITSM organization has clear interests to excel throughout the IT service lifecycle. Maybe indirectly, but that's also the customer's interest because they need services to be delivered at the highest quality. That's why stakeholders, their interests, and their involvement are extremely important.
Therefore, analyze who the stakeholders of your services are, communicate with them, and let them say what they think – in the service definition phase as well as (even more important) once the service is in the live environment. In such way, they will feel involved and respected. If you were the customer – would you like something more?
Use this free  ITIL Gap Analysis Tool to check how your processes follow ITIL recommendations.