The latest release of ISO 20000:1:2018 brings changes in Clause 4 by introducing the term "Context of the Organization." By being clear about what internal and external issues are relevant, the company builds a solid foundation for achieving the goals and outcomes of the Service Management System (SMS). Why is this clause important for the implementation of an ISO 20000-1:2018-based SMS, and how can you identify the context? Learn in this article.
Starting with internal issues
To identify the context of the organization, the company has to determine the boundaries and applicability of the SMS to establish the scope of the ISO 20000 implementation. While determining scope, the organization should consider external and internal issues. Internal issues in a company arise because of various elements, which will be discussed below.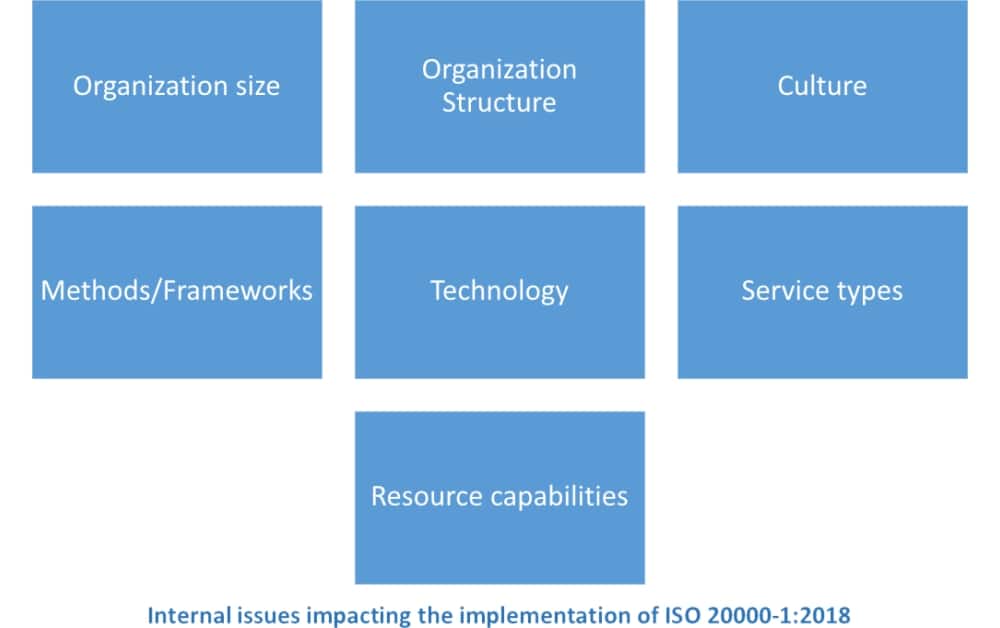 Organization size. The size of a company plays a critical role in defining responsibilities for staff. In a small company, many roles can become the responsibility of a single person.
Organization structure. Service management processes need to be managed across departments / functions in the organization. Before implementing a SMS, the company's structure needs to be taken into consideration, e.g., hierarchical, matrix, or self-learning team structure.
Culture. Ethics, behavior of individuals, and people from departments play vital roles in adopting a Service Management System.

Methods / frameworks
. You need to know if there are any ISO standards for which the company is already certified, including ISO 20000:2011. This will help in knowing to what extent existing processes, procedures, and documentation need to be updated to comply with ISO 20000:2018. You also need to be aware of any other frameworks like ITIL, COBIT, etc. that the company has been practicing already.
Technology. What are the different technologies used by the company for current services offered, e.g., IT infrastructure (including cloud, SAAS, PAAS, etc.)?
Service types. What kinds of services (IT and non-IT) does the company offer for its products: e.g., local, global, 24×7, 24×5, 8×5 follow-the-sun?
Resource capabilities. The level of maturity of staff, processes, and the company play vital roles. For IT staff, a global industry framework like SFIA (Skills Framework for Information Age) can be used.
Learn more about the connection between SFIA and ITIL in the article How Skills Framework for Information Age (SFIA) helps ITIL implementation.
External issues
Implementation of a SMS should be flexible enough to align with company changes based on external factors, by using a method called PESTLE.
1) Political: Government, rules, regulations, policy changes, scandals
I.e., changes to the country's foreign policy may prevent an organization from forming or growing alliances with organizations in other countries. This may lead to changes to the company's internal management and, therefore, political struggles within the company.
2) Economic: Competition, purchasing power of consumers, inclusion/exclusion as a member of a union
I.e., the host country of an organization might join the EU and adopt a new currency. This may compel change in the methods for setting the prices, accounting practices, and procedures.
3) Sociological: Nuclear/joint family, DINK (double income no kids)
I.e., customers and suppliers may require business to be done electronically. Employees become more technically adept and aware of the benefits of communication with others using electronic means.
4) Technological: Emerging technologies and trends, benchmarks
I.e., advantages in communication and computing technologies may offer improvements in organizational efficiency and effectiveness, which competitors are already taking advantage of. The expectation and ability to work from home, connected to the office via VPN, may also drive considerable changes.
5) Legal: Trademarks, IP rights, data privacy/secrecy
I.e., legislation such as Sarbanes-Oxley (a law that established sweeping auditing and financial regulations for public companies) can initiate changes to the way in which an organization presents itself and reports to society. Alterations to the organization's rules and operating procedures may initiate changes in the way that the management systems operate.
6) Environmental: e-waste, sustainability, renewable energy
I.e., this could be a result of pressure from the particular environment or sector in which the organization operates, or it could be from the physical environment in which the organization is located. The company's commitment to their corporate social responsibility or the addition of an environmental management policy such as ISO 14001 can affect the way that they dispose of redundant equipment.
Documenting all of the above points as "context of the organization" will help you to comply with ISO 20000 clauses 4, 5.2, 5.3, 7.1, 7.2, 8.2.2, and 8.5.2.
Why understanding context is crucial
By understanding the organizational context well, one can implement a robust Service Management System as specified by ISO 20000:18 that will cover the needs and expectations of all stakeholders and ensure that it will manage services faster, better, and cheaper.
Learn more about benefits of ISO 20000 in this free white paper: How can ISO 20000 help your business grow?