ITIL Service Lifecycle – processes and functions overlapping the phases
ITIL processes and functions are set up in a particular stage of the lifecycle; however, in reality they spread throughout the stages. This image shows the ITIL service lifecycle. Single colors show processes and functions defined in particular service lifecycle stages. The line that extends from the parent stage spreads throughout the lifecycle stages where process or function influences service, e.g. Change Management process:
Service Strategy – some change requests need analysis of the Service Portfolio Management process (in the scope of Service Strategy), which adds it to the service pipeline.
Service Design – Capacity Management and Demand Management are critical components of changes, and vice-versa. Poorly managed demand and capacity can cause high risk for the service provider once the service is provided to the customer.
Service Operation – many solutions to the problems are solved by implementing a change, and in such a way Problem Management is one of the most significant sources of changes. Find out more, and read this blog post about Strategy Management for IT Services – holding your steering wheel.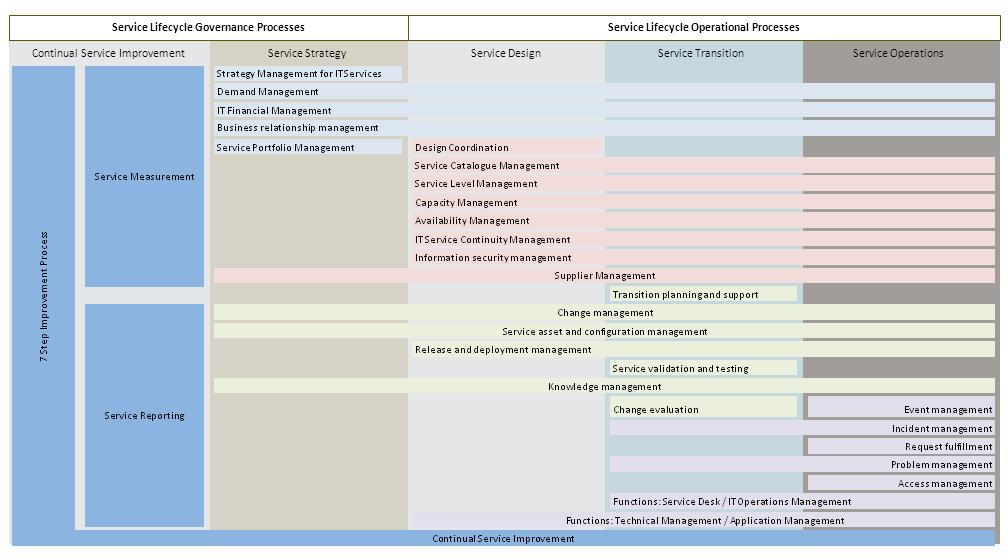 A more simplistic view, and a list of all ITIL processes and functions, can be found in this article:  ITIL Processes and Functions.