Maybe, it will sound challenging, but it's easier to setup the processes and functions in your IT Service Management (ITSM) organization than to manage them in the real life. ITIL provides you with a lot of know-how about setting up the organization and the processes. But, your ITSM is more than processes and relations between them.
Wherever you look around your organization, there are many resources in use to support your ITSM. Depending on the process, they require certain levels of expertise. The point is not that you can't find them, but rather how to use them optimally.
From strategy to operation, and beyond
According to ITIL, there are two functions which are your source of resources throughout the service lifecycle:
These are, usually not stand-alone organizational units. Meaning you will probably not have, for example, all technical experts sitting in the same organizational unit. Most likely, they will be placed in different departments. But, the important thing is that you have them at your disposal when needed (e.g. by signing OLA – Operational Level Agreement).
Although both Application and Technical Management have significant roles once the service is in a live environment, they are heavily used throughout the IT service lifecycle. Here is the overview to show examples of use:

Service Strategy –
Let's start from the beginning. Whether you are expanding an existing portfolio of services, or you are introducing new ones, the sooner you start planning your resources, the better the result will be. Imagine a situation where you are introducing a new service to your customers but still don't have a clue what kind of resources you need to support it? No, you will probably think about that much earlier. This means resources needed to support your applications and/or infrastructure (i.e. your technical resources). Of course, that doesn't only include the amount of people but also their knowledge and experience, as well as costs. Technical and Application Management will help you clarify whether to build up own resources or hire external ones. Also, both functions will assist Financial Management to identify the cost of technology and IT human resources used to manage IT services.
Service Design – A lot of expertise is required during design phase of the service. That's one of the first steps where you will implement quality in your service. To meet the levels of service required by the business, Availability and Capacity Management are dependent on Technical and Application Management for engineering IT services. Also, Information Security relates to technology, so with better knowledge of the underlying infrastructure and application, the better information security management will be. Suppliers are supporting services you provide. All expert matters related to suppliers involve (you guessed it) Application and Technical Management experts.
During Service Design a lot of monitoring and measurement systems have to be defined. Expertise increases the effectiveness of provided solutions.
Service Transition – This is where service is built, tested, released and deployed. For all those steps in the service lifecycle, expert knowledge and experience is a must. Training of people involved in Service Operation and customers is performed by experts. Change Management requires experts to evaluate proposed changes and make sound decisions, as well as to plan implementation. Configuration Management needs expert opinions while setting up the Configuration Management System (CMS).
Service Operation – Well, that's where the product of your work is visible. Incident and Problem Management deal with issues which require high levels of expertise. Efficiency of those two processes depends of the knowledge their teams possess. They use Technical and Application Management almost on a daily basis, particularly Problem Management, which requires a lot of expert knowledge during assessment and resolution of problems.
Continual Service Improvement – Since they have broad and deep knowledge of the technological landscape, Technical and Application Management personnel are ideal for identifying opportunities for improvement. They are not only involved in projects during Service Design and Service Transition, but also for Continual Service Improvement or operational projects, such as Operating System upgrades, server consolidation projects and more.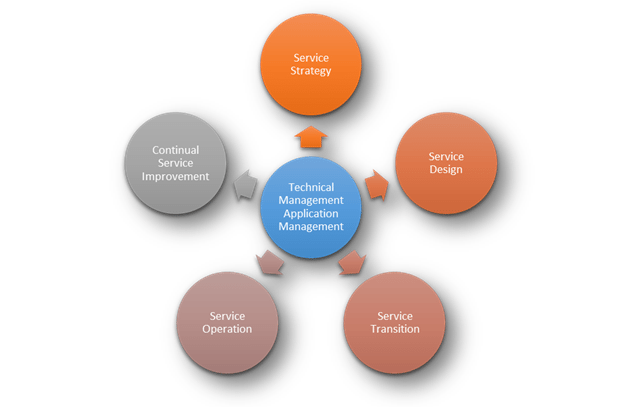 Figure: Technical and Application management are involved in all phases of the IT service lifecycle
"Mr. Everything"?
Application and Technical Management functions are present in almost every process you have within the scope of your ITSM. That, on the other hand, means that particular care should be taken to organize and manage them. Because, as you can see in this article, these two functions strongly influence the efficiency of the ITSM in both positive and negative ways. It's up to you to choose which side you'd like to stay.
Use our free  ITIL Gap Analysis Tool to see how your processes and functions comply with ITIL recommendations.