Many organizations of varying types use ISO 9001:2015 as a recognized method of delivering customer satisfaction and controlling quality of product and service within their chosen sector. From huge organizations such as Richard Branson's Virgin enterprise to local coffee shops, ISO 9001:2015 not only can be used to deliver improvements and help guarantee quality, but the accreditation is often seen as a guarantee of uniformity of product and services across borders, languages, and cultural boundaries. Therefore, having ISO 9001:2015 accreditation can be seen as positive on a reputational basis, as well as a practical one. But, is it fair to say that organizations in some sectors can benefit more from the implementation of ISO 9001:2015 than in other sectors? And, on that basis, is there extra benefit from adopting ISO 9001:2015 principles for companies in the manufacturing and production sectors?
What manufacturing organizations need to succeed
Leaving the ISO 9001:2015 standard aside for a moment, many manufacturing organizations have asked themselves over the year what is required to satisfy the customer in terms of a quality and consistent product. Although every organization has different requirements, the following basics will be needed:
A defined process which is under constant review and action for improvement
A set of standards which define an acceptable product or service
Resource and knowledgeable staff to produce a product
Quality "tollgates" – product audit, internal measurement, feedback from customer
Internal corrective action and review process – to ensure problems are fixed satisfactorily and do not return
On the basis of having the above, and adding any other significant functions that may be vital to your company, hypothetically we should be able to produce a consistent product. So in what way can ISO 9001:2015 help us with this?

What ISO provides to help you succeed
Within the ISO 9001:2015 standard you will find mandatory clauses dealing with most aspects of business, as opposed to being purely a "Quality Management System" or "QMS" standard. Looking to align the business requirements listed above with the 9001:2015 standard itself, we can find the following:
Defined process: This can be put together using parts of various clauses in the standard, such as "planning," "support," "operation," and "performance" evaluation. Obviously, the definition of the context of the organization, which we looked at in this previous article: How to define the context of the organization in ISO 9001:2015, will allow your company to ensure they have regarded the correct factors and obligations. Therefore, a combination of all these clauses, including "design and development" if relevant, will allow you to define your process accurately.
Set of standards or definition of product: Section 8 deals with "requirements for products and services" and "operation control" under the heading "Operation." Fulfilling the requirements within this section will allow you to define your product accurately.
Resources and knowledgeable staff: Section 7 deals with "Support," which includes "people," "organizational knowledge," "competence," and "awareness." Satisfy this clause in the standard and you should be well on your way towards having a knowledgeable staff in place to produce your product.
Quality "tollgates": This is woven through many of the clauses of the 9001:2015 standard. From "planning" in section 6 to "documented information" in 7.5 and especially section 9, which is entitled "Performance Evaluation," we can see many strands where the application of review and measurement is required to provide a "tollgate" on product quality. Section 10 on "Improvement" is the natural follow up to this, ensuring we have the knowledge, data, and ability to drive the continual improvement every organization seeks.
Corrective action process: Section 10.2 deals with "Nonconformity and corrective action." Prevention of nonconformity is of primary importance, but correcting an incident and displaying that no repeat happens is an integral part of any QMS, as well as an excellent way of building customer trust. Use this section to ensure you are doing it correctly.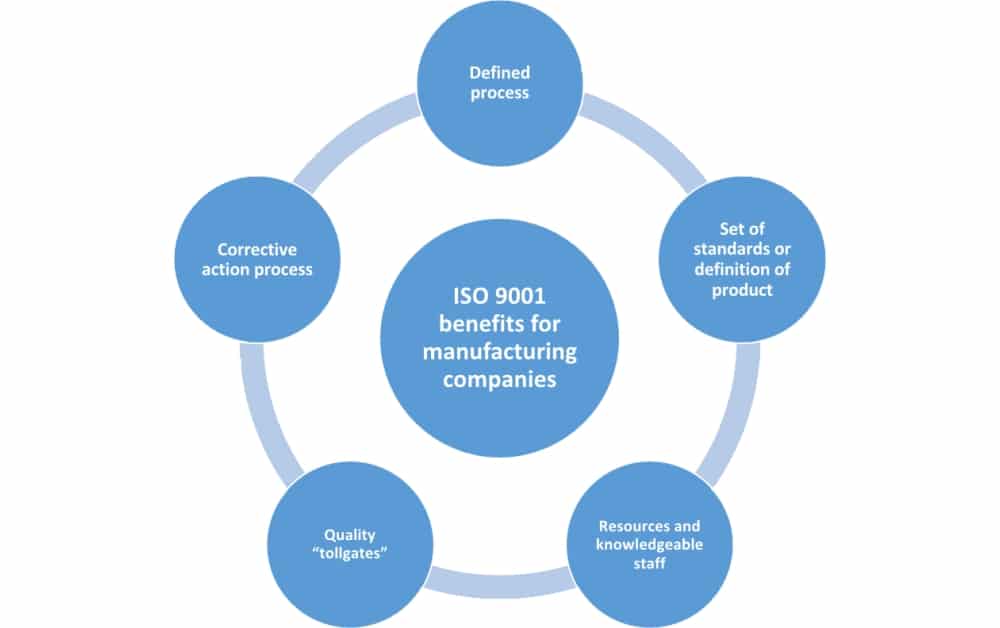 So, as you can see, the basic business requirements of most manufacturing organizations are met by specific clauses in the 9001:2015 standard, and if applied correctly, these clauses can assist your business with the goal of delivering customer satisfaction. But, what else do we need to pay attention to?
ISO 9001:2015 in manufacturing: What else will help you?
The importance of the "Plan, Do, Check, Act" cycle to the 9001:2015 standard is obvious, and similarly, the importance to the manufacturing organization is also great. We have not dealt with functions such as internal audit and management review above, but clearly, the ability to plan before action, review, and correction increases the product intelligence of any manufacturing organization and by association, the quality of the product. Likewise, the 9001:2015 requirement to solicit customer feedback will ensure that you focus on the most important factor in your product lifecycle: your customer. Closely align the 9001:2015 standard and principles with those of your manufacturing business, and you will quickly see the benefit.
To learn more about the business benefits of ISO 9001, read this free white paper: How can 9001 help your business grow.